If your hosting needs are pretty simple and you are looking for a hosting service provider who will offer you a small range of services to help you grow as a beginner, we could suggest such a hosting platform.
Brinkster is a hosting service provider with a really small set of services it has been offering for years. You can purchase services such as shared hosting plans, cloud servers, etc.
Let us know more about this platform in this Brinkster review.
About Brinkster
Brinkster is a USA-based hosting service provider; specifically, this hosting platform was built in Phoenix, Arizona. Brinkster is now one of the leading hosting service providers with 50,000 Customers in 175 Countries.

Here, you get a small range of services. The services you can access on this hosting platform are shared hosting plans, domain name registration, cloud servers, hosted desktops, etc.
Test and Analysis
Now it's time to test the services offered by Brinkster.
User Interface & Ease of Use
The user interface offered by this hosting platform is pretty simple. Although the dashboard might seem easy to work with, this platform lacks information about services.
Brinkster Customer Support

The customer support offered by Brinkster is pretty palpable. This platform's customer support team is quick with its replies. Customer support is always available on live chat channels.
Security Analysis
You may know that the security of your data is pretty important while working online. However, this web hosting platform does not offer many safety features. But yes, you get daily backups that could get your data back anytime.
Key Features of Brinkster
We may now list out the key features of this platform in this Brinkster review.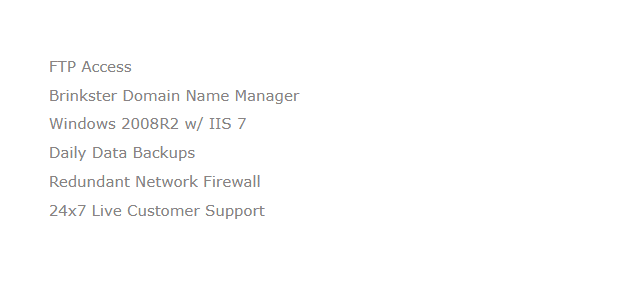 Daily Backups
To keep you safe from losing any of your data due to a third-party attack, Brinkster offers daily backups which will keep a copy of your every piece of work. You can retrieve it any time you want.
Firewall
Also, precaution is better than cure. That is why to keep your data safe in the first place, Brinkster offers a redundant firewall that will prevent you from accessing unsafe websites.
Anytime Refund
The added benefit you get with Brinkster is the anytime 100% refund policy, which means you can use its services as long as you want and get your money back if you're going to continue with Brinkster's services.
Types of Web Hosting Brinkster offers
Brinkster offers Many Types hosting services.
Brinkster Domain
One of the services offered by Brinkster is domain name registration. To register your domain name at Brinkster, you must follow three steps.

You may first enter your domain name, select an extension, check if it's available and register!
Brinkster Hosting Pros & Cons
Let us now acknowledge the pros and cons of buying a hosting plan from Brinkster.
Pros
Reliable data center premises
Quick customer support
100% anytime refund policy
Cons
Fewer options of services
Pricey services
FAQs – Brinkster Review
How much does Brinkster cost?
The cost of Brinkster depends on what plan you choose. However, the shared hosting plan on Brinkster costs about $4.99 a month.
Which Brinkster plan should I get?
Brinkster does not offer many web hosting choices, so it will be easier for you to look into suitable hosting hosts. We suggest you use the $6.99/month shared hosting plan if you have a small or mid-sized business and don't expect too much traffic.
The VPS hosting plans of Brinkster have similar structures and we recommend using the plans with 15GB RAM and 4 vCPUs.
What payment methods does Brinkster accept?
Some of the payment methods that Brinkster accepts are credit cards, debit cards, etc.
Conclusion – Brinkster Review
Let us now conclude this Brinkster review, look into its features that can affect your hosting needs, and tell you what to expect. On this hosting platform, you get the benefit of a 100% anytime refund policy.
Also, you get daily backups which are pretty assuring. However, the small range of services and a lack of enough information could bother a lot of customers.