Do you expect your hosting provider to have a good server response time, 24 hours of customer support, 7 days a week, subsequent to perfect uptime, and most importantly, do you want it to be affordable?
Affordability is scarce when it comes to sound quality service. But it does not always have to be true. It is easy to find everything but at a pretty high cost. How? Let us find that out in this Bisend Review.
About Bisend
As we said before, an excellent hosting service does not always have to be costly. Bisend offers an outstanding quality hosting service at a pretty affordable price. They offer their services worldwide through their various data centres spread across the globe.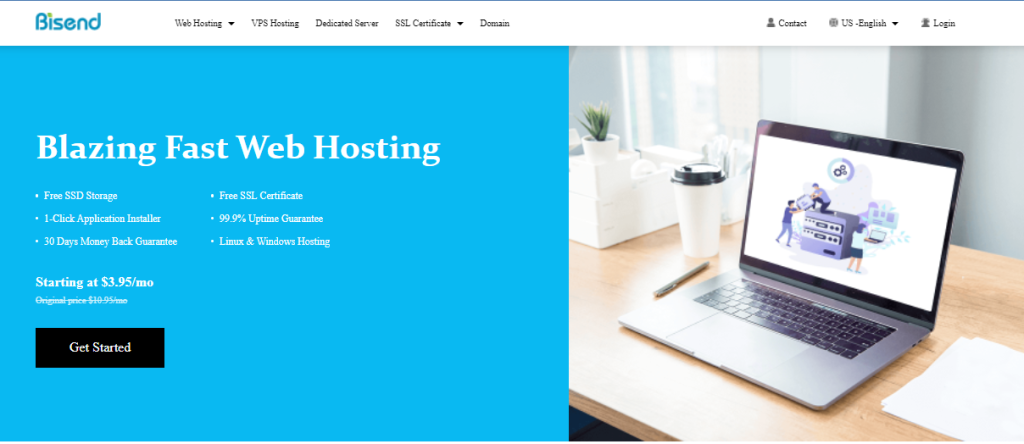 They are most concerned about the security of your data and the best experience working with them. To provide you with this, they take several steps. They focus on offering hosting services and support to small businesses and bloggers to help them grow.
Bisend Data Center Location
To provide efficient hosting services worldwide, a hosting service provider must have several data centres spread on the map to be closer to you and your customers no matter where you are.
If this does not happen and the customer and the data centre are far away, they will experience a slow service and sooner or later quit using your website or application.
Bisend has taken care of this concern and has set up several data centres across the globe. Bisend has data centres in:
So, no matter in which country your customers are, they will receive excellent service from Bisend.
Key Features of Bisend
Let us now take a quick look at the features of Bisend in this Bisend review.
Free SSD Storage
All of us love speed and our customers too. If they ask for something from our website, and it takes some time to load, they will get frustrated. To help this situation, Bisend offers free SSD storage. This helps with flash storage and is safer than any other storage system.
1-Click Application Installation
You do not have to take the help of any professional to get applications installed on our hosting. Bisend does it for you with just a few clicks with its one-click application installation features.
SSL Certificates
Keeping your data safe from people who might misuse it is crucial. If your data is not kept secure, you might lose data and, in turn, experience a financial loss. Keep your data safe by Bisend, which provides SSL certificates that help your websites make secure connections.
Domain Name
When you start a website, the first thing you would want to decide on is a good domain name. This domain name must be concerned with the content you publish or your business. That can be a difficult task, and therefore, you get a domain name suggestion tool from Bisend to help you find the best domain for your business.
99.9% Uptime Guarantee
You would want to cater to all of your customers at any hour of the day. So your website needs to be on the Internet all the time. Bisend does this by providing 99.9% uptime to your websites.
Bisend Hosting Plans
Bisend provides several types of hosting, including Linux, Windows, and Reseller hosting.
Types of Hosting and Services Offered by Bisend
We mentioned the types of hostings offered by Bisend:

The services other than hostings provided by Bisend are Dedicated servers, types of SSL certificates, and domain name registration.
What Makes Bisend Different from Other Hosting?
Bisend is an excellent hosting service provider that takes good care of your data. They offer optimum security and suggest you take up some options to keep your content extra safe.
They do not allow image and video sharing because they care for your content, making it different from other hosting.
Conclusion: Bisend Review
So now that we have reached the concluding part of this Bisend Review, let us rewind what we learned. Bisend is a trusted hosting provider with several data centres worldwide, including one in Hong Kong for domestic visits.
Their focus is on supporting small businesses and bloggers, and that is why they offer a low price on their premium quality service. They also offer a 30-day refund, so there seems to be no risk in trying it out, and we would highly recommend Bisend Hosting to everyone!
Make sure you also bookmark (just press ctrl+D) our website and never miss an update from the web hosting industry. Follow us on Google News for the latest web hosting news, and reviews, stay safe, and happy hosting!