Making the complex working and process of web hosting more straightforward and uncomplicated, it comes with options and plans to offer the best possible features at the most affordable rates.
With a mission to provide its clients with the best quality and value-based services and solutions, it looks forward to maintaining a lifelong relationship with its customers. This review explains the features and plans 10GB Hosting offers you and why you should choose this platform.
Overview of 10GB Hosting
With its registered office in London, the UK, 10GB Hosting is a popular hosting provider and part of a company named Byte Technologies Ltd. it offers you fully automated web hosting services with exclusive technologies and outstanding customer support and security options.
It provides you with not just web hosting options. With regular checks and scans, it detects and removes malware and keeps the security of the users and visitors at the top. Still, it also comes with Linux hosting and Windows hosting along with dedicated servers and VPS facilities at the most affordable rates with unlimited benefits and storage capacities.
10GB Hosting Data Center Location
Looking after the user's websites and providing them with lightning-fast loading time and efficient working, it operates at different data centers worldwide. It has data centers in the
User Interface & Ease of Use
It uses a straightforward user interface with award-winning performance and 24/7 customer support. It uses a cPanel Control Panel, allowing you to create unlimited FTP accounts and unlimited email accounts and databases. Its automation tools, facilities, and graphical user interface provide better and extraordinary system administration and effective web hosting solutions.
It offers an instant setup facility. As soon as the payment is initiated, the technical team instantly sets up the servers with the latest and most compatible versions of PHP and MySQL for 100% security and optimized performance. With the 1-click installer, you can easily install WordPress, Drupal, Joomla, and more with just a click.
Customer Support
The safety and security of the customers are the topmost priority of 10GB Hosting. Thus, providing the best services is what they believe in. it allows free SSL certification to keep the servers and website safe and hacking-free.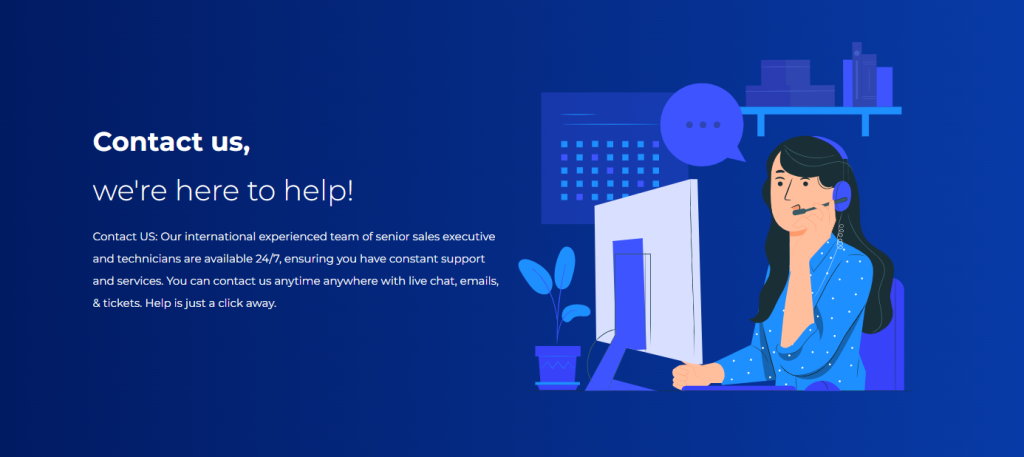 Their technical team and senior sales executives are available 24/7 to solve all your queries and doubts in no time. They provide and ensure constant support to their customers. You can connect to them anywhere using the email and ticket facilities and the live chat option on their official website.
Key Features of 10GB Hosting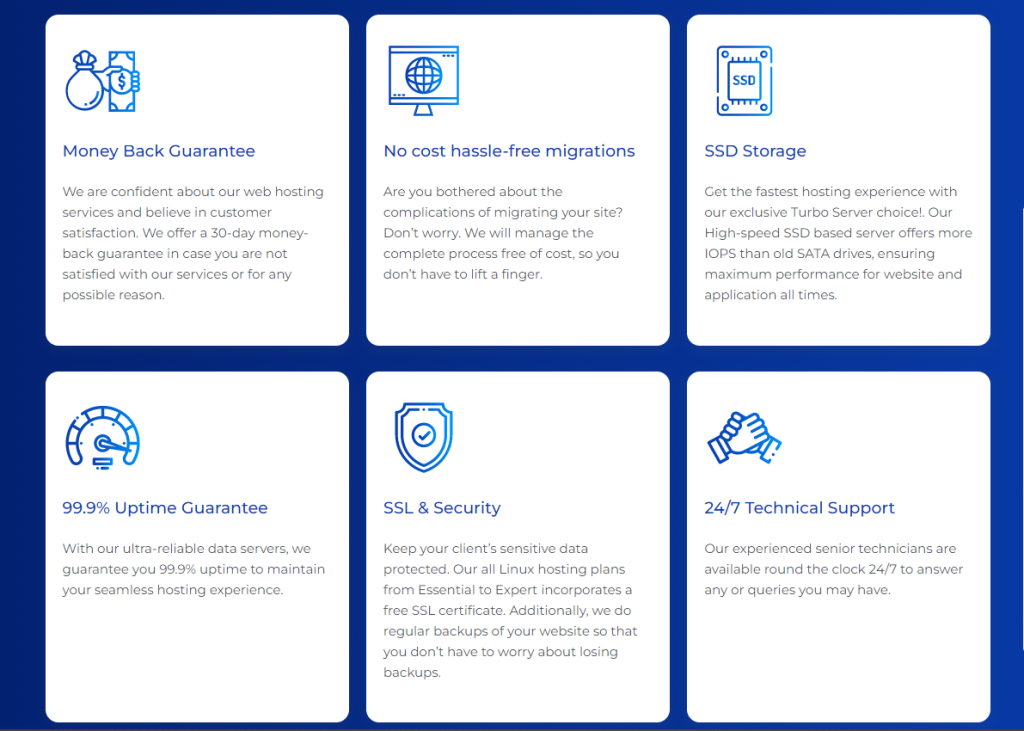 It comes with a Free SSL certificate and is fast and reliable
Security is a crucial point of web hosting, and thus 10GB Hosting provides you with a free SSL certificate that makes it 100% secure to operate without the fear of damage. Specifically crafted to support business websites, it offers you rocket-fast speed making it a reliable and fast alternative.
Pure SSD storage and a 1-click installer
10GB Hosting offers its customers pure SSD storage for your business, individual or e-commerce websites providing extraordinary high speed to amplify your website and online performance. It provides you with a 1-click installer that allows you to install WordPress, Drupal, Joomla, and more software or builders at affordable rates.
Latest PHP and MySQL with Malware scan and removal
It offers the latest and most innovative PHP and MySQL facilities to kickstart the online presence of your business. They use the latest compatible versions of these to get the maximum and desired performance. 10GB Hosting has the best-in-class top-flight malware protection and virus scanner that regularly scans and removes viruses from your website.
Types of Hosting Plans Does 10GB Hosting Offers
10GB Hosting provides you with the best web hosting platforms for your convenience at affordable rates, including free SSL certification and 1-click installation facilities. If you purchase these plans every year, 10GB Hosting offers massive discounts.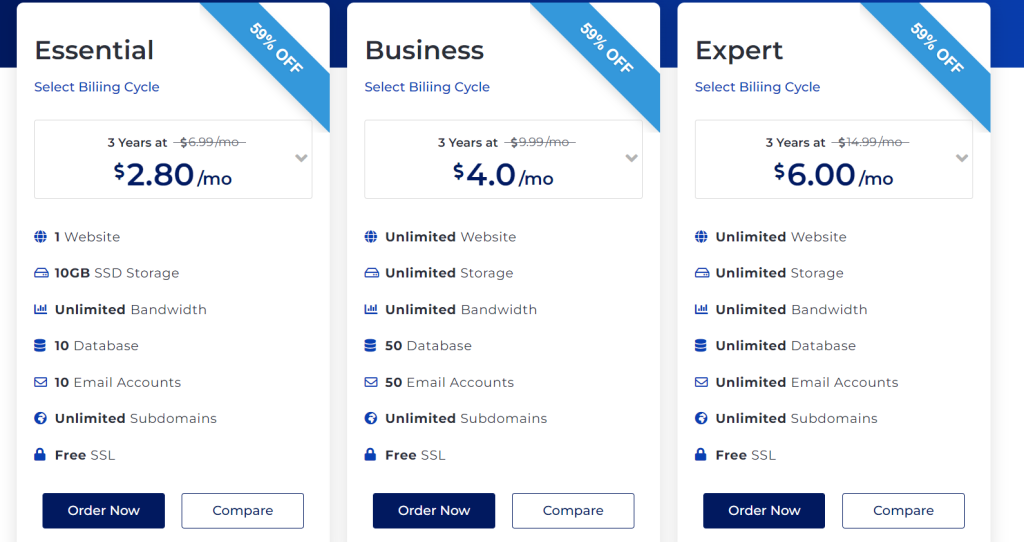 Essential Plan: This is the cheapest plan costing $2.80 per month, providing you with one website, 10GB SSD storage, unlimited bandwidth, 10 Databases, 10 Email accounts, and unlimited subdomains.
Business Plan: This middle-range plan costs $4.00 per month with unlimited websites, storage, bandwidth, and subdomains. It also comes with 50 databases and 50 email accounts.
Expert Plan: This plan is the most expensive, with a price of $6.00 per month, furnishing you with the following unlimited features – website, storage, bandwidth, database, email accounts, and subdomains.
10GB Hosting Pros & Cons
Pros
It comes with a built-in malware scanner that scans and removes viruses regularly. 
It uses the latest and most compatible versions of PHP and MySQL. 
It comes with a 1-click installer and easy setup with a cPanel Control panel. 
It provides you with free SSD storage and free migration, and free SSL certification. 
It is a fast and reliable platform that is quite affordable. 
Cons
Some customers might find its monthly plans a little expensive. 
FAQs – 10GB Hosting Review
How much does 10GB Hosting cost?
Web hosting plans with 10GB Hosting cost from around $6 to $16
Does 10GB Hosting Offer Window VPS Server?
Yes, 10GB Hosting offers VPS servers two options – Linux and Windows Hosting. Based on the latest technologies, it is perfect for developers and designers using ASP>NET, .NET, and MS SQL with standard windows servers with top-class security.
Does 10GB Hosting Offer Managed VPS Server?
Yes, 10GB Hosting does provide you with a Managed VPS server with top-class infrastructure and optimized facilities. With 99.9% guaranteed uptime and 24/7 customer support, it comes with regular malware checks and removal and updates on its user-friendly dashboard.
Conclusion – 10GB Hosting Review
Here we have everything we need to know about the 10GB Hosting Review. It covers all the essential details and ideas about the platform with all of its hosting plans and features offers. It is far better than multiple alternatives provided in the market, making the complex hosting process easier and uncomplicated, and is a highly reliable and trustworthy platform.
The plans and services the website offers are often complex, but 10GB Hosting gives you affordable prices and unlimited bandwidth with storage and a lot more. Its affordable plans can easily fit your budget and furnish you with complete services and features to benefit its users. You can always take help from the customer support facilities from the technical team at any time.