A web hosting company is essential to the digital presence of a business. You need to find the perfect hosting services for your website and going through different reviews helps with that. Thus we keep coming up with new reviews to help you understand the different web hosting companies that are available as options for you.
For today's review, we have come up with a Webland review which we have compiled after testing and analyzing the hosting for months on multiple parameters like speed, security, features, support, and more.
Read this hosting review to understand if this is a good company to meet your web hosting needs or not.
About Webland
Webland was founded in 1998 and has since become one of the pioneers in the Swiss hosting market. It is headquartered in Münchenstein and has its own redundant data center in Basel and Münchenstein/BL. The server infrastructure comprises top-of-the-line 64-bit processors from Intel, and the entire platform is clustered and virtualized.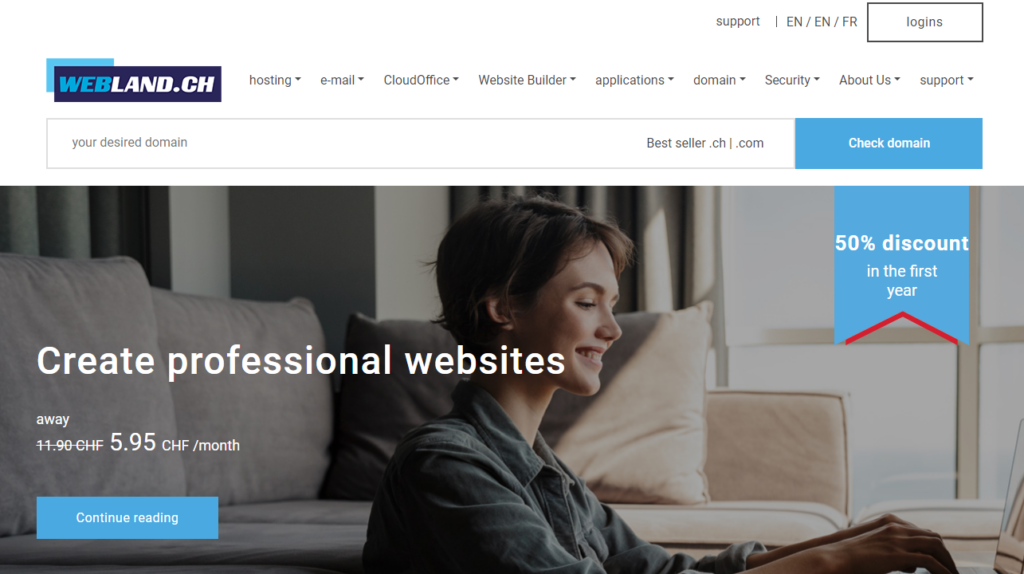 It provides a whole host of diverse web and email hosting options for individuals and companies. With respect to the programming language, database system, or application – the web hosting is operating on Windows multi-technology or UNIX Cloud Linux hosting platform.
Test & Analysis
We performed detailed tests and analysis on Webland web hosting and hereinbelow are all the results of our tests.
User Interface & Ease of Use
Webland offers an easy-to-use and modern user interface, allowing you to control all server aspects. They have a multi-layer anti-spam system that protects your content and emails from malicious software and constantly monitors them.
You also have the option of black-and-white lists to adjust how you want the anti-spam system to function on your website.
Webland Customer Support
Webland does not offer 24/7 customer support, but the staff can be contacted via a hotline, fax, or email during business hours. There are different emails for various departments for sales, marketing, and administration emails for multiple departments.

They do not have a live chat option or ticketing system but do promise a quick response time for any problem.
Security Analysis
Webland offers web application firewalls to protect against DDoS attacks, SQL injections, cross-site scripting, and other unauthorized access attempts to your web server. These firewalls are included by default in all hosting plans without additional costs.
The web application firewall examines communication at the application level, and all incoming requests & responses from the web servers are filtered, and the suspicious ones are denied access.
Key Features of Webland
Here are some of the main features offered by Webland.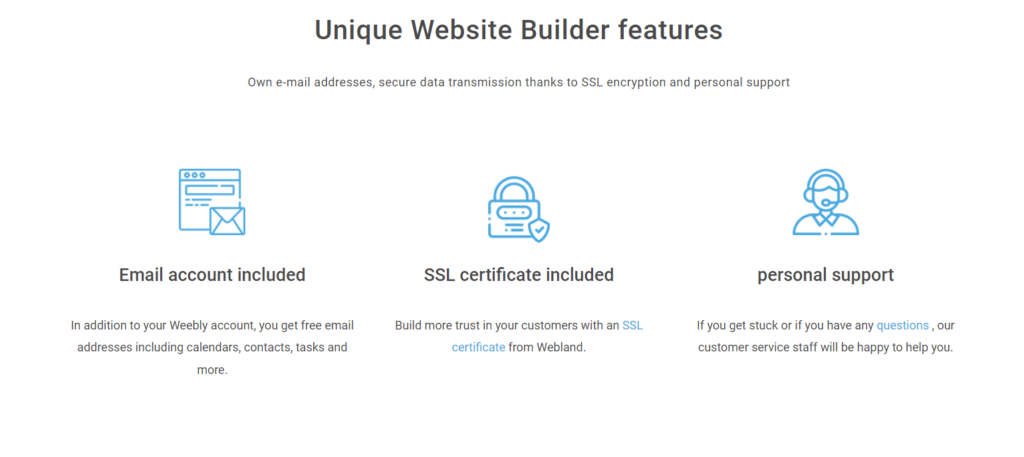 Types of Web Hosting Offered by Webland
Webland offers various hosting solutions like:
Webland Pros & Cons
While testing out the services provided by Webland, here are some of the pros and cons we found.
Pros
Weebly website builder
Free SSL certificate
Spam protection 
Cons
No live chat 
No ticket support system 
FAQs – Webland Review
What is the refund policy of Webland?
Webland offers a 30-day money-back guarantee if not satisfied with its services.
How many Data Center Locations does Webland provide?
Webland has two data centres located in Basel and Münchenstein/BL.
What is the starting price of Webland web hosting plans? 
The starter pack for web hosting starts from 4.90 CHF /month.
Conclusion – Webland Review
Despite the slightly expensive rates, Webland offers excellent service and a nifty website builder which justifies the price point. The lack of a live chat feature might be concerning, but if you contact the staff during office hours, they have a very quick response time. They also offer CMS hosting solutions and free SSL certificates with their hosting plans.
So, overall, concluding this Webland review, we can say that it is a good hosting platform and you can give it a try.