Hosting has become a necessity nowadays. Every small business owner is taking their services online and needs a reliable hosting service provider.
So, if you are in search of hosting with good Security features and a good Interface, I guess you are at the right place.
We came across a service that claims to provide just that. So without further discussion, let's start our UnderHost Review.
This way, you can make an informed decision about your next Hosting service.
About UnderHost
UnderHost is one of those hosting service providers that continue to provide the same set of values for over 15 years in the industry.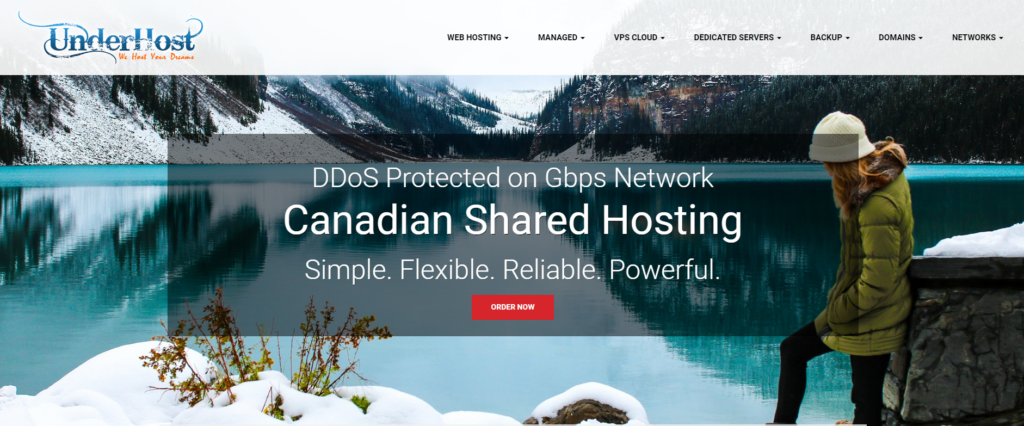 They have served thousands of customers in over 100+ countries around the globe.
It has currently 7500+ clients and hosts over 28,000 domains. Apart from these, they offer a plethora of services that run on the fastest and most reliable set of hardware.
Test and Analysis
User Interface & Ease of Use
User Interface is quite crucial as it can lower the time while maintaining or setting up your site. UnderHost comes with cPanel, which is very common throughout the Industry. So, support and tutorials are very common.
You also get DirectAdmin, Softaculous, and many more. You will get some of them with higher plans, and some are paid features. So, be careful while choosing.
UnderHost Customer Support
Customer Support is very important when choosing a Service as it saves you time and results in more up-time.
UnderHost claims 24×7 Customer Support, but unfortunately, you can only contact them via Tickets, and they don't provide an estimated time you would get your response.
Security Analysis
Security is very important for a business or even an individual. So, choosing a service with good security features is trivial.
Let's analyze which security features UnderHost provides-
They also use Unix-based and Windows Servers. The Operating Systems are listed below-
Unix-based Servers
Windows-based Servers
Core Features of UnderHost
UnderHost provides various services, and each of their Services has special features.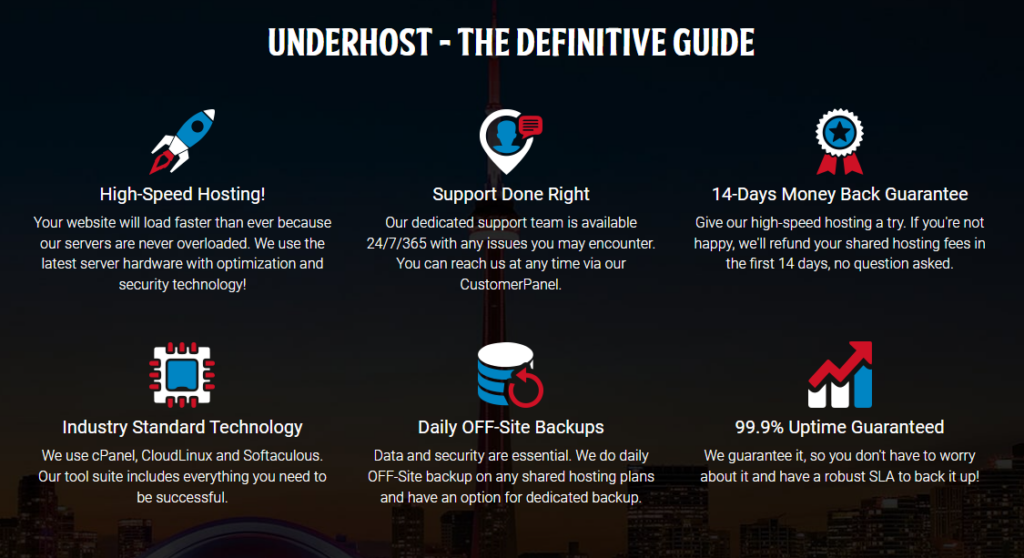 Their Shared Hosting, according to them, is Simple, Flexible, Reliable, and Powerful. While their offshore Hosting provides Security, Protection, and Privacy, it is DMCA-free.
UnderHost also has Offshore Hosting with servers being Anonymous, Reliable, Provides Security, and flexible.
Types of Web Hosting UnderHost offers:
UnderHost provides various kinds of Web Hosting Services. Their services include-
Along with those, UnderHost also offers-
UnderHost Domain
Along with Hosting and other services, UnderHost provides Domain Services as well.
Transfer Domain
You can transfer your existing domain to KeenHost and make them your new Service provider. You can check out their official site and learn more about it.
Register Domain
If you don't have an existing Domain. You can buy a new domain from KeenHost at a very nominal price.
UnderHost Hosting Pros & Cons
Pros
You can anonymize yourself with some of their plans.
Vast Operating System choices 
An exceptional set of hardware
Great User Interface
Cons
Some of the features are paywalled
Poor customer support
FAQs – UnderHost Review
How long does it take to set up my account?
Although there is not much information available regarding this, these are typically activated within a day, if not instantly.
Are their shared web hosting services eco-friendly?
Shared Hosting consumes less power and, therefore, saves the environment. But it might affect your loading speed if the loads are high.
Are there offshore web hosting services DMCA FREE?
What payment methods does UnderHost accept?
UnderHost accepts many forms of payment. These are-
PayPal
Stripe (Credit Card)
Bitcoin
Skrill
Wire Transfers/Mail in Payment
Conclusion – UnderHost Review
Here we are with everything you need to know about UnderHost and all its features. This review briefly tells you about how this hosting service provider has left a mark in the market with its list of services and support in multiple ways.
To ensure you have safe transactions and are kept anonymous, you can use crypto as payment.
Moreover, the exceptional UI is something you cannot choose to miss. Customer support may not be the best and can be a huge issue in terms of necessity which they are trying to improve as well for a considerable amount of time.