WordPress is one of the most popular CMS for having your own business website, eCommerce store, or a personal blog. However, while you can easily create a website on WordPress, you need a robust hosting solution to make the website live.
But with so many options out there, what should you choose?
Well, one platform that we can recommend, among others, is Templ. Templ is a web hosting company dedicated to providing high-performance WordPress hosting services. You can take your WordPress website to the next level with this platform. Let's explore further in this Templ Review!
About Templ
Templ is a web hosting company based in Sweden and engaged in offering dedicated and managed WordPress hosting services.
They have an incredible team of experts who are experienced with every aspect of WordPress and develop innovative hosting solutions to meet customer needs and requirements beyond expectations.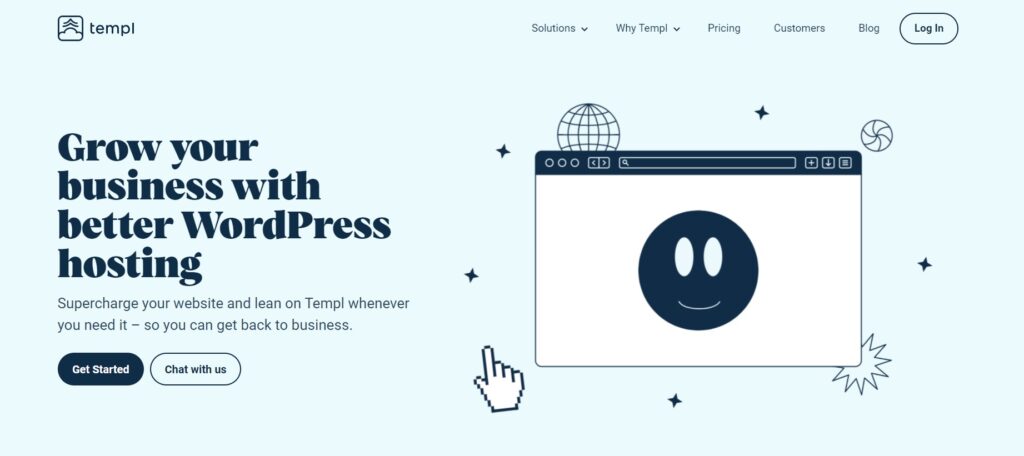 They aim to offer the most advanced and high-performing WordPress services to their customers to take their business to the next level of success and growth.
Given this mission, they not only provide bespoke WordPress hosting solutions but also offer help with website management and maintenance by performing debugging, optimization, updates, upgrades, and other functions as regard changes to website functionalities.
All these things help them ensure that their customers have all the assistance and guidance they need for having a website that performs and converts leads.
Speed Test and Analysis for Templ
The speed of your WordPress website is crucial for its performance. The visitors won't wait for the website to load. So, it becomes essential that your hosting solution offers phenomenal speed with low loading time and high uptime to ensure consistent website performance.
Given the importance of website speed, we ran several speed tests and analyses for Templ, and here is an overview of our observations.
Ease of Use
People opt for WordPress due to its ease of use. So, they definitely want to tie it up with a web hosting solution that is easy to use and understand.
Templ is the perfect fit for the same. Templ has a spotless, sleek, and user-friendly interface that is readily understandable and offers excellent experiences when it comes to website management and maintenance.
Templ Speed Test
When it comes to speed, the speed score on various speed testing tools has been impressive. With all-out tests and analysis, we can conclude that it's an extremely fast platform with excellent speed alongside minimal page load and server response time.
Templ Uptime Test
The uptime that any hosting solution offers is essential to ensure that you get uninterrupted service for your website.
With Templ, the uptime has been phenomenal. Over the course of months, we have hardly ever experienced any downtime on the website. It wouldn't be wrong to mention that Templ offers almost 100% uptime for your websites.
Customer Support
The customer support at Templ is excellent. Their team always remains available on chat support to answer your queries and questions. Additionally, they have set up a knowledge base full of useful resources for you to explore.
In addition to being available for helping you with your queries and questions, they also offer support for other website management and maintenance tasks such as debugging, website monitoring, optimization, updates, upgrades, etc.
Templ Data Center Locations
Templ is great when it comes to data center locations. Unlike other hosting solutions with data centers at only some specific locations, Templ goes beyond that and offers data centers at all Google data center locations.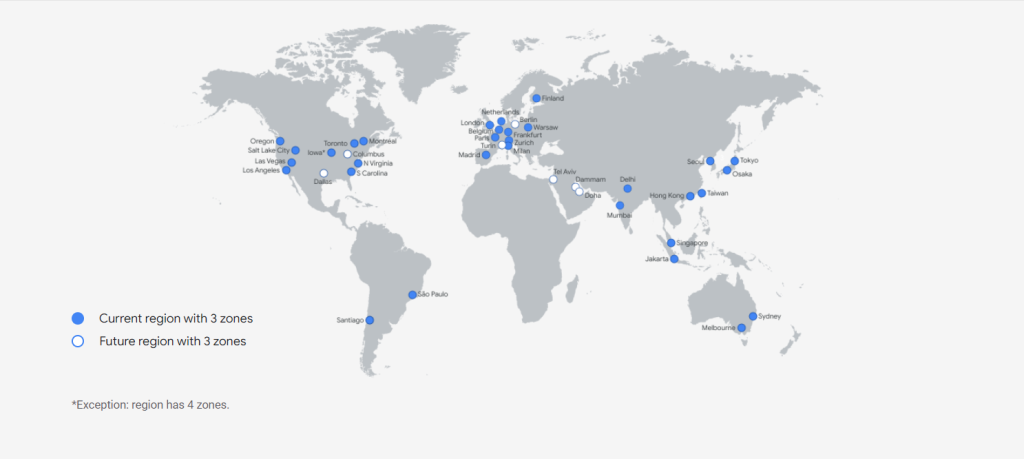 Given this fact, we can expect a wide network and connectivity with Templ web hosting solutions.
Key Features Of Templ
Templ packs some excellent features that help take your website to the next level. Here is a quick overview of some key features of Templ-
Unlimited Free Migrations
If you have your website, domain, or data on some other platform and seek to move it to Templ, the process is seamless and cost-free.

Templ offers unlimited migrations free of cost to help bring your website, domain, and data to its high-performing WordPress hosting.
Excellent Security
Security is the most crucial aspect of your website. Templ takes care of the same by offering advanced security features, including free SSL certificates, 24/7 website monitoring, debugging, updates, etc.
Speed Optimization
In addition to offering phenomenal speed for your website with constant uptime and monitoring, Templ goes a step ahead in helping you optimize website speed further.
With constant speed optimization, you can ensure that your website remains consistent with its speed and performance.
Regular Backups and Restore
It's essential to keep a backup of your website data to save yourself from the risks of data loss.
Templ ensures the same by taking regular automatic backups of your website data. Moreover, restoring a backup if and when needed is easy, as it requires a single click.
Google Cloud Support
Templ is equipped with Google Cloud Support and access to all Google data centers.
This ensures better network connectivity, speed, security, and reliability for your website.
Templ Hosting Refund Policy
There are no details available about a refund or money-back guarantee for Templ web hosting. So, we can assume that it doesn't offer any refund or money-back guarantee.
Nonetheless, it offers a 10-days free trial period, thereby allowing you to explore the hosting and see if it suits you well.
Templ Pros & Cons
With every platform, you need to weigh its positive and negative aspects. So, here is a comparison between the advantages and disadvantages of Templ hosting–
Pros
Free website migration
24/7 monitoring of your website
Google Cloud support with access to all Google data centers
Support other WordPress needs and requirements such as debugging, updates, etc.
Regular data backups
Excellent security features
Constant speed optimization for better performance
Cons
There is no money-back guarantee or refund available.
Why Choose Templ for Web Hosting?
Templ is one of the best platforms for hosting your WordPress website with excellent features and functionalities. It offers secure and reliable hosting, but it also provides support for other WordPress services and requirements for minimal added costs.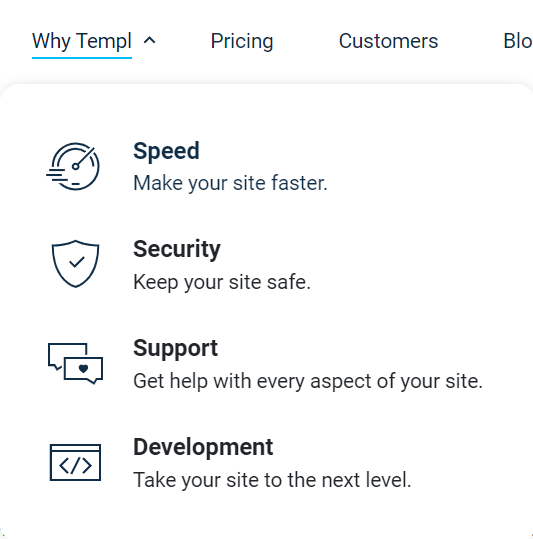 Whether you want help with coding, optimization, debugging, website monitoring, or other things, Templ offers the same.
So, it's not just a WordPress hosting service but a complete WordPress solution that can help you take your WordPress website to the next level. All these factors make Templ worth choosing for web hosting.
How to host your website on Templ?
Hosting your website on Templ is pretty easy and straightforward. You can get done with it in two simple processes.
FAQ – Templ Review
Is Templ host any good?
Templ Host is not just good, but it's great for any business looking for a bespoke and high-performing WordPress hosting service.
What does WordPress Configurations templ offer?
Templ hosting offers WordPress configurations for WordPress version 5.5.
Do We Recommend Templ Hosting?
Definitely! We have been using Templ hosting for our WordPress website for months, and our experience has been excellent.
It's a great platform to meet any business' end-to-end WordPress hosting needs and requirements, and we highly recommend it for your website.
Conclusion – Templ Review
After a detailed analysis and testing of this platform, we can only conclude that Templ Host will be the perfect WordPress hosting solution for enhancing the performance of your WordPress website and taking it next level.
What makes it better than other hosting services is its support for all other WordPress needs and requirements. This support makes its slightly higher prices worth the value too.
We hope this article was helpful. You're all set to explore Templ hosting, take its plan, and work on making your WordPress website more successful and profitable by leveraging the powerful features and functionalities offered by Templ hosting.