SeekDotNet offers reliable hosting services for Windows-optimised ASP.NET, DOTNET 5, .NET CORE, and MYSQL 2019. We were determined to test it as soon as we found it out.
So, we took a basic plan and analyzed SeekDotNet for months and after months of testing and analysis, hereinbelow is a detailed SeekDotNet review compiled for you to read and check if this is the web hosting service well suited to your business needs or not.
About SeekDotNet
SeekDotNet specializes in Asp.net and windows hosting. It provides the latest windows web hosting technology as soon as Microsoft releases it.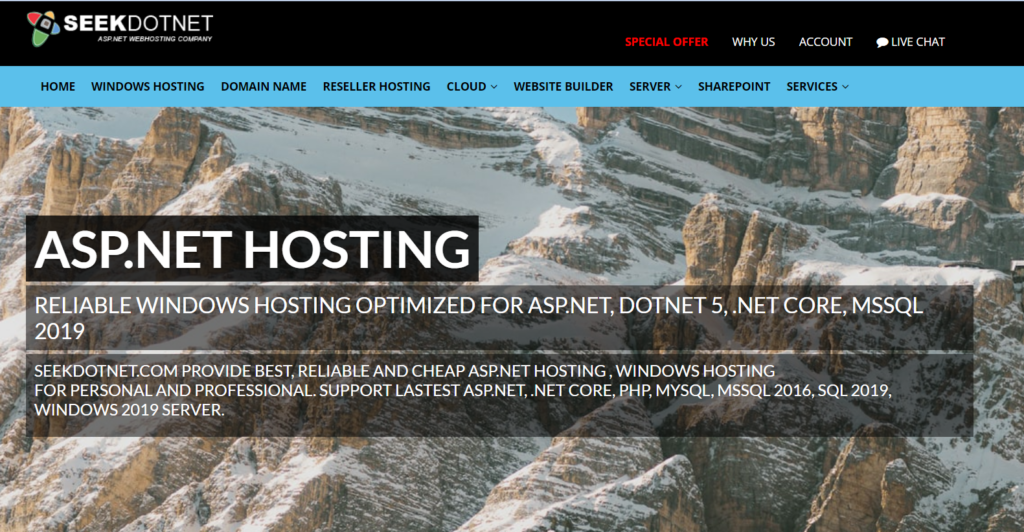 With a single Windows Hosting plan, you can use all different scripting engines from a single asp.net hosting account starting from Classic ASP, ASP.NET 4.7, .net 5, .net core 3.0, ASP.NET 5.0, .NET Core vNext, .net core hosting even PHP 7 with MSSQL 2016, SQL 2019 and MySQL and/or MS Access databases.
Test & Analysis
Refer to the following points for the analysis of their services.
User Interface & Ease of Use
SeekDotNet hosting services offer superior ease of use. It provides a simple control panel allowing you to manipulate every aspect, such as running & installing scripts, creating databases, and adding domains.
SeekDotNet Customer Support
SeekDotNet provides impeccable customer support backed by a knowledgeable staff and can be accessed by-
During our experience, we noticed a response time of under twenty minutes and effectively resolved the technical and programming issues.
Support tickets are usually answered within thirty minutes, and their support team is always available.
Security Analysis
SeekDotNet provides comprehensive website security for businesses using SiteLock. SiteLock's trust seal provides customers confidence and can increase sales and conversions by over 10%.
The security seal offers customers much-needed confidence while giving out personal data to purchase products or services. Over seventy percent of web visitors look for a third-party certification before they pay for products. SiteLock offers services like:
Additionally, SeekDotNet offers reliable SSL certification with up to 256-bit encryption that protects and assures customers that your website is trustworthy and secure. The SSL certificates come in over 15 different versions.
Key Features of SeekDotNet
The key features of SeekDotNet include:
Types of Web Hosting Offered by SeekDotNet
Here are the web hosting services SeekDotNet offers
📒Note: Web Hosting prices are updated frequently. So, I request you to verify the pricing by visiting the respective websites.
SeekDotNet Domain
SeekDotNet offers domain registration services, giving you complete control over the domains you create. If you do not want to use their services, you can easily transfer the domain name to other web hosting companies or your own server for free. Here are some of the features the domain registration services include:
Pros & Cons – SeekDotNet Review
While testing SeekDotNet, we noticed these pros and cons.
Pros
Various data centers are located in the United States, United Kingdom, Europe, Australia, and Singapore. 
30-day Money-back guarantees
Free domain and script transfer
Best antivirus and firewall services for websites. 
Fast response rates by sales representatives and tech support. 
Free file transfer and no overloaded servers. 
Cons
Services are not the most affordable. 
FAQs – SeekDotNet Review
Is Seekdotnet A Reliable Hosting Provider?
Yes, SeekDotNet is a very reliable hosting provider. It has been in business for over 2 decades and has affordable plans with amazing features and functionalities. The platform is also secure and has amazing ease of use.
What payment methods are accepted?
SeekDotNet accepts payment through credit cards and Electronic Transfer Funds (EFT).
How much does Seekdotnet cost?
SeekDotNet offers four options for web hosting services:
Cheap: costs $3.98 / per month
Reseller: costs $17.9 / per month
Cloud Hosting: starting from $1.99 / per month
Servers: costs $160 / per month
Conclusion – SeekDotNet Review
SeekDotNet offers reliable hosting services and has been in business for over two decades. It is a highly recommended company for Windows and asp.net hosting. I hope this SeekDotNet Review will be helpful to you.