A well-performing website has become a must for your business if you want to achieve success and profitability in today's digital era. However, when you plan to create an online presence, you need to pay attention to many factors. And good website hosting is one of them.
Now, while you may find it easy to register a domain and create a website, finding the perfect host for your website is a real challenge.
However, one good option that we can talk about is Seekahost. We have been hosting our website on Seekahost for quite some time, and our experience with it has been pretty amazing.
It's a great platform to meet end-to-end hosting requirements and help you with online presence creation from scratch.
Hence, we decided to put together a Seekahost review to share your experience and help you find the ideally suited web hosting for your business website.
So, let's get started with the review!
About Seekahost
Seekahost is a web hosting platform engaged in providing all types of hosting services. It began its journey in the year 2000 as a simple web hosting services company. Over the years, it has made an established name as a leading SEO hosting company.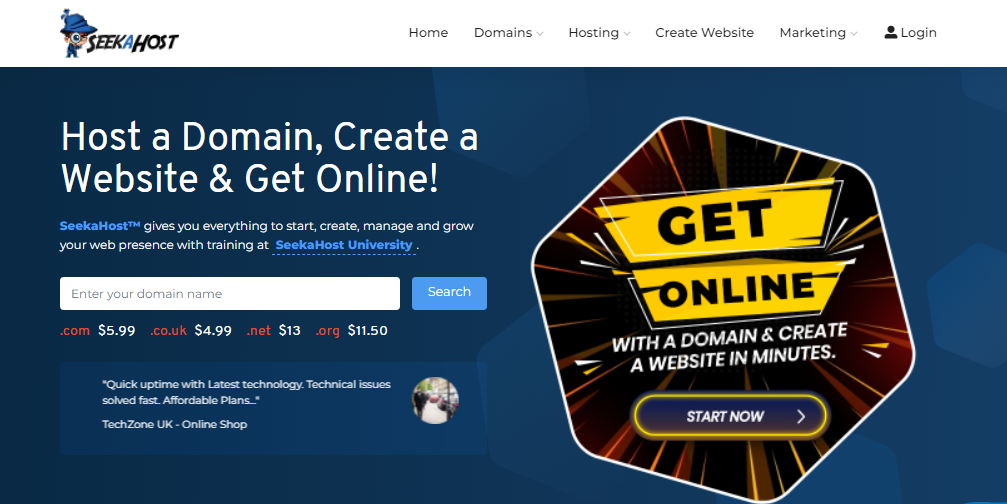 In addition to offering bespoke SEO hosting services, Seekahost recently launched its game servers and is doing well with the same. Moreover, the company is expanding to offer web application hosting for WordPress sites.
So, the company is constantly on the move to diversify its operations with its brilliant team of experts who are well-versed with the ins and outs of web hosting.
Speed Test and Analysis for SeekaHost
The speed of your website is of utmost importance, and it depends on multiple factors. So, hereinbelow is an analysis of all the factors that influence the speed and performance of your website.
Ease of Use
It's essential to have a user-friendly interface on web hosting to offer ease of website management and excellent user experiences. Seekahost comes with an easily understandable interface that is easy to use and offers significant flexibility in managing and maintaining your business website.
SeekaHost Server Response Time
The users never like to wait for the servers to respond to their requests. So, the websites must have fast-performing servers.
With Seekahost, you get the same. We tested the platform for its server response time and were amused to find that the servers responded almost instantaneously to the requests.
SeekaHost Uptime Test
Seekahost guarantees a high uptime for its hosting plans. We tested the same and found the results to be great.
Over the course of months, we never suffered any downtime or even the slightest interruption in the service. So, we can say that Seekahost has excellent uptime.
Seekahost Customer Support
Seekahost values its customers the most and makes sure that it meets the customer requirements beyond expectations.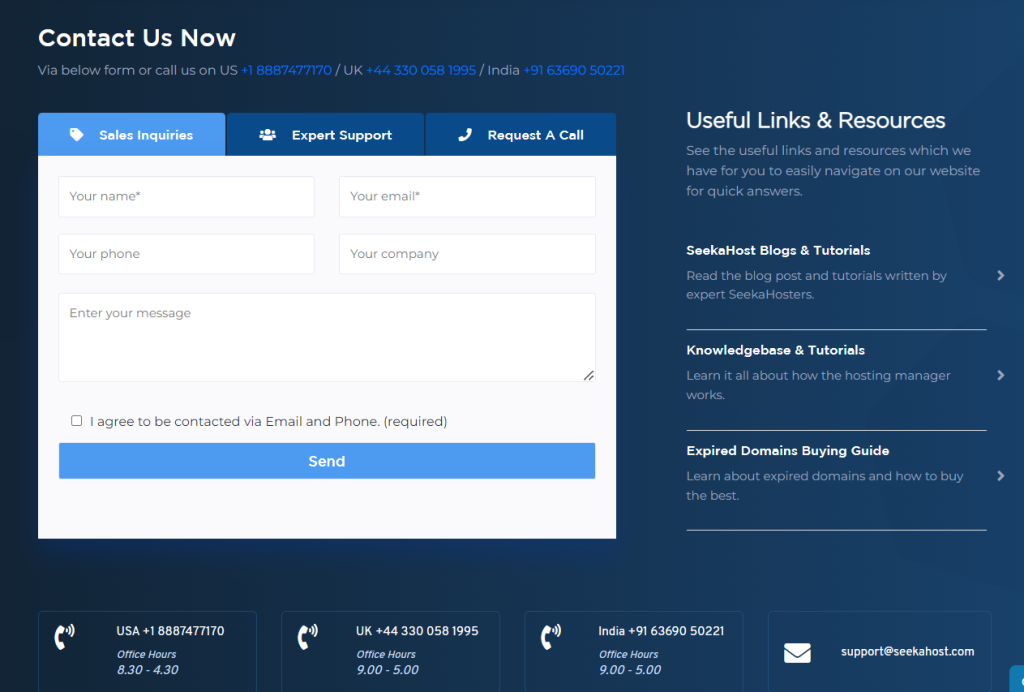 Given the same, they have excellent features and functionalities for customer support. They have a 24/7 customer support system where their experts are always available to resolve your queries. You can reach them out through live chat or support tickets.
Additionally, you can find multiple resources and FAQs on their website to find answers to your common queries and questions.
Key Features of Using Seekahost Hosting
Seekahost hosting has made it so far over the years only because of its excellent features and functionalities. So, here is a quick overview of all the features and functionalities that you get on Seekahost-

One-Click Installation for Applications and Software
You need to work with different applications and software on your website. Seekahost makes sure that all such applications are available at your disposal in no time at all by offering one-click installers that quickly install the required applications on your website in a single click.
Litespeed Servers
The speed of your website matters a lot for its performance. Seekahost ensures phenomenal speed by providing LiteSpeed servers with hosting that has a faster response time.
Phenomenal Security
The website's security cannot really ensure that there are no risks to the data. Seekahost is great with its security features, given that it offers free SSL certificates with all its hosting packages.
Additionally, there are other security features with regular updates and backups to keep your website safe and protected.
Domain Services
In addition to offering a range of web hosting solutions, Seekahost is also equipped to provide affordable domain services. You can trust the platform with your needs for domain search, domain registration, domain transfer, and more.
Uptime Guarantee
The platform offers up to a 99.99% of uptime guarantee. With that, you can be relaxed about the availability and accessibility of your website. Your website will always stay uptime, and you never need to worry about any losses caused due to the interruption in hosting services.
Free and Regular Backups
The data is the most important asset on your website, and you need to keep it protected at all costs. However, with Seekahost, you need not bear any cost for data protection. Seekahost offers free daily backups for your data, thereby ensuring that your data is free from risks of data loss.
Excellent Customer Support
The customers are the highest priority for Seekahost, and they prove the same by offering excellent customer support through 24/7 live chat and support tickets options.
SeekaHost Data Center Location
There is no clear information available about the data center locations of Seekahost. However, they have a strong network across the world. Given that they have a presence in the USA, UK, and India, we can expect the data centers to be located in these countries.
SeekaHost Refund Policy
The refund policy of Seekahost is quite tricky to understand. Unlike other hosting services, Seekahost doesn't have any money-back guarantee. Nevertheless, you can claim a refund within the cooling-off period of 3 days, and it's processed if you meet the criteria set in their refund policy.
So, you need to be very careful when opting for Seekahost as your hosting provider.
Pros and Cons of Seekahost
While there are many benefits to Seekahost, there are some disadvantages as well. Here's a quick look at them-
Pros
Multiple web hosting services and packages.
Domain registration and transfer services.
Free SSL certificates and other security features.
Excellent uptime and speed.
Highly affordable packages.
Cons
They don't have a money-back guarantee.
The platform is quite technical, and it may take some time to get the hang of it.
Type of Hosting Seekahost Offer
Seekahost has a range of different types of web hosting services. Here's what you get from this hosting solution–
In addition to these different types of hosting, Seekahost is also equipped with other services such as domain registration and management, etc.
Why Should You Choose Seekahost For PBN Websites?
Seekahost is a great hosting solution with hosting plans, packages, and services for all kinds of websites. PBN websites need secure and simple website hosting, and you get the same with Seekahost.
Additionally, it offers extensive features that any business owner will look for in a website. Given these reasons, Seekahost is not only the perfect choice for PBN websites, but you can use it for all kinds of business websites.
FAQ – Seekahost Review
Is Seekahost good?
Yes! Seekahost is an excellent platform that helps manage your website well and enhances its performance by many times.
Does Seekahost allow me to host my website for free?
While Seekahost is not an entirely free platform, you can still get free hosting on it for one month if you rake your domain from them.
How is Seekahost customer support?
The customer support at Seekahost is phenomenal with their support team's round-the-clock availability.
Conclusion – Seekahost Review
So, that's all about the Seekahost review. It's a brilliant platform for hosting your website. It started from scratch, and over two decades, it has created an established name for itself by being dedicated to its goal and offering all kinds of web hosting services.
Their team doesn't rest even now, and they're constantly moving for diversification. We can conclude that it's an excellent platform for hosting your website and taking it to the next level.
We hope this review was helpful, and you're all set to expand your business with Seekahost web hosting.