Running or making your business available on the Internet is great when you aim to increase the number of your customers. By doing this, you form a separate scale for your business to grow on. But running a business online could be a challenging task and might require you to be equipped with appropriate tools.
These tools could be the coding behind your website, the SEO, and most importantly, the hosting service you choose for your website.
Your hosting service will decide the website's performance by making it available to people worldwide at all hours of the day. So, you must choose the right hosting solution for your business.
One option that we can suggest is Exabytes. It's been around for over two decades and can come as a feasible hosting to scale your business. Let us explore more with this Exabytes review.
About Exabytes
Exabytes could be the hosting service you have been looking for your website, as it is for many people. It is the leading cloud hosting service provider in all Southeast Asia. It can help you host both websites and applications, so you see it as a two-in-one deal.
They have been in business since 2001, and its objective is to cater to different users' needs and ensure the best speed and security for its customers. Exabytes can provide you with everything you require to create an efficient and growing website at a reasonable price. 
Exabytes Data Center Location
More data centres make offering service to your customers quicker and better. The data centres are crucial for providing fast service to your users.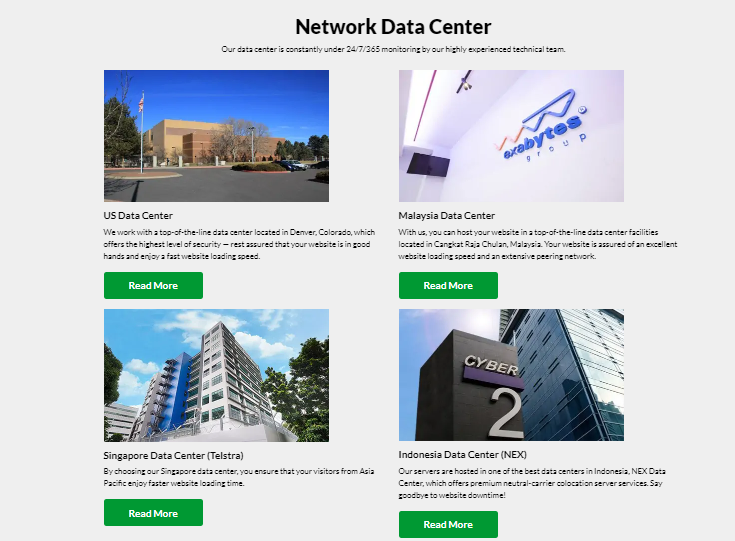 To ensure a satisfying experience with them, Exabytes has set up four data centres in the US, Malaysia, Singapore, and Indonesia. Exabytes engineers manage their whole infrastructure in the US. Exabytes Data-Center standards are Tier 3 verified.
Key Features of Exabytes
Let us now go through the key features of Exabytes to learn about it further in this Exabytes review.
High-Speed
Waiting could be annoying for most people, including your online customers. Exabytes provides Top-brand servers with high-quality Intel CPUs and RAM to offer you the best speed.
Free SSL Certificate
Keeping your content and your website connections safe is essential to avoid getting into trouble with losing your content and perhaps your money. To ensure secure connections, Exabytes offers free SSL certificates.
Automatic Backups
You must always keep a backup for all your content. Not doing this can cause problems when you accidentally lose your content or if someone else misused it. Exabytes provides automatic backups every day, so you are out of trouble with Exabytes.
1-Click Installer
To get a few CMSs installed, you need not hire any external tools because it can be done with just one click with Exabytes. With Exabytes, you can easily install WordPress, Joomla, Drupal, etc.
24x7x365 Professional Technical Support
You can get all your queries and issues resolved through 24x7x365 Professional Customer Support. You can chat, send an email, make a call or raise a ticket to do so.
Exabytes Hosting Plans
Exabytes offers several plans under different types of hosting, including WordPress hosting, Windows hosting, Business web hosting, cPanel web hosting, Reseller web hosting, Business web hosting, etc.
Types of Hosting and Services Offered by Exabytes
The list of hostings that Exabytes offers is something like this:
Besides hosting, Exabytes offers Business email creation, SSL certificates, Hosting backups, SiteLock web scanner and more.
Conclusion – Exabytes Review
So, that's the end of this Exabytes review. Exabytes is the leading hosting service provider in Southeast Asia and is trusted by many people worldwide.
It has four data centres in the US, Malaysia, Singapore, and Indonesia. So it would be great if your customers reside in Southeast Asia.
It is also pretty affordable and fast, offering 99.9% uptime so that you can trust your website hosted on Exabytes with uptime speed and security.
So, we would say it will be an excellent hosting solution for your website, and you must give it a try. What do you think?