Are you looking for a hosting service provider that will give you the best connectivity globally with the best uptime? Is the security of your data one of your primary concerns? We could help you find a hosting that offers you all you need.
NaijaWebHost is a hosting platform with numerous server locations, which will ensure a fast speed for your website. This hosting platform offers multiple service switches, including WordPress hosting, web hosting, VPS, etc.
Let us now get into this NaijaWebHost review to learn more about it.
About NaijaWebHost
NaijaWebHost as the name might hint, is a Nigeria-based hosting service provider primarily developed to offer world-class WordPress hosting solutions to Nigerians. However, this hosting platform spread its services across the globe.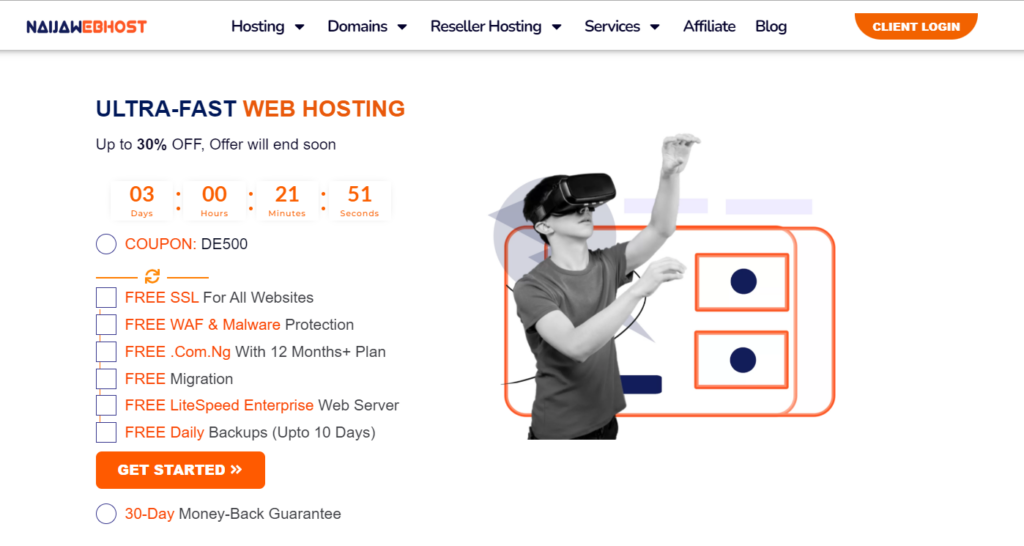 This hosting platform has multiple data centers across the globe, which ensures fast connectivity. The hosting plans included with this platform are web hosting, WordPress hosting, etc.
NaijaWebHost Data Center Location
The data centers of NaijaWebHost are located in:
Customer Support
The customer support of a hosting platform holds much more value than we may usually perceive. With NaijaWebHost, you get customer support through live chat, calls, WhatsApp, tickets, and emails.
The customer support team works quickly. It claims to respond within an hour, but most answers are quick and ask for feedback later. It's also within working hours. They were not available.
Core Features of NaijaWebHost
Let us now look at the core features of this platform in this NaijaWebHost review.
Managed Hosting
With NaijaWebHost, you get access to managed hosting, which means you can concentrate more on your business than your hosting, saving up much of your time, energy, and money.
CDN
One of the reasons a website ranks at the top of the search engine ranking is the speed at that the website runs. This is because the search engine also wants to provide the users with better ease, so it prefers faster websites. Therefore to keep your websites quick and on top, NaijaWebHost employs CDN.
1-Click Clone & Staging
It's always best to test your website before putting it up on the internet to show the world. Because sometimes you might mess up what will be displayed, which might affect your business. Therefore with NaijaWebHost, you can stage and clone your website to check all your website features.
Types of Web Hosting NaijaWebHost offers
This hosting platform offers the following hosting plans:
NaijaWebHost Domain
Let us look at the domain related services offered by NaijaWebHost.

Register a New Domain
NaijaWebHost is a verified domain name registrar. This hosting platform offers to register your domain names at pretty affordable domain names. You can get domain names that could be bought as per the category you want.
Transfer a Domain
Getting your old domain name transferred to a hosting service provider such as NaijaWebHost is pretty simple with the help of its managed services. Also, you get to renew your domain name for another year for free.
NaijaWebHost Hosting Pros & Cons
Now we will list the pros and cons of this platform in this NaijaWebHosting.
Pros
Multiple data centers
Managed services
30-days money-back guarantee
Cons
It does not offer quick live chat support
Cannot get any refund on Domain names, and VPS services
FAQs- NaijaWebHost Review
How much does NaijaWebHost cost?
The cost of NaijaWebHost will depend on the plan that you buy. However, you could buy a monthly web hosting plan for as cheap as $0.48 a month.
Will I Get a Free Domain name?
Yes, with hosting plans offered by NaijaWebHost, you get access to one free domain name for your website and numerous other free services such as SSL certificates.
How do I pay for my hosting account?
You could pay for a hosting plan you bought from NaijaWebHost by accepting debit credit cards, American Express, PayPal payments, and bank transfers.
Can I upgrade my account if I need to?
Yes, one of the benefits of signing up with NaijaWebHost is that you do not have to wait for your plan to expire; you can just upgrade your plan anytime you need.
Conclusion
Let us now look back at this NaijaWebHost review and take note of all the good and bad things about it. This hosting platform does not tell about the data centers, but thanks to customer support, it provides you with all the information.
Furthermore, this hosting platform has numerous hosting plans and tools in the same place. The services are pretty easy with the control panel that NaijaWebHost also provides because it offers managed services.