A hosting service provider that offers you the best speed and security along with features that could run your business simultaneously is hard to find. But there are a few which could help you with it.
MakersHost is a hosting service provider where you can find services such as hosting plans and tools such as heat maps and stats to help you grow your business and measure growth.
Let us know more about it in this MakersHost review.
About MakersHost
MakersHost is a hosting service provider that is best suitable for small businesses. This hosting platform has data centers spread across the globe, which ensures super-fast speed. MakersHost is based in Germany.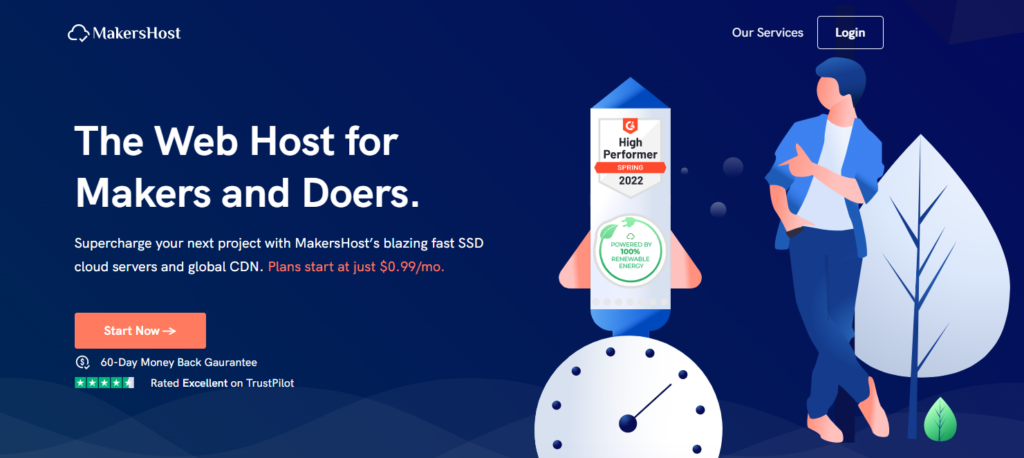 This hosting platform provides numerous tools to help you through the online business journey, such as heat maps and stats. The hosting plans it offers include WordPress hosting, VPS, etc.
MakersHost Data Center Location
The data centers of MakersHost are located in:
Customer Support
The customer support offered by this hosting platform can be accessed through support tickets and emails.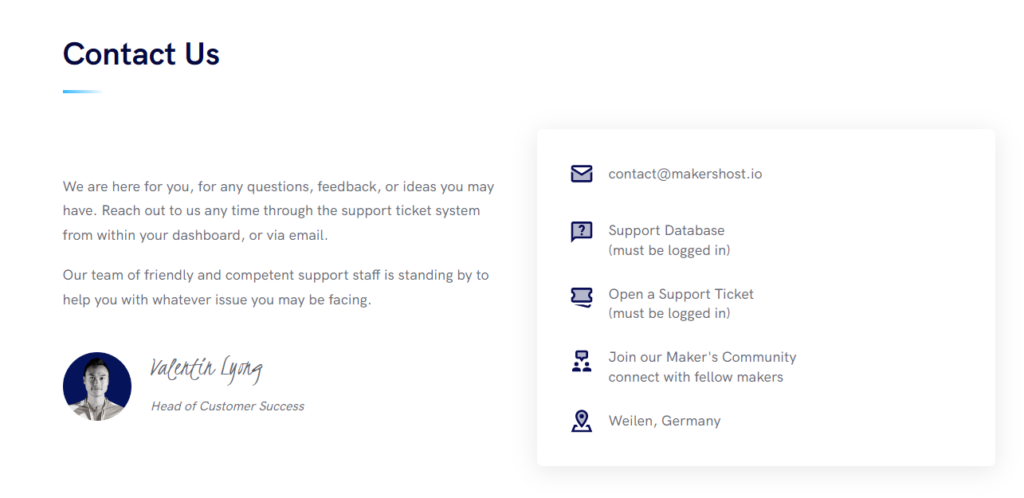 The customer support team is available 24/7 to help you with your queries and do work quickly. However, the availability of live chat support could be helpful.
Core Features of MakersHost
Let us now look at this platform's core features in this MakersHost review.
One-Click Installs
You can make your hosting task easier by including scripts or applications in your hosting account. But how do I do that? Must it be difficult?
It could be, but not with MakersHost. This hosting platform helps you install 80+ applications with just a click.
Free SSL Certificates
Security of your website's connections is crucial. One of the easiest to do so is by including SSL certificates. Therefore, MakersHost offers you a free SSL certificate for the best security for your websites.
Global CDN
The closer the servers are, the better the connection and network. CDN does the same.
The benefit of global CDN helps you speed up your website to a great extent. Therefore, MakersHost offers you a global CDN with its plans.
Types of Web Hosting MakersHost offers
The hosting plans offered by MakersHost include:
MakersHost Hosting Pros & Cons
The pros and cons of MakersHost are listed below in this MakersHost Review.:   
Pros
Business tools included
Global CDN
Managed WordPress
60-day money-back guarantee
FAQs – MakersHost Review
Conclusion – MakersHost Review
Now that we have reached the concluding part of this MakersHot review, we must list out the wow and not-so-wow features. This hosting platform offers you global CDN and SSD storage, which will drive your website with speed.
The security system consisting of DDoS protection is pretty impressive. However, this hosting platform charges you for services such as website builder, which could be a turnoff. Also, a live chat option could be added.