In search of a Hosting service? Want good customer service and uptime? There are multiple hosting service providers on the internet, but not all of them are good enough. But we got something for you.
KeenHost has its data centers in Dallas, USA. They provide you with a 5-minute initial response time in their customer support. Furthermore, you will also find 99.9% uptime.
It sounds like a great deal but is it? Let's start our KeenHost Review and know for sure.
About KeenHost
KeenHost is a Bangladeshi hosting Service based in Dhaka. They provide SSD-based Hosting at competitive pricing.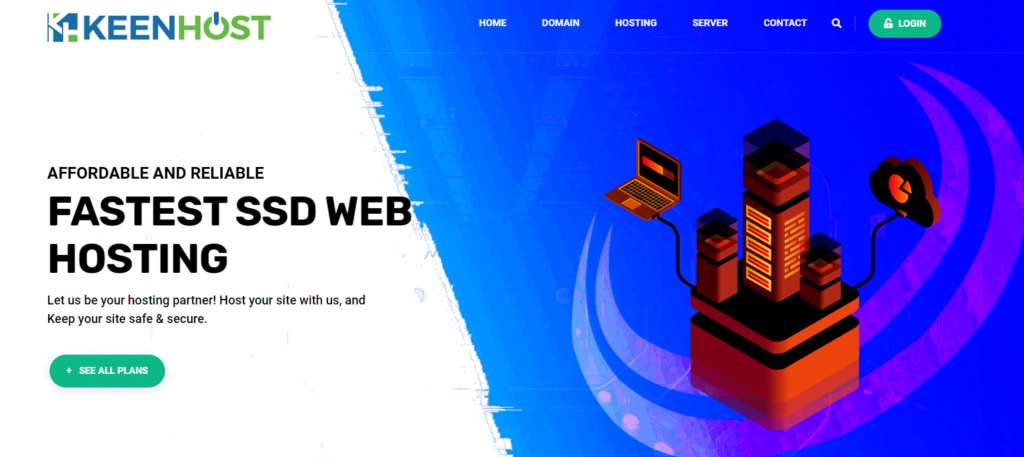 As already discussed, this hosting service provider takes good care of your website and claims 99.9% up-time.  With an affordable list of plans, you can even register the domain name of your choice. Along with these, they also provide Dedicated Servers.
Test and Analysis
Let us now test the services offered by this platform in this KeenHost Review. 
User Interface & Ease of Use
A good user interface is always appreciated as it lowers the time needed to set up and troubleshoot problems.
 cPanel is very intuitive and easy to grasp. KeenHost uses cPanel, which is used by various Hosting platforms. It has great tutorials on navigating it and is fairly modern, useful, and laid out.
KeenHost's Website also has a Knowledgebase for troubleshooting Problems. But they don't have much content there.
KeenHost Customer Support
We reached out to KeenHost to know about their Customer Support. They claim they have four means to reach out to them-
KeenHost themselves made these claims.
Security Analysis
Security of your Data and Uptime in your business is very important. Therefore it is essential to choose the right security measures for your use case.
KeenHost provides you with CloudLinux OS, issue free SSL Certificates, and they also claim to keep a daily Backup of your Data.
Core Features of KeenHost

Money-back Guarantee:
KeenHost has a 30-day money-back guarantee. They claim a 100% refund if the client is not satisfied. However, No refunds are provided for VPS or dedicated servers, along with domain-related services. 
99.9% Uptime Guarantee:
With KeenHost you get 99.9% uptime. So, you can count on them for their up-time. In Layman's term, this means throughout the year your site can be down for only 9 hours in total. So, if your target is to hit that kind of uptime you can choose Keenhost.
Fast & Reliable
KeenHost claims their servers are fast and reliable as they have a 1Gbit/s Network Connection. They also have ECC memory and Free Backup on some of their services.
Expert Support Facilities
KeenHost claims AnyDesk support as well as 24/7 Backend support on some of their services.
Free SSL Certificate
KeenHost provides free SSL Certificates with their Web Hosting plans. This is great because it grants your site HTTPS status, which can boost its SEO results.
Types of Web Hosting KeenHost offers
KeenHost provides various kinds of plans and various types of Web Hosting. Their services are as mentioned :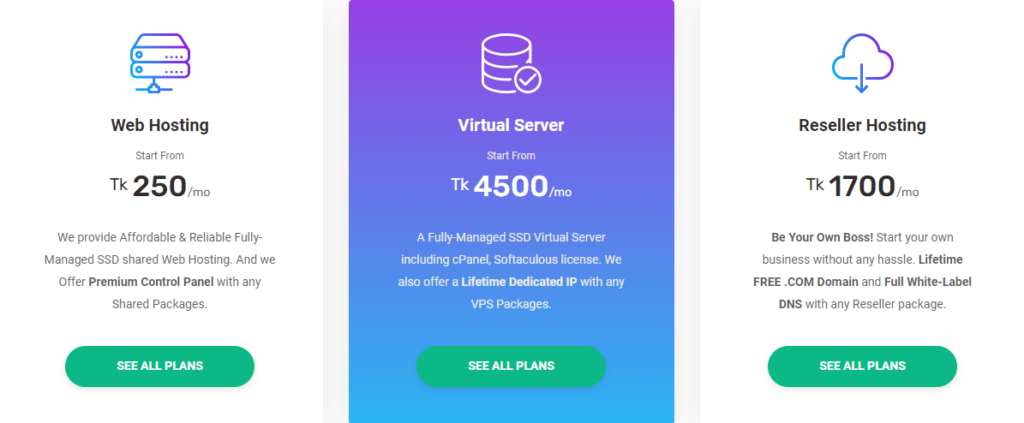 KeenHost Domain
KeenHost also does Domain registrations at a competitive cost. If you are searching for a Domain, you can also visit KeenHost.
KeenHost Hosting Pros & Cons
Pros
cPanel Hosting
They claim good Customer Support
Highly affordable
Great refund policy
Cons
Only one Server Location
A relatively small and new company
Frequently Asked Questions – KeenHost Review
What is the payment gateway of KeenHost?
We reached out to KeenHost on this, and they said, "For the local customers, we accept bKash, Rocket, Nagad, Bank/Cash deposit, and card payment.
For international customers, we accept PayPal payment methods. If you are comfortable with any other payment method, please feel free to ask us. We will try to add that one also for you."
How much time does it take to activate the service?
Although they don't mention a time to activate their service, generally, this happens instantaneously; otherwise, this takes less than a day.
What is the ETA of support?
We have discussed their ETA of support and how you could reach them in detail in the "KeenHost Customer Support" Section. But their response time is generally within 5 minutes.
Does KeenHost offer Lifetime Free SSL?
KeenHost claims to offer free lifetime SSL for their shared and reseller Hosting.
What is the meaning of back-end support?
Backend Support means support from the Data Center whenever something goes wrong.
Conclusion – KeenHost Review
Did this review answer all of your queries? Are you considering KeenHost as your next hosting service? 
KeenHost offers lifetime free SSL along with 5 minute response time. Especially with their 30-day money-back guarantee, you can always try their services and choose for yourselves if this service is for you.