If you are someone who often feels stuck working with your hosting service provider and require support from the hosting platform, or maybe you want features that will help your hosting experience become a little easier. If that's the case, here's a hosting that could do just that.
InMotion is a hosting service provider with the best customer support. This platform provides shared hosting, WordPress hosting, VPS hosting, etc.
Also, the features offered by this hosting platform will help you in the long run of website hosting.
Let us continue the list of services and how well this platform in this InMotion review offers them.
About Inmotion
Founded in 2001, two decades and 570,000+ customers later, InMotion is one of the most well-known hosting service providers across the globe.

This hosting platform has two data centres packed with thousands of servers. 
You get top-notch customer support and reliability with a long list of hosting services on this platform.
The hosting plans offered by this platform include shared hosting, WordPress hosting, dedicated servers, etc. 
Speed Test and Analysis for Inmotion
Let us now put the services offered by InMotion to the test.
User Interface & Ease of Use
First comes the user interface; it is essential to look into it as here is where you will spend most of your hosting time.
Also, you can stay relaxed that your hosting experience with InMotion will be smooth as this platform includes cPanel with its hosting plans, making your hosting easier with an easy-to-use dashboard. 
Inmotion Customer Support
Now comes the show's star, the customer support offered by InMotion hosting. This hosting platform provides customer support through live chat, calling, Skype and emails, available 24/7 in your service.

Also, here you have a separate customer support section divided for distinct purposes so that your problem is understood better and you get help quickly. The responses are pretty quick, so there will be no head-scratching involved.
📌 Want Faster Customer Support? You can also go with UltaHost, YouStable, A2Hosting, KVCHosting or Hostinger.
Security Analysis
You must already know how vital the security system of hosting is as your business depends on it. Therefore InMotion has paid extra effort here and has included features such as free SSL Certificates, free hack and malware protection, DDoS attack protection and automatic backups.
So you see, your data stays safe at every stage of hosting.
Types of Web Hosting Plans of Inmotion Hosting Offers
Some of the hosting plans offered by InMotion are: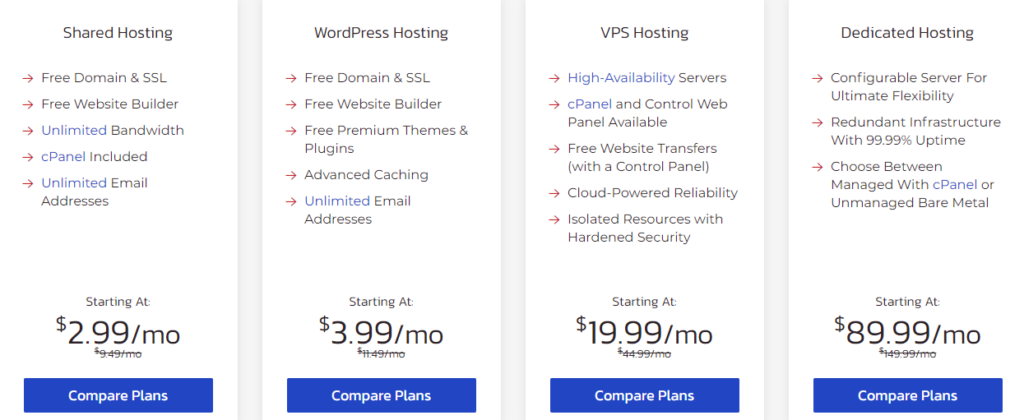 Inmotion Domains
Besides hosting, InMotion also provides domain-related services such as:

Register Domain
With InMotion, you get the benefit of secure domain name registration as this hosting platform is a reliable and certified domain name registrar.
Also, you get a free domain name with a hosting plan that you buy here. However, it might be charged later in the course.
Transfer Domain
With InMotion, you can quickly transfer your domain name by following the domain name transfer guide. Also, if you need any help, you can quickly contact customer support, who will assist you through the process.
A domain name transfer is free here, as all plans include one free domain name.
Key Features of Inmotion Hosting
We must now list out the key features of this platform in this InMotion review. 

Developer Tools
With InMotion, get the best chance to grow online as most of your hosting needs are fulfilled here.
They focus on building your web applications in Ruby, PHP, PostgreSQL or MySQL. You get all the tools on this hosting platform, whether you are a beginner or an expert.
Email Addresses
Whether you have an offline or online business, you need to keep in touch with your customers, and it becomes even more critical for online businesses as you do not have face-to-face contact.
Therefore with InMotion, you get to host multiple email addresses with lots of space to stay in touch with your customers.
Website Builder
Getting what you want motivates you to do better as it meets your hosting needs. Therefore with InMotion, you get to build your website by yourself with minimal effort required with the website builder offered by this hosting platform.
Customer Management Tools
Just like emails, you need more tools to stay in touch and manage your customer as they are the ones that grow your business. With InMotion hosting plans, you get complimentary customer management tools.
Multiple Websites With One Plan
You might have purchased a different hosting plan when you wanted to host multiple websites, which might have cost you plenty of money. But here, with InMotion, you can host numerous websites with a single plan.
Inmotion Refund Policy
With InMotion, you get a pretty profitable deal regarding a refund policy. Here you get a 90-day refund policy. This means you have about 90 days or three months to explore its services and then decide whether it suits you or not.
InMotion Pros & Cons
Let us now list the pros and cons of this platform in this InMotion review.
Pros
90-day refund policy
Multiple websites on one hosting plan
Automatic SSL
Reliable customer support
Cons
A monthly hosting plan might not always be available
Higher renewal cost
Why Should You Choose InMotion for Your Website?
So why should you choose InMotion as hosting for your website? We could give you plenty of reasons for that.
On this hosting platform, you get tools to help start and progress your online business, such as website builder, hosting, and domain-to-customer management.
So your hosting needs from the beginning until reaching the top are satisfied here.
FAQs – Inmotion Review
What payment method does Inmotion Use?
InMotion accepts PayPal and credit cards as payment options. However, you have restrictions on some money-back schemes with credit cards so read through the terms of services carefully.
What is the starting price of Inmotion Hosting?
The starting price for different plans is different on InMotion, but the cheapest plan on this hosting platform comes for about $2.99 per month with a discount added.
How good is Inmotion for beginners?
InMotion is suitable for beginners as it employs cPanel with its hosting plans. Also, here you get some managed to host plans that might work in your favour as a beginner. 
Does InMotion Hosting offer free trials?
No, InMotion does not offer a free trial period, but you get a 90-day refund policy where you get enough time to use their products, test and analyze it, and then decide to keep them or get your money back.
How much does Inmotion hosting cost?
The cost of InMotion will depend on the hosting plan that you buy. The price range starts from $2.99 a month for shared hosting, and the prices increase as the features increase on the hosting plan.
How much does InMotion Hosting cost on hosting renewal?
The renewal cost of an InMotion hosting plan is higher than when you bought it, as initially, you get a free domain name; later, when you renew the plan, you will have to pay for the domain name.
Conclusion – Inmotion Review
As we are at the concluding part of this InMotion review, we must look at the factors that might help you decide. This hosting platform has a small range of data centres which might seem bothersome, but there is no effect on speed, so it is pardonable. 
Also, you might not always find a monthly plan available and would have to buy a yearly one, but here you could use the 90-day refund policy. The plans are comparatively pricey but the features offered are worth the money.