If you are someone who needs a hosting service provider with whom you can stick along your journey from being a beginner to an expert in hosting your website. Also, if you are very keen on reliable customer support, we could suggest something.
HyperHost is a hosting service provider you can rely on for reliable and quick services. This hosting platform maintains a pocket-friendly price range and offers services such as lifetime hosting, WordPress hosting, etc. 
Let us continue the list of its services and analyse if it's worth paying for in this HyperHost review.
About HyperHost
HyperHost is a Ukraine-based hosting service provider that has been around in the hosting industry for a long time now. This hosting platform is pretty reliable when it comes to customer support.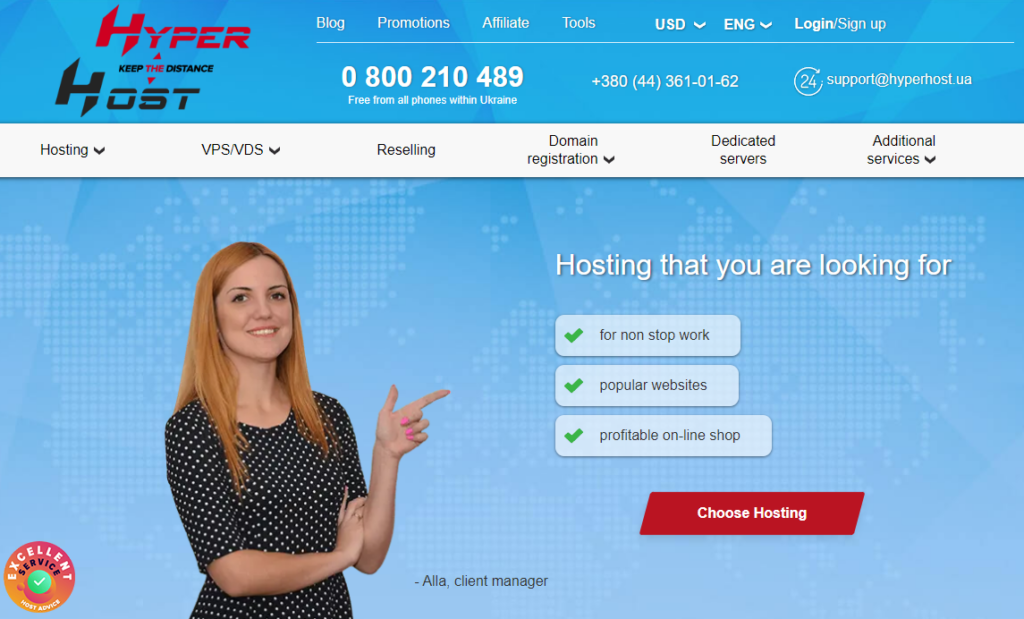 Also, here you can find many website-related services such as WordPress hosting, lifetime hosting, domain name registration, servers, VPS Hosting, and more. But you do not have to compromise on your budget here as the prices are economical. 
Test and Analysis
Let us now test the quality of services this platform offers in this HyperHost review. 
User Interface & Ease of Use
First, let us talk about the user interface and how easy or difficult it is to work with. With HyperHost, you get a simple and minimalistic user interface. You are provided with all the information and settings you need on the dashboard without complexities.
HyperHost Customer Support
The customer support offered by HyperHost is pretty palpable. The customer support team can be reached through live chat, calls, and emails. Customer support is pretty quick sometimes, but sometimes you might encounter a slight delay with the services. 
Security Analysis
The matter of the security of your data is crucial to consider, which is understood by both you and HyperHost. That is why this hosting platform offers security features that include daily backups, SSL certificates, RAID, etc. 
Core Features of HyperHost
Let us now list the core features of this platform in this HyperHost review. 

SiteBuilder
So what is the budget you have gathered to build your online business's website? Is it small or big? Did you know you do not need a budget to build a website on HyperHost, as this hosting platform offers you SiteBuilder for free? 
Free Domain Name
Yes, with most of the hosting plans offered by this hosting platform, you get a free domain name. However, the condition is that you might have to buy a 6-month or longer hosting plan.
Free SSL Certificates
To make your hosting even easier and more secure, HyperHost includes Let's Encrypt SSL certificates with most of its hosting plans for free. This lets your website's connections on the internet stay encrypted and safe. 
Multiple Servers
The closer the server is to your customers, the better the website will run and the more favoured you will be. Therefore with HyperHost, you get the facility to choose the server location you want. 
Types of Web Hosting HyperHost offers
HyperHost offers the following hosting plans:

HyperHost Hosting Pros & Cons
Let us now discuss the pros and cons of this platform in this HyperHost review. 
Pros
Colocation offered
Daily backups
Free CDN
Reliable customer support
HyperHost Domain
Let us now take a look at the domain-related services offered by HyperHost. 
Register a New Domain
With HyperHost, you can register your new domain name with maximum ease. This hosting platform offers complete assistance through the process. Also, you get a free domain name with a hosting plan for 6 months or longer. 
Transfer a Domain
Transferring your existing domain name is as easy as registering a new one. Here also, you get reliable assistance at all times. However, this hosting platform does not mention its domain transfer services.
FAQs – HyperHost Review
Which Type Of Hosting Solution is Offer By HyperHost?
HyperHost offers a variety of hosting services such as WordPress hosting, lifetime hosting, website hosting, CMS hosting, etc.
How Many Data Center Locations Offer By HyperHost?
The data centres of HyperHost are located in Ukraine and the Netherlands.
Is HyperHosting a Reliable Hosting Provider?
Yes, this hosting platform has been offering its services to users across the globe for a long time. This hosting plan follows European law, so you can rely on it.
What type of payment method is accepted by HyperHost?
HyperHost accepts payment options that include PayPal, Visa, MasterCard, and 40 other payment methods with three currencies included.
Conclusion – HyperHost Review
Let us now conclude this HyperHost Review as we have reviewed its services and how well they work. So the first point that we want to present is that this hosting platform offers reliable customer support, but the live chat option is only available during working hours.
This hosting platform has multiple server locations in and around Europe, which gives good connectivity globally and especially in European countries. Also, you get free services such as SSL, domain name, etc. So it could be considered a good buy.