If you are looking for a hosting service provider that is easy to navigate around and also allows you to try out their services with a great refund policy, this is the perfect place you have landed. We have a solution. We came across FreeHostingEU.
This service provides you with Free Hosting plans and a free .eu5.net Domain. You can use this website for small personal use or even for your medium-scale business. There are tons of features you can look forward to.
They also offer paid plans. We will talk about both their free plans and paid plans further in our article. Let's start our article.
About FreeHostingEU
FreeHostingEU is a hosting site in Europe that provides Hosting for absolutely free along with a Free Domain. 

You get WordPress, Joomla, and much more with FreeHostingEU. The best thing is that the websites are completely ad-free. Along with free plans, they also have paid plans with a 30-day money-back guarantee.
Test and Analysis
User Interface & Ease of Use
A good User Interface is essential when it comes to executing a task efficiently and quickly. But their Interface is a bit old.
FreeHostingEU does not use any well-known Control Panel like cPanel. They claim to have an easy-to-use Control Panel for your convenience.
Customer Support
Customer Support is very important when it comes to using your service reliably and without any significant downtime. This way, your website stays online for a long, long time.
FreeHostingEU claims 24/7 Customer Support for its users. They also have a live chat option on their website if their support agents are offline, they claim to reach out to you later.
Along with these features, they also have Frequently Asked Questions, Trouble Tickets System, and Community Forms under the Support Section of their Website.
Security Analysis
Security is another big part of a Web Service as good Service and good Security protects your Data and keeps your Website online for longer. 
FreeHostingEU has some Security features in its Services. Their premium plans include SMTP Access, an SSH account, and AntiVirus/Spam protection. Although the Security features are quite old, at least they have some built-in features.
Key Features of FreeHostingEU
Types of Web Hosting FreeHostingEU Offers
FreeHostingEU offers various kinds of hosting. These are-
All of these are their Shared Web Hosting services.
FreeHostingEU Domain
FreeHostingEU provides domains as well. Their free Domain plan comes with a eu5.net domain, but their paid plans come with a more traditional top-level domain.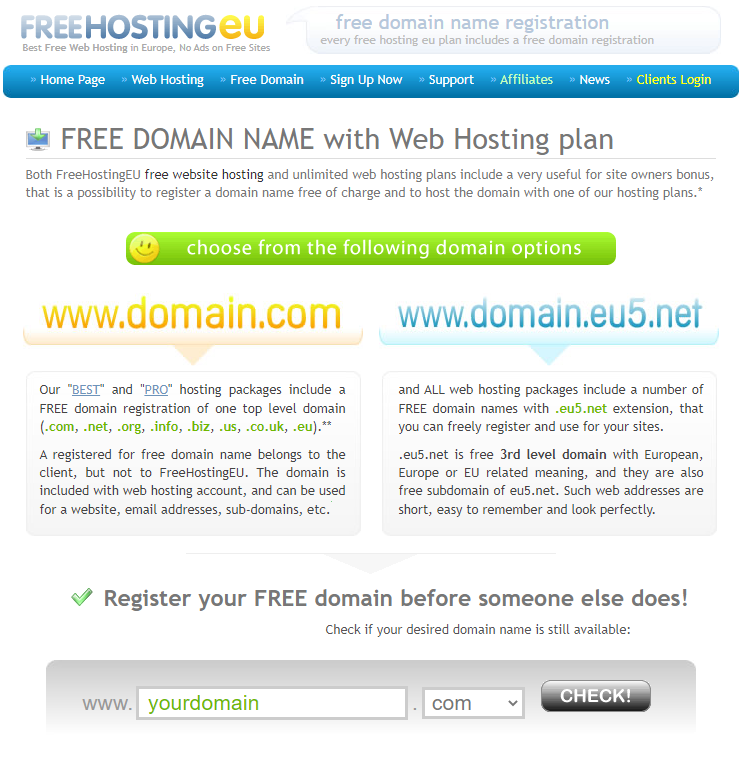 These top-level domains include .com, .net, .org, .info, .biz, .co.uk, .us, or .eu extension. So, you can either buy the premium plan or you can opt for the free one.
FreeHostingEU Hosting Pros & Cons
Pros
They offer Web Hosting and Domain for absolutely no cost at all
They have WordPress and Joomla Support
Cons
Their services are ancient and lack the latest features and reliability.
Their services would be depreciated if not already.
FAQs- FreeHostingEU Review
What payment methods does FreeHostingEU accept?
FreeHostingEU claims to accept various payment methods. These include-
PayPal
WorldPay
VISA
MasterCard
BankWire
Does FreeHostingEU have cPanel?
FreeHostingEU does not use cPanel, but they claim to implement an easy-to-use Control Panel.
Does FreeHostingEU offer professional and absolutely free hosting services?
Does FreeHostingEU provide a free domain?
FreeHostingEU does provide free domains. You get a .eu5.net domain for absolutely free. They also have Top-level domains; you can also get .biz and .eu domains from them.
Can I get WordPress Hosting For Free ?
Yes, FreeHostingEU provides specially optimised Free WordPress hosting for your website so that you can easily manage and run your blogging website.
Conclusion – FreeHostingEU Review
Did we answer all of your queries? FreeHostingEU is an excellent service, especially if you want a free one. The interface and security features are quite old, so you might want to refrain from using them for business use.
For a free service, you can get a domain for absolutely no cost, the same stands for a Hosting Plan. Try it for free and find out if it is for you.