How often do you come across a company which is a complete web services hub? Given the competition in the IT industry, you can find many companies around, but only a few offer all web services under one umbrella.
We have one in our view, and that is EsteemHost. It's among the top hosting companies in India that offer web hosting, domain services, and other kinds of web services, including web designing and development, eCommerce service, digital marketing tools, SEO, and more.
So, in today's article, we've developed a detailed EsteemHost Review to help you figure out all about this top web hosting company in India.
About EsteemHost
Established in 2011 with the aim to bring new, refreshing, and innovative technology that works, EsteemHost is a rapidly growing web hosting and domain registration company in India with a team of expert developers, designers, engineers, and other software and hardware professionals.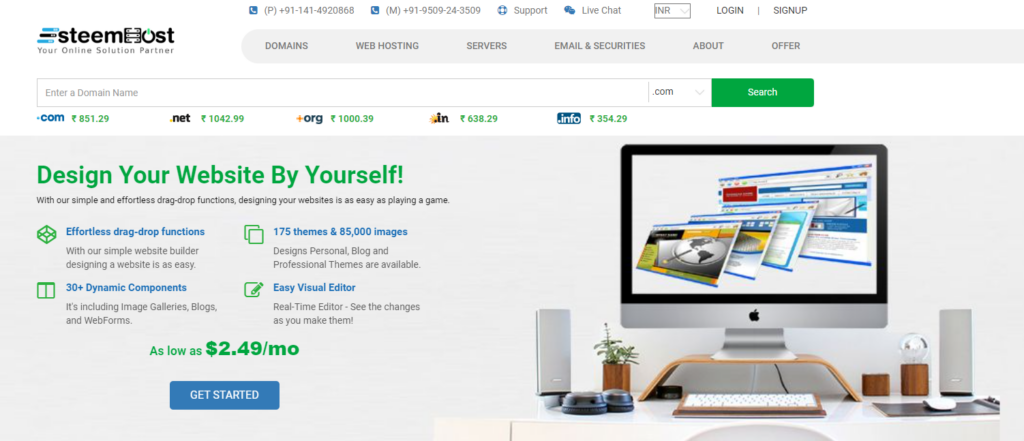 With a dedicated team, the company is engaged in providing efficient web services that meet customer needs and demands beyond expectations. Through constant work, EsteemHost has been serving the industry for over a decade and is rapidly growing as one of the leading companies for web hosting in India.
Test and Analysis
When reviewing a hosting solution, we test it on a number of parameters, including its ease of use, support, and security. Here are the results of all our tests and analysis.
User Interface & Ease of Use
The ease of use is pretty great with EsteemHosting. You get a great control panel for managing the website operations and a site builder for website designing.
You can choose from multiple templates to customize using the easy drag-and-drop features.
EsteemHost Customer Support
The customer support is pretty prompt and responsive, and you can have your queries almost instantly resolved through the live chat option.
Besides live chat, you can also raise a support ticket or get in touch with the support over a phone call.
Security Analysis
Having secure hosting is every business's priority, and EsteemHost understands. It's a very secure platform with multiple security patches and features like SSL certificates, SiteLock, and Codeguard Website Backup.
So, you can be assured of the security of your website when you host it on EsteemHost.
EsteemHost Data Centres
EsteemHost has multiple data center locations around the world. The data centers are located in-
Key Features Of EsteemHost
It's essential to note the key features of any hosting solution to understand its usefulness. Hereinbelow are the core features that you get with EsteemHost.
cPanel Control Panel
CPanel is the most usable and easily understandable control panel, and you can manage your website operations well. The hosting comes with this simple and easy-to-understand control panel offering significant ease of use in managing the website.
Unlimited Disk Space
You need a lot of space on your website to efficiently store website data and information. With EsteemHost, you never have to worry about the size of your data as it offers unlimited disk space while maintaining the fast speed and performance of the website.
ECommerce Features
Not only can you host a simple business website on EsteemHost, but you can also extend its functionalities and have eCommerce features like a shopping cart, payment gateway, etc., integrated into your website.
1-Click App Installer
You need more applications to extend the functionalities of your website. It's easy with EsteemHost as it comes with a 1-click app installation feature that allows you to download, install, and integrate different apps on your website in just a few clicks.
Domain Services
In addition to hosting services, you can also get domain services like domain registration, domain transfer, DNS management, domain forwarding, free Secure email accounts, and more with EsteemHost.
EsteemHost Refund Policy
A refund policy makes you more sure about hosting as you remain risk-free if you don't like the hosting.
To offer such convenience to its customers, EsteemHost has a 30-day money-back guarantee for all its plans.
If unsatisfied with their services, you can request a refund which shall be processed in 21 days.
EsteemHost Pros & Cons
Pros
Easy to understand and use cPanel control panel support.
Excellent customer support with fast responses.
eCommerce features to extend the functionalities of the website.
It also offers domain services and other web services.
A money-back guarantee covers services.
Cons
The official website has broken links that can restrict the users' usability and understanding of the service.
FAQs – EsteemHost Review
Is Esteem Cloud trustworthy?
We have reviewed EsteemHost in deep detail, and after the entire testing and analysis of the platform, we can say that it is trustworthy, and you can definitely give it a try.
Why did you choose Esteem Host?
EsteemHost is a reliable and affordable hosting service provider with many more web services. It has been rapidly growing in the industry and has an established name.
You can choose different data centers and have excellent customer support from the team. Moreover, other hosting features like eCommerce and email features are also a plus. Given all these reasons, it's a wise decision to choose EsteemHost.
What kind of web hosting is provided by Esteem?
Does the Linux Reseller Hosting have a money-back guarantee?
Yes, all the plans on EsteemHost come with a 30-day money-back guarantee. So, if you don't like their services, you can easily opt out of them without losing your money.
Conclusion – EsteemHost Review
So, that was our detailed EsteemHost Review. After the entire review, we can conclude that EsteemHost is a decent platform with many advantages.
Although some links on their website are broken, you can overlook that factor as the support team instantly resolves any query or question.
Also, some images on the website are left blank after giving spaces for them, like:
But, overall, it's good hosting with great features and affordable pricing. So, you can give it a go.