It's getting quite hard to find a suitable hosting service as there are too many options and too many distractions. So, if you came across EGIHosting in your search and want to know more about it, I guess you are at the right place.
So, let's get started with our EGIHosting review without wasting fleeting time. We will discuss various parts of EGIHosting and explore its good and bad.
This way, you can choose if this service is suitable for you or not.
About EGIHosting
EGI Hosting has been providing Hosting services since 2003. They have servers in two locations, one in Santa Clara and the other in Miami.
They have gathered experience in these years. Also, their team has combined experience of decades, and their EGI team is there to solve the problems you encounter.
Test and Analysis
For a proper EGIHosting review, we need to examine its key features and test their real-life performance for users.
The user interface, security features, and customer support are key components of a web hosting service and are essential in defining the user experience.
User Interface & Ease of Use
User Interface can be argued to be one of the most important aspects of service. A good User Interface helps you to work effortlessly and efficiently without focusing much on navigating the Interface.
You get access to cPanel as the Control Panel. But with dedicated servers, you are free to install your control panels like the DirectAdmin control panel Plesk.
EGIHosting Customer Support
Besides Ease of use, Customer Support is an important aspect. You can count on good customer service to solve your problem and be stress-free whenever something goes wrong.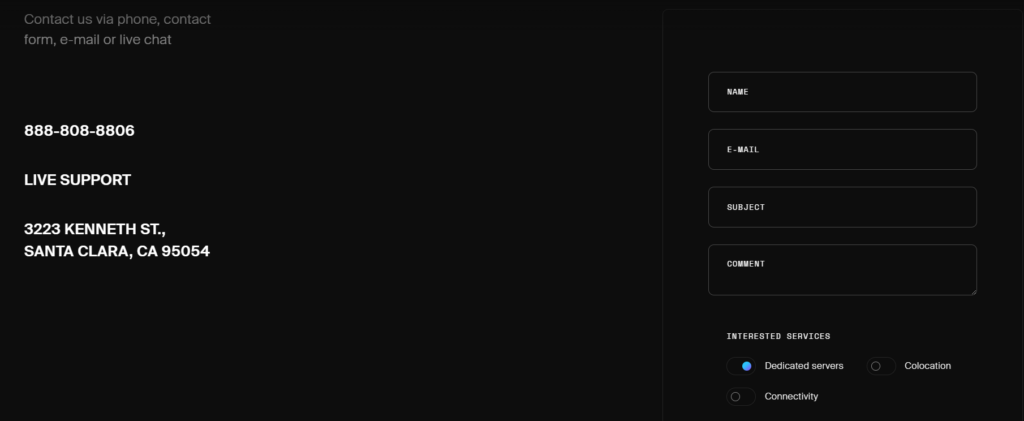 You get three methods to contact EGI Hosting. You can call them, drop a message or even contact them via Live Support. In case they are not online, you can message them, and they will respond once they are online. 
Security Analysis
Security of your site and on your site is pretty important. Especially if you possess sensitive information or want reliable service with up-time.
You get 99.99% uptime with the services from EGI Hosting. Not only that, EGI Hosting has 5 Tier 1 Data Centers to ensure reliability. These features ensure redundancy and security in your service.
Key Features of EGIHosting
Although there are various great features equipped with EGIHosting, there are some that make it distinctive.

This would be their 99.99% uptime due to the use of redundant services. Their servers are also easily scalable, and you could upgrade quite easily.
Types of Web Hosting EGIHosting offers
EGI Hosting focuses more on the business spaces and clients with greater needs. So their services are more geared toward them. Their services include-
EGIHosting Pros & Cons
Here is a list of the pros and cons of EGIHosting Review-
Pros
EGI Hosting comes with servers with 99.99% uptime.
Their services are easily scalable
Cons
Services are not geared toward general consumers.
FAQs – EGIHosting Review
Is EGIHosting easy to use?
Although EGIHosting is geared toward businesses with professional people, it is quite easy for people with a technical background; their inclusion of cPanel and easy scalability make them relatively easy.
Does EGIHosting offer a money-back guarantee?
No, EGIHosting doesn't come with any money-back offer.
Do backups cost extra with EGIHosting?
EGI Hosting doesn't mention backup services. But if you need, you can contact their team to get a quote.
Which operating systems are available for Dedicated Hosting Plans?
With their Bare Metal Server and hands-off approach, you can choose any Operating System you want for your workflow.
Conclusion – EGIHosting Review
We discussed aspects like Operating systems, User Interface, and much more about EGIHosting. After all this information, do you think EGIHosting is right for you? Should we assume all your questions are answered?
EGIHosting is business-focused with its services like Bare Metal Servers and colocation services. You can check out their price ranges for your needs and choose if this is worth it or not.