eChromatics Review: Finding a hosting service provider that offers you all the hosting services you require with a blazing fast speed and good security yet comes at economical prices is difficult. But we may have a suggestion for you.
eChromatics is a hosting service provider that offers services for less than a dollar. Do not judge the services by looking at the prices; the services are plenty, and we will further see if it's reliable in this eChromatics Review. 
So let us dig deeper into this eChromatics Review.
About eChromatics
eChromatics is a Pakistan-based hosting services provider so you can expect an excellent speed in South Asia. This hosting platform offers hosting plans that will fit your budget.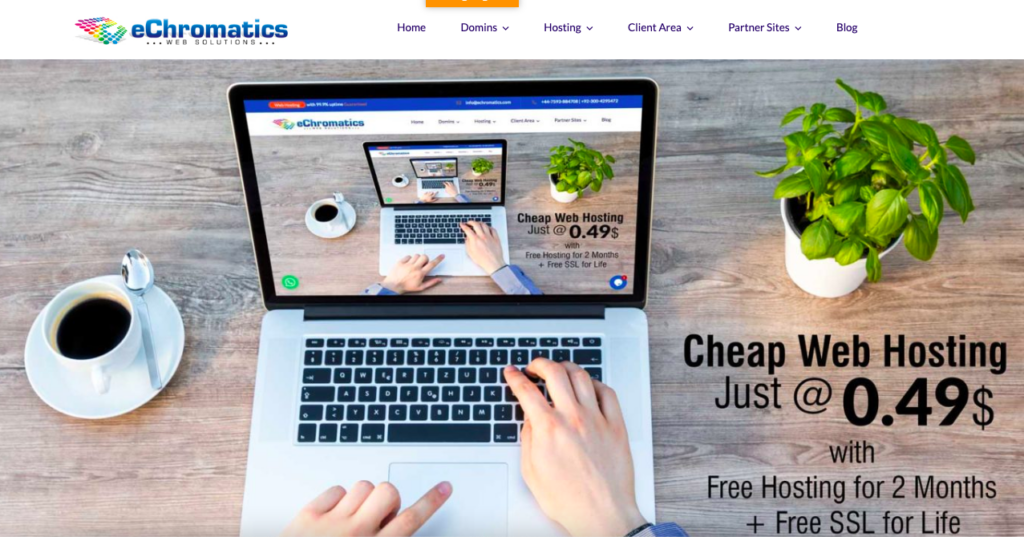 The services offered by this hosting platform include shared hosting, KVM Linux hosting, OpenVZ Linux hosting, semi-dedicated servers, Linux dedicated servers, domain-related services, and more.  
eChromatics Data Center Location
The data center of eChromatics is located in the
Core Features of eChromatics
Let us now list out the core features of this hosting platform in this eChromatics Review. 
1. Instant Setup
With eChromatics, you get the benefit of not wasting time at all. On this hosting platform, your account is deployed within a few minutes after you complete the payment process, and your credentials are verified.
2. Free SSL Certificates For Life
Yes, with eChromatics, you will not have to buy an SSL certificate as long as you are connected to their services. SSL certificates are pretty pricey but here, with this hosting platform. You get them for free as the security of your website is a necessity
3. No Downtime During Transfers
You might have heard people saying that their website or domain transfers take up a day or two, and they are left worrying about losing their customers in those two days. But with eChromatics you will have no such issue as this web hosting platform does not let any downtime happen. 
eChromatics Customer Support
Good customer support is not usually something that people look for with specificity. However, you will need it when you start working with the product you bought.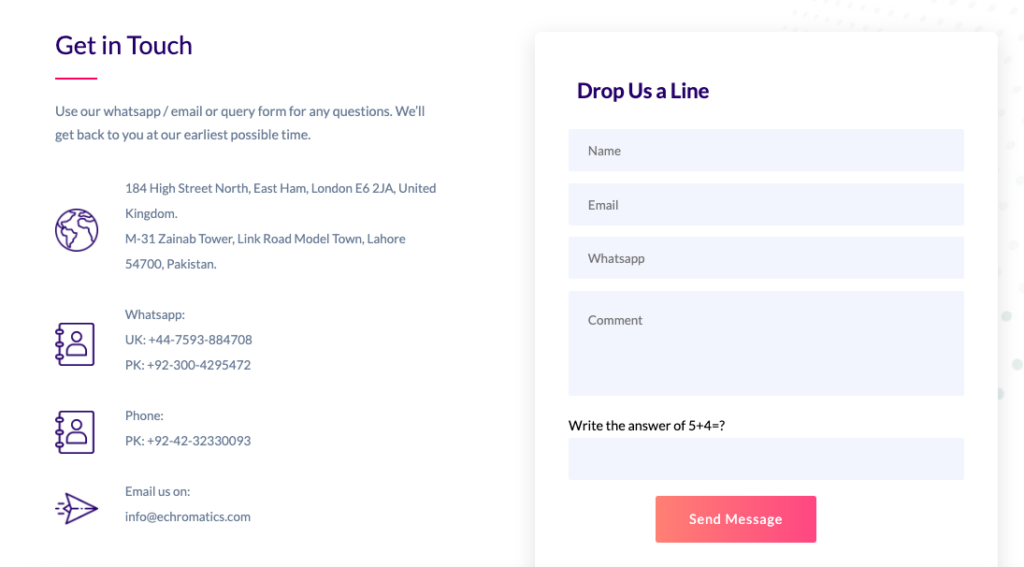 Therefore, eChromatics offers a customer support system that stays available to you 24/7 through live chat, tickets, WhatsApp, and phone calls. But you can expect a little delay in response to live chat support.
Types of Web Hosting eChromatics offers
This hosting platform offers the following hosting services:
eChromatics Domain
eChromatics offers the following domain-related services.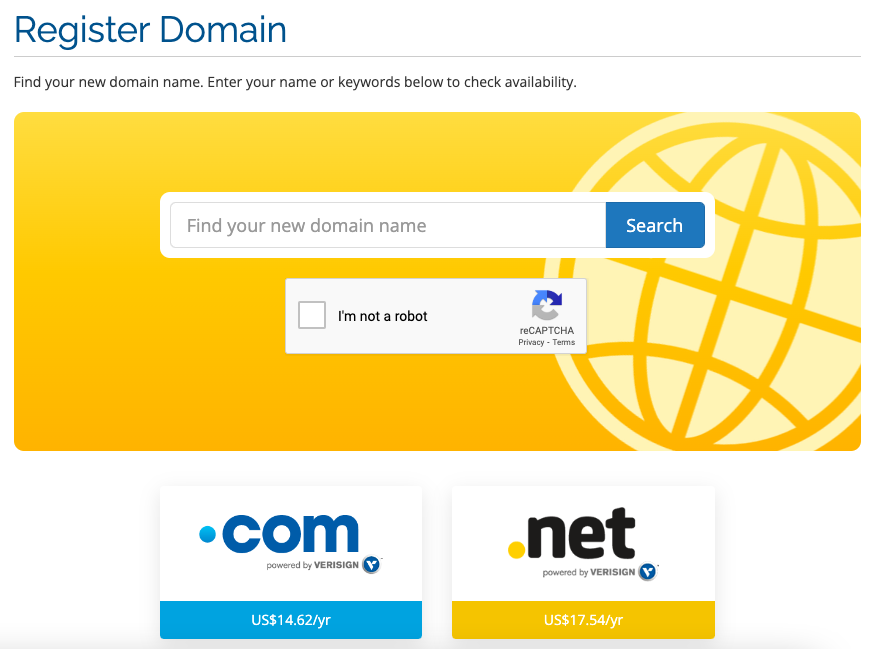 Register a New Domain
eChromatics is a reliable domain name registrar and has been registering domain names for a long time. Here you can get your domain names registered yearly at affordable prices.
Transfer a Domain
Just like how eChromatics registers your domain name, it also transfers it for you. By moving your domain name to eChromatics, you extend it for another year. The prices are pretty pleasing and also the offers. 
eChromatics Technologie Hosting Pros & Cons
Let us now list the pros and cons of this platform in this eChromatics Review.
Pros
Numerous data centers
No downtime during transfers
Free two months of hosting on a yearly plan 
No Setup Fees
99.9% system uptime warranty
No Configuration Fees for Your VPS plans
Cons
Slow customer support on their Global site.
FAQs – eChromatics Review
How much does eChromatics cost?
The cost of eChromatics will depend on the plan you buy from it. If you want to buy the most basic shared hosting plan, it will cost you about $0.99 a month per user.
Do eChromatics offer a money-back guarantee?
Yes, eChromatics offers a 30-day refund policy on its services. However, this refund policy does not apply to additional services.
Does eChromatics Offer Free Domain?
Yes, eChromatics offers a free domain with its hosting plans. This domain name could have .com as an extension.
What payment methods do eChromatics accept?
eChromatics accepts fewer payment options. Here you can pay through PayPal, Master Card, Visa, American Express, Diners Club, and JCB.
Conclusion – eChromatics Review
We must now look back at this eChromatics Review we are currently concluding it. This hosting platform has many great and a few not-so-great features. Here information about data centers is not openly available. 
However, the any-time money-back guarantee is impressive, and you can ask customer support to help you get your money back at any point of your hosting tenure. Also, you get SSD storage and no significant downtime.