A web hosting solution at affordable prices with excellent performance is challenging to find.
Does that statement sound relatable? Well, you can let go of the relatability because here, we have an affordable hosting solution with trusted features and functionalities to offer great performance for your website.
We are talking about DataKL, and in this detailed DataKL review, we'll discuss everything you need to know about DataKL and its functionalities. So, let's get started.
About DataKL
DataKL is a Malaysia-based web hosting company engaged in offering feature-rich hosting services that help enhance website performance.
They cater to their excellent services with their one data center, which is located in Cyberjaya, Malaysia and their amazing network connections due to their collaboration with different companies and brands.
In addition to being feature-rich, the services at DataKL are also very affordable, and if you're looking for low-budget hosting, then you'd love to look through the packages of DataKL.
Test and Analysis
For every hosting, it's essential to test and analyze its functionalities and features to ensure its efficacy. Herein below are the results of all our tests and analysis.
User Interface & Ease of Use
DataKL offers a cPanel control panel with all its hosting services. This control panel is easy to understand and use.
Additionally, it has Softaculous support, which again makes it easy to have added functionalities on your hosting with simple and quick one-click application installations.
DataKL Customer Support
DataKL offers support through phone calls during business hours and email support through a support ticket system.
However, unlike other hosting solutions, they don't have a live support feature, making it difficult to get instant clarification for your doubts and queries.
Security Analysis
The security features of DataKL are pretty good. For starters, they offer unlimited SSL certificates to secure your website connection and network. Besides that, the servers have CloudLinux support that separates accounts from one another and although the plans are shared hosting plans, the servers act as individual virtual servers.
Key Features of DataKL
Every hosting solution comes with some features and functionalities that make it unique. Let's look at the features of DataKL to determine its speciality.
SSD Storage
All the hosting plans come with SSD storage which is fast and allows the servers to operate at high speed even with lots of data and information on the disks.
Softaculous Support
Extending the functionalities of your website without any programming or coding is easier with Softaculous support that allows one-click application installation. Using this one-click installer, you can install more than 300 scripts on your website.
Automatic Backups
Your website data is important to you, and you don't want any risks with it. To ensure that your data is not at risk of loss by accidental deletion or corruption, DataKL takes automatic backups of the data on your website daily, weekly, or monthly.
What types of web hosting are offered by DataKL?
DataKL offers multiple types of hostings that suit all business types and all the hosting plans are very affordable. Herein below are the most prominent hosting plans available on DataKL-
There are plans for shared hosting, WordPress hosting, and dedicated servers within these plans.
DataKL Domain
DataKL not only offers hosting services, but you can also get domain services with their hosting. Whether you want to register domains to transfer them, DataKL can help you out.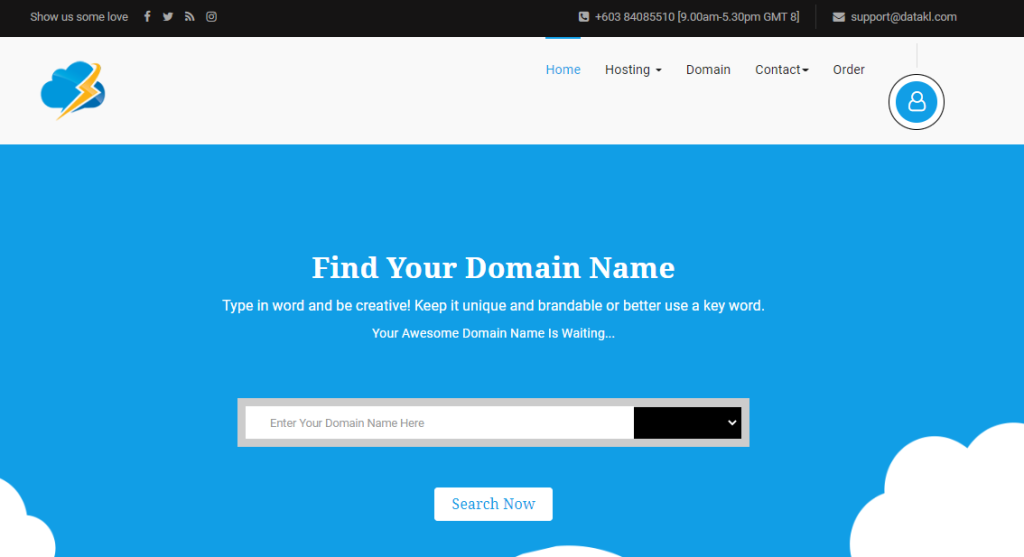 Domain Registration
You can search any domain name and register it with your desired extension at nominal domain registration prices on DataKL.
Every extension can be registered for a different price. Besides domain registration, for some extra cost, you can also get WHOIS protection for your domain.
Domain Transfer
The cost for domain transfer is the same as the cost for domain registration on DataKL. So, if you wish to transfer your domain from another platform, you can do it at a very nominal price by simply getting in touch with DataKL support.
DataKL Pros & Cons
Every hosting comes with its pros and cons. With DataKL as well, there are some benefits and disadvantages. Let's have a look at them.
Pros
1-click app installer.
Unlimited SSL certificates.
Cloudlinux support for speed, performance, and security.
Good technical support.
Domain registration and transfer services. 
Cons
The support features lack a live chat option, and raising support tickets for every small issue could be quite a daunting procedure.
FAQs – DataKL Review
Is DataKL suitable for beginners?
Yes, DataKL has a simple and easy-to-understand user interface with a cPanel control panel, making it suitable and ideal for beginners and pros alike.
What is the refund policy of DataKL?
DataKL offers a 30-days money-back guarantee with all its hosting plans and packages.
Does DataKL offer website migration?
Does DataKL offer a free domain name?
No, DataKL doesn't offer a free domain name. Nonetheless, you can have a domain name registered at very nominal prices on DataKL.
How many data center locations does DataKL provide?
DataKL has a single data center in Cyberjaya, Malaysia.
Conclusion
So, that was all about DataKL. After the entire DataKL Review, we can conclude that it is a good platform with fairly decent features and extremely affordable prices. If you're a small business owner with limited needs for web hosting, then surely, DataKL is a platform you can try.
We hope this review gave you the necessary insights and that you'd be in a better position to make your decision about an affordable hosting solution now!