Pay in crypto for your cloud services! A new concept but one that lets you stay anonymous and maintain privacy as per your choice.
VPS hosting has been one of the most preferred types of hosting because of the dedicated resources and affordability of the type of services it offers. This hosting can handle heavy traffic yet work smoothly. Hence, getting various kinds of VPS services and scaling up your hosting as per your choice is something that you may prefer, right?
In this review article, we are going to talk about one such company, which has taken its name up to the charts in no time- BitLaunch.
About BitLaunch
| | |
| --- | --- |
| 🚀 Speed | From New London Server 2.0 to 5.0 sec |
| ⏰ Uptime | 99.95% uptime in the past 365 days, which is excellent |
| 👩🏻‍💻 Support | Live Chat, and Email |
| 💳 Payment Method | Bitcoin, Ethereum and Litecoin |
| ♻️ Refund Policy | No Refund Policy |
| 💰Pricing | Starting from $10.00/m |
| 🌎 Data Center | Amsterdam, London, Los Angeles, Chicago |
BitLaunch has its own servers but also offers services from some renowned cloud service providers like DigitalOcean, Vultr, and Linode. 
It is a Panama-based company that was established in the year 2017. You can instantly launch your virtual private server by paying on an hourly basis too.
You can pay in any form of cryptocurrency at your convenience, and why do they take payments in crypto? Because BitLaunch knows the importance of privacy and holds it as a fundamental right. Hence, it maintains anonymity.
Test and Analysis
We ran some tests through BitLaunch to check and test its credibility. Hence, these were the analyzations and test results that came out:
User Interface
BitLaunch asks to sign up simply through e-mail and nothing else. Though they offer no basic features like free domain registration, website migration, or features like these, they make it complicated for newbies to understand and operate the services that BitLaunch.
Though the other features and services are presented in a clear and self-explanatory way, it is easy for users who are a little techy and know about cloud services.
Its dashboard is simple and straightforward.
Security Analysis
DDoS defense is a free service offered by BitLaunch on all of their servers. Maintaining an uninterrupted service is BitLaunch's top priority. 
Basically, BitLaunch uses industry-leading heuristic-based mitigation DDoS-protected VPS hosting to defend against any known and unknown attacks.
Customer Support
Customer service is not BitLaunch's strongest suit, but it is also not its weakest. There are a few in-depth how-to articles on their blog, but there is no extensive knowledgebase, video library, or help forum.
We tried to contact them, but they did not reply to our queries due to them being odd hours.
Although we received a response to our email from BitLaunch's support team in less than five to ten minutes, they are available through live chat and email.
BitLaunch Data Centers Location
BitLaunch has enough data centers to provide uninterrupted services to its users. Let's see where its servers are located:

Key Features of BitLaunch Hosting
Key features are the hands and legs of a body. Hence, for them to be working properly is essential. Just like that, features make and break service. Now, let's look into the key features of BitLaunch :
BitLaunch Refund Policy
BitLaunch does offer a free trial on request, but after that, it does not give any option for withdrawals or refunds. Look for yourself: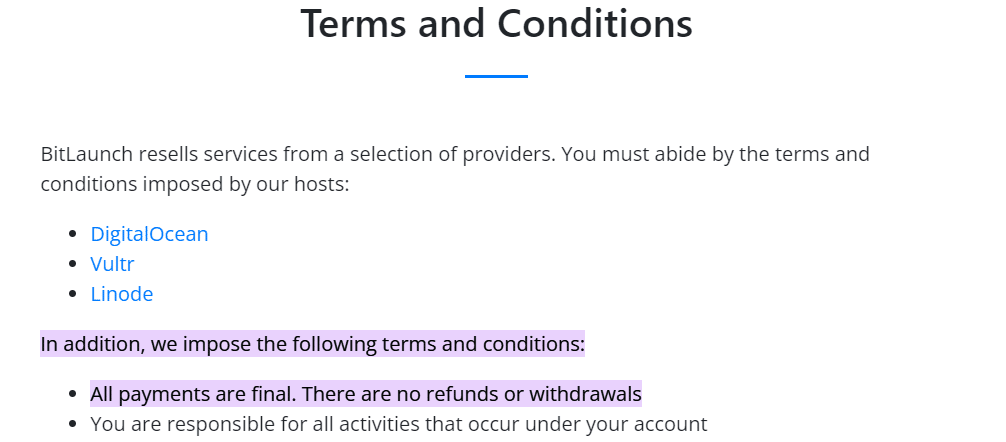 BitLaunch Pros & Cons
Let's have a look at both sides of BitLaunch's services:
Pros
Linux and Windows Operating Systems
Various cryptocurrency options 
You can request a free trial 
VPS hosting of many types
Cons
No money-back guarantee 
No free domain registration or website migration
FAQs: BitLaunch Review
Is BitLaunch legit?
Yes, BitLanuch has partnerships with renowned and trusted companies like DigitalOcean, Linode, and Vultr. Apart from that, they have been serving thousands of customers, building trust through their great services and certified service providers. 
How much does BitLaunch cost?
The first and most basic plan with standard features costs $10/month ($0.015/hour) with 1GB/1 CPU, 1*255 GB SSD, and unlimited transfer. The plans and pricing go on as per your requirements. 
Why Choose BitLaunch?
BitLaunch thinks that the payment services that many people use today have too much control and that privacy is a fundamental human right which is why we only accept email signups and accept payments in more than 50 cryptocurrencies.
They are building toward a better future. They think virtually everyone can gain from a crypto-focused payment system, whether it's to safeguard their identity, avoid opening a traditional bank account, or aid the larger movement of freedom in general.
Their aim is a little unique and worthwhile, so it's enough to answer why one should choose them. Right?
Conclusion: BitLaunch Review
BitLaunch has come up over the years and served hundreds of customers globally. They have been great in the cloud services niche, making sure that their customers are satisfied and gain full privacy while working with them.
Though you need to remember that hourly billing becomes costly, make sure that it's coming under your budget or not. Also, their customer support will reply during official times. Though you can request for a free trial and enjoy that, you'll not be getting any refund after paying for the services when you decide to opt them.
So, make an informed decision and enjoy BitLaunch's services, as we will always say that it's worth a shot!