Aspx.gr is an amazing web hosting service provider with all the essential features that a web hosting user wants to have in the platform they wish to use.
It has an amazing user interface to interact with the audience for overall communication between the user and the host. It has all the essential fundamentals to support smooth web hosting.
We tested the platform for this and based on our analysis for parameters like security, support, and other features, here is a detailed Aspx.gr review for you to read and understand if this is the platform you need for your business website or not.
About Aspx.gr
Aspx.gr is a Greece-based web hosting service provider that has provided maximum support to its users in creating sites, servers and email accounts. The management, email hosting, POP3 and webmails are well managed on Aspx.gr.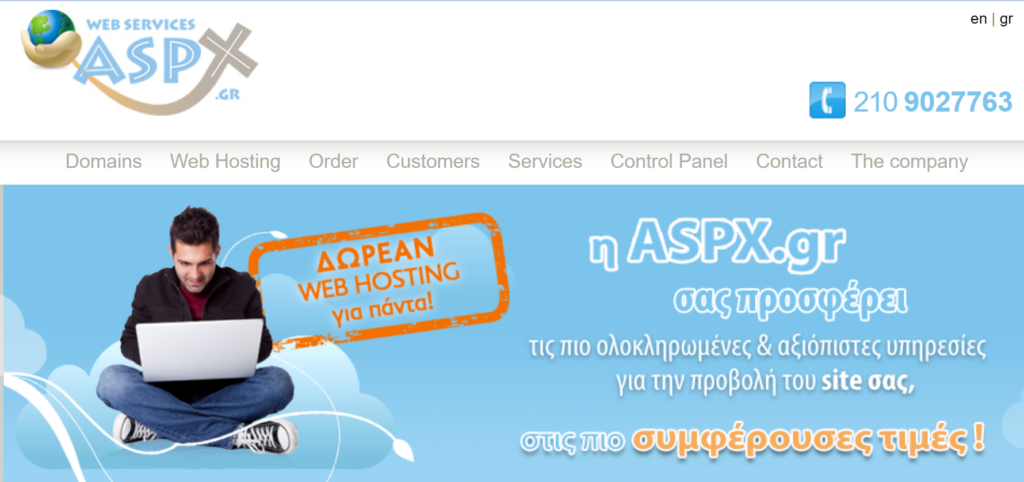 This company is a small group of young enthusiasts who help people across the globe develop their Information and Technology skills to master the art of eCommerce and e-marketing.
Test and Analysis
This section analyses the Aspx company on the parameters given below. All these features are essential for a hosting provider, which makes this analysis important.
User Interface & Ease of Use
The interface provided by Aspx.gr is very interactive and, at the same time, sophisticated for the user.
It supports the easy availability of tabs and features so that the user may not wander about and just work on the main development process.
Aspx.gr Customer Support
The company has a 24*7 connection to enable its users to connect to them when required. They are always ready to help their members, giving them a good client-serving tag.
Security Analysis
The website is protected by keeping the customer's personal information in mind. This is important as the website is well authenticated and has firewall support for its stored information.
Key Features of Aspx.gr
This section deals with the key features of Aspx.gr, which makes it stand apart from other websites and be a top priority of every web hosting user-
When choosing a package from Aspx, you may need extra traffic for your website, which is difficult to arrange. Hence, Aspx provides you with the extra traffic that you need for your website to make it reach its heights.
The company provides you with extra disk space, which enhances your website's management skills and provides you with all the space to deal with the huge server lag while working on multiple websites simultaneously.
Aspx.gr Hosting Pros & Cons
This section answers the shortcomings and advantages of Aspx.gr in a very comparative manner.
Pros
24*7 expert team available for the users.
A lively and user-friendly interface.
An expert committee to look into the users' problems comprehensively and personally.
FAQs – Aspx.gr Review
How much does Aspx.gr, cost?
Aspx.gr costs about 41.50 Dollars annually and approximately $83 for two years.
Is there a Money Back Guarantee?
No, the company does not provide a money-back guarantee.
Where are Aspx.gr Servers located?
The servers of Aspx.gr are located in Greece and Europe.
Which payment method do Aspx.gr accept?
Aspx.gr accepts EveryPay or zDebit/Credit card payments..
What are the types of Web Hosting Aspx.gr offers?
Conclusion – Aspx.gr Review
Aspx.gr is an essential website to serve all your desires for a good website server. It has all the essential features that enable it for the best use of its users. 
The privacy policy and the security authentication are all laid down nicely and with a very detailed approach.