1Eurohosting Review : If you are a beginner and are looking for a hosting service provider that offers services suitable for you and comes into your budget, we could help you find one such hosting platform.
1Eurohosting is a hosting service provider that offers a small yet efficient range of hosting services. This hosting platform provides hosting plans for beginners and experts and rents servers.
Let us learn more about this platform as we continue this 1Eurohosting Review.
About 1Eurohosting
Founded over a decade ago, 1Eurohosting is a European hosting service provider. And as the name suggests, this hosting platform offers hosting plans that start at one euro with efficient features.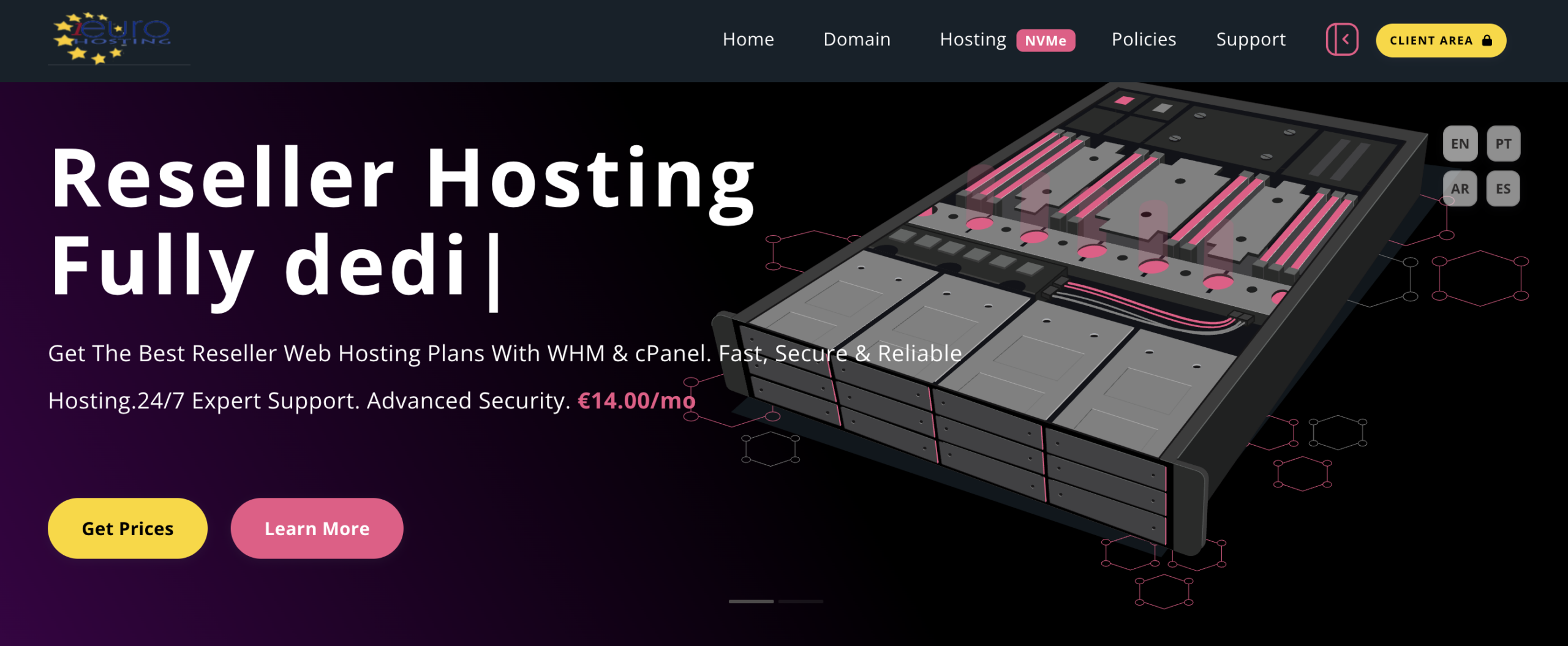 Whether you are a beginner or someone who works at a large-scale business, you could buy a hosting plan from this hosting platform, as it offers services that include buying hosting plans, registering domain names, and renting a server from their data centers.
Test and Analysis
We may now test the quality of services offered by 1Eurohosting.
User Interface & Ease of Use
As we mentioned earlier, this hosting platform is suitable for beginners and experts, which is visible on its user interface. With 1Eurohosting hosting plans, you get cPanel as your control panel, which makes your hosting experience even smoother.
1Eurohosting Customer Support
If you are ever stuck with a query at any hour of the day, you can contact the customer support team of 1Eurohosting, which is operational 24/7. You can contact them through calls, emails, live chat, and fax.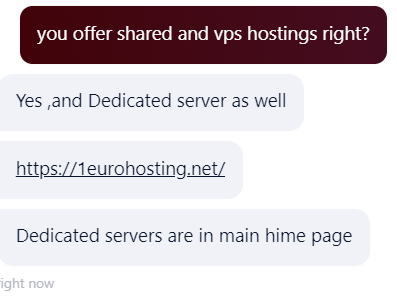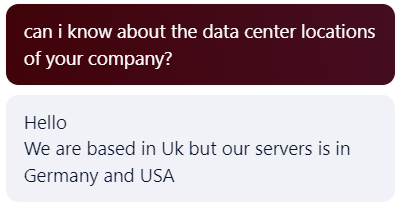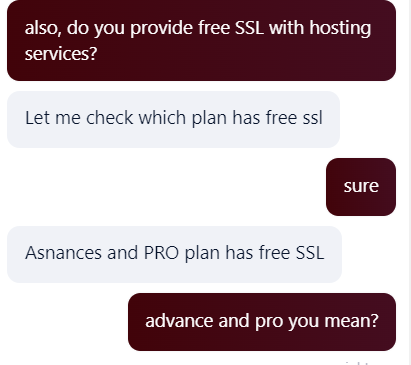 Security Analysis
1Eurohosting does not mention many safety tools that it offers. However, it does ensure that your data remains safe and tells about the use of Firewalls and monitoring tools used to do the same.
Key Features of 1Eurohosting
We may now list out the key features of this platform in this 1Eurohosting review.
cPanel
As we mentioned earlier, this hosting platform ensures you get the smoothest hosting experience. Therefore, 1Eurohosting offers cPanel as your control panel to regulate all events and manage your account with minimal effort.
Softaculous
Another feature added to your hosting plans on 1Eurohosting is Softaculous. As you know, installing applications on your hosting can make your hosting way easier, and you can do that with the Softaculous application installer.
Free Site Migration
If you have an existing website, you can easily move it to 1Eurohosting with their customer support team's assistance. During this move, your website will experience no downtime and no extra charges.
Types of Web Hosting 1Eurohosting offers
1Eurohosting offers the following hosting plans: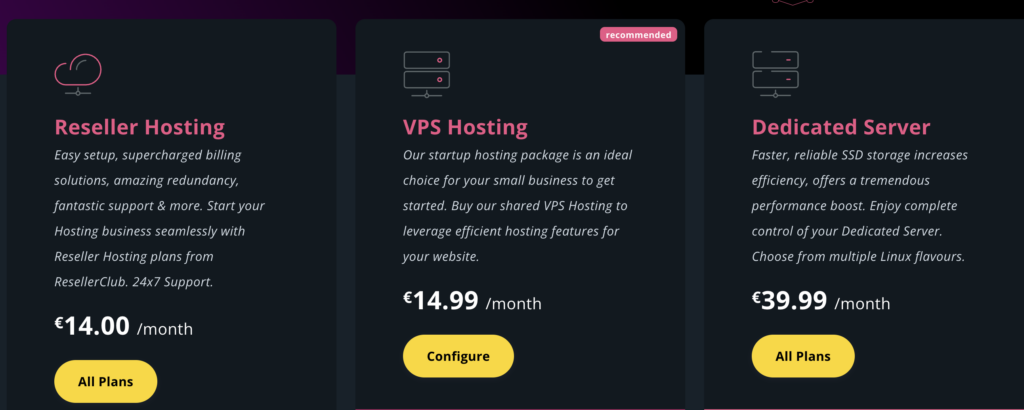 1Eurohosting Domain
We may now take a look at the domain-related services offered by 1Eurohosting.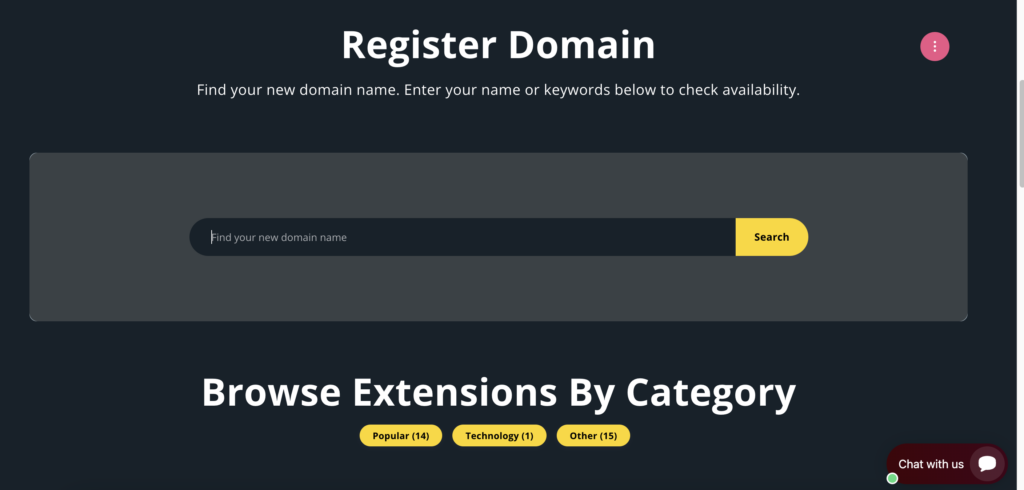 Register Domain
Registering a domain name at 1Eurohosting has been made pretty simple. You can easily register your domain name at affordable prices with renewal prices that are not always higher than the initial price. 
Transfer Domain
You can transfer your already registered domain name under 1Eurohosting with the help of the customer support team. Also, by doing so, you get to renew your domain name for another year.
1Eurohosting Hosting Pros & Cons
Now it's time to consider the pros and cons of buying a hosting plan from 1Eurohosting.
Pros
30-day refund policy
Suitable for beginners
Great live chat support
Instant Account Activation
Cons
Insufficient features on one euro plan. 
Fewer data centers
FAQs – 1Eurohosting Review
What services does 1Eurohosting offer?
1Eurohosting offers hosting, domain name, servers, and colocation services within their data centers.
Does WordPress Hosting Have Free SSL?
Yes, 1Eurohosting offers free SSL certificates with its hosting plans. However, this offer is limited to bigger plans.
Why choose 1Eurohosting?
You may choose 1Eurohosting as your website's host as this platform is suitable for beginners and experts and offers features at economical prices, making your hosting easier.
Do 1Eurohosting offer a money-back guarantee?
Yes, 1Eurohosting offers a 30-day refund policy if you are not 100% satisfied with their services.
How many data center locations does 1Eurohosting provide?
1Eurohosting has two data centers in Germany and USA.
Conclusion – 1Eurohosting Review
Now it's time to look back at this 1Eurohosting review and list the points that might come in the way of you deciding on buying it or not. This hosting platform only has two data centers with colocation options available. 
Also, this hosting platform does not say much about its security features. You may not be able to access many features on the cheaper hosting plans. However, this hosting platform is suitable if you are a complete beginner or an expert with a bigger budget.