Are you paying different agencies or organizations for the other website-related services they provide you? Do you get frustrated paying for all of them at different times and amounts? You will not have to do that anymore with 123Host by your side.
123Host offers you numerous website building and running services all in one place. With tools like website builder, VPS, hostings, domain registrar, etc., all in one place, you will not have to pay multiple bills.
Let us see what else this hosting provides in this 123Host review.
Overview 123Host
123Host is a product of Digital Storage Company Limited. This hosting platform was founded in 2012, about a decade ago in Vietnam, and has been working with the changes in technology to provide the best hosting experience possible to its users worldwide.
It has data centers located worldwide, which helps it provide fast and secure service to its thousands of customers. This hosting platform offers numerous benefits such as WordPress hosting, cloud VPS, SEO hosting, website builder, domain registration, etc.
123Host Data Center Location
123Host has numerous server locations, and its data centers are located in:
123Host Core Features
Let us now draw some attention to the core features of this platform in this 123Host review.

Daily Backups
Do you fear losing your data and your online business due to some third-party attack? Well, you should fear it with other hostings but not with 123Host. If your data ever gets lost, you can recover it with just one click, as this hosting platform creates an offsite backup of your data every day to experience no loss.
DDoS Protection
Now you know that if your data on 123Host gets attacked, you have the facility to recover it. But why not avoid any attacks beforehand?
This hosting platform is ready with the equipment to do that too. It provides DDoS protection on all its hosting plans to safeguard your data from any DDoS attacks.
LiteSpeed Technology
If you want to experience speed on your websites, always go for LiteSpeed technology, as it is one of the best tools for speed.
123Host does precisely the same. With all your plans from this hosting platform, you get the availability of LiteSpeed technology which can speed up your websites to a great extent.
Unlimited Bandwidth
Are you afraid to go beyond your bandwidth limit, as you will be charged extra?
Not with 123Host, because there is no limit. Yes, you can use as large bandwidth as you want with this hosting platform without paying extra charges.
Types of Web Hosting 123Host offers  
The various hostings that 123Host offers are: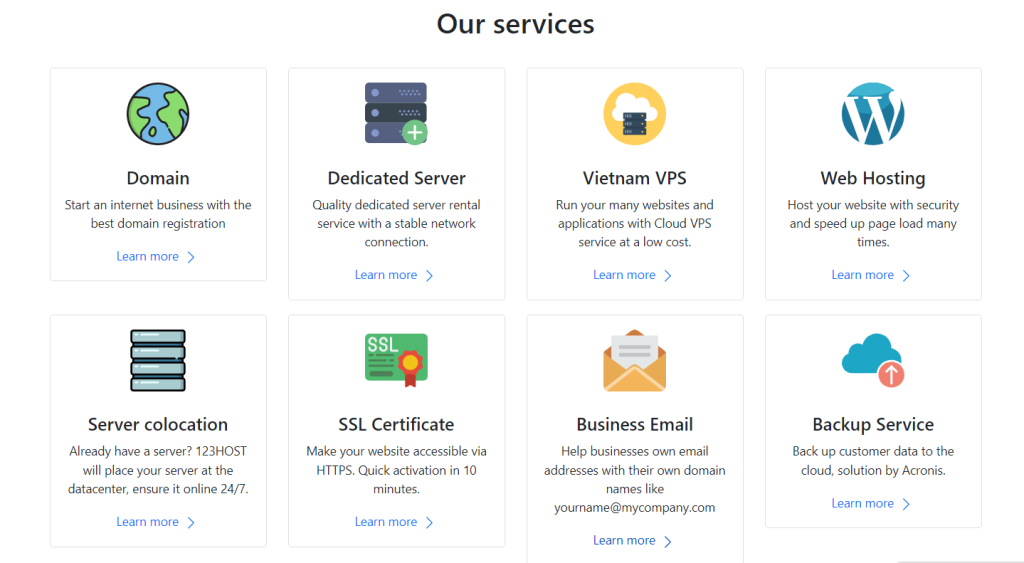 123Host Domain
Besides hosting and site builder, you can also register your domain name with 123Host. This hosting platform helps you register your domain and provides security and affordability aspects. The price for domain registration starts at about $2 a year.
123Host Pros & Cons
Let us now look at the pros and cons of buying a plan from 123Host.
Pros
Colocation available
Affordable hosting plans and domain names
Unlimited bandwidth and free SSL
Cons
Fewer language options
Not much information about data centers  
Extra Services Offered by 123Host
The services offered by 123Host besides hostings include:
FAQs – 123Host Review
How do I protect my website from DDoS?
DDoS attacks can be deadly for your websites, and there are numerous of them. Therefore you must protect your website from them. One thing 123Host does to protect your websites from DDoS attacks is it offers you DDoS protection with all its plans.
Is JetBackup Free?
This depends upon the hosting you are using. In this case, JetBackup comes for free with 123Host plans. To keep your data safe and stored 123Host performs daily backups and helps you recover all of your data with a click.
Does 123Host offer free migration?
123Host's customer support team is very active and helps you migrate your websites with complete assistance, and you do not require any hosting knowledge to do so.
Does 123Host own your domain?
123Host helps you register your domain name, search for its availability, and provide features for your domain security. You can buy domain names from this hosting platform at prices as low as $2 a year.
Conclusion – 123Host Review
We discussed and covered almost everything about 123Host in this article, and we guess you gained more knowledge about the company and could analyze our perspective.
Nothing comes perfect, and as per that, 123Host also has its pros and cons. Where the cheap costs and co-location services impress us, on the other side, the number of data centers will bother the ones living far from them.
Overall, it is a hosting provider with cheap prices, easy site builder, and protection against DDoS, which makes it worth a try!