Finding a quality web hosting service is always a challenge. There are so many options before you that it's easy to get confused about them. Well, among all hosting solutions providers, we find 040Hosting to be promising because it has been designated a position among the best hosting in Europe and has its functions worldwide.
Let us look at this hosting solution with this 040Hosting Review to help you know if this is the quality hosting solution you're on a watch for.
About 040Hosting
040Hosting is a promising hosting solution that has been in the industry for over 25 years. It entered the web hosting domain 15 years ago, and over the years, it has been offering excellent web hosting services in 6 countries across 4 different continents.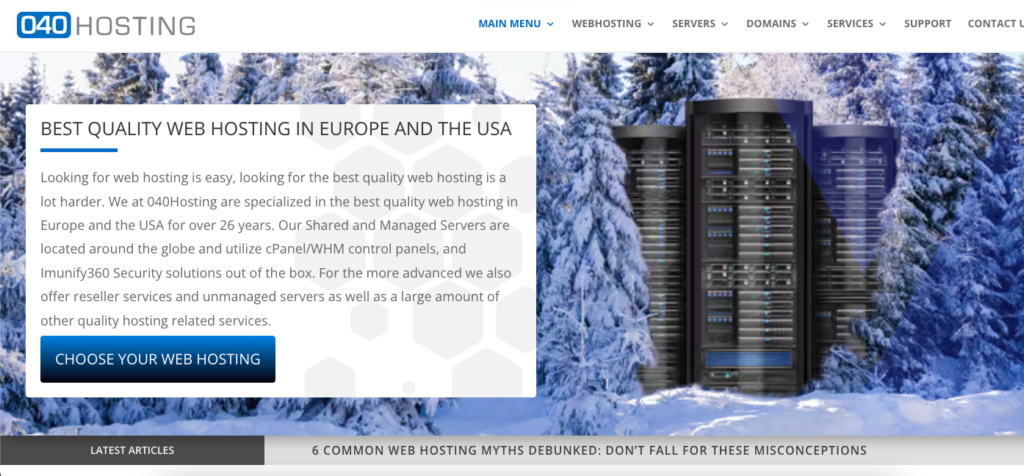 Their web hosting plans are affordable and exclusively designed to meet customer needs and requirements beyond expectations. With 040Hosting, you get the most secure web hosting solutions with round-the-clock support and phenomenal security features that help your website grow and scale on a different level.
User Interface & Ease of Use
A web hosting solution's user interface determines its customers' usability. The users must be able to operate their websites and servers without difficulties. 040Hosting takes care of the same by offering a cPanel control panel with all its hosting plans.
The cPanel control panel is easy to operate and supports different coding languages like PHP, MySQL, etc., thereby offering significant ease of use in managing the functionalities of your website and its data.
040Hosting Data Center Location
040Hosting has a presence in 6 countries across 4 continents. So, it obviously has its data centres spread over multiple locations worldwide. Hereinbelow is a list of all the data centre locations of 040Hosting-
Core Features of 040Hosting
A hosting service's features with its plans show its strength, efficacy, and performance. Below are some of the core features of 040Hosting.
cPanel Support
The hosting comes with a cPanel control panel which is easy to use and understand and works well with your preferred coding language, be it PHP, MySQL, or any other language.
SSD and NVME Storage
040Hosting provides high-speed SSD and NVME storage with all its servers and hosting plans, ensuring fast performance, and you don't have to wait for your data or servers to load.
LiteSpeed Webservers
In addition to fast-speed storage features, the hosting also offers LiteSpeed servers that offer up to 90x speed compared to a standard Apache server. Moreover, caching and speed optimization further add to the speed and performance of the servers.
Excellent Security
Security on 040Hosting is phenomenal. They have multiple layers of security and protection available with their hosting, including Immunify 360, malware detection and removal, Kernel Care, Web Application Firewall, and more. All these security features are available in shared hosting as well as dedicated servers.
24/7 Support
The support from the hosting is great. They offer 24/7 support to customers through a support ticket system, and you can expect prompt replies from their team on every support ticket you raise.
Types of Web Hosting 040Hosting Offers
040Hosting has a multitude of hosting solutions to offer. You can get almost all types of hosting on this platform, including the following
040Hosting Domain
Domain registration is an important aspect of web hosting. With 040Hosting, you don't have to look around other domain service providers as you can get it done on this platform itself.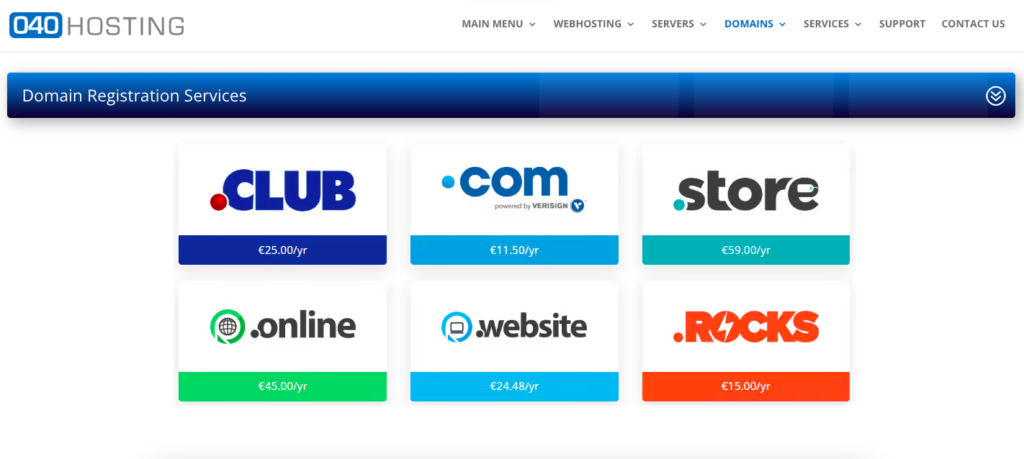 Register Free Domain
040Hosting is a domain registrar, and you can easily check for your preferred domain availability and get it registered at cheap and affordable prices.
Transfer Domain
If you have your domain registered on another platform and wish to move it to 040Hosting, you can do that easily with the domain transfer services at 040Hosting. With the domain transfer, you also extend the validity of your domain for up to 1year.
040Hosting Pros & Cons
Everything has two sides: a positive and a negative side. Here are a few advantages and disadvantages to know before making your final decision about 040Hosting.
Pros
Super-fast servers with LiteSpeed technology and SSD and NVME storage.
Excellent security features for end-to-end website protection.
24/7 support through a support ticket system.
A multitude of hosting services available.
Great for reseller hosting as well.
Cons
The domain services are not free of cost.
Support is available only through a support ticket system.
Conclusion
This was all there was to know about 040Hosting. The platform is great with its performance, speed, and security. Moreover, it offers all the features you need in a quality hosting service.
The only issues seem to be with the affordability of the services as nothing seems to be free here and the support, as you may feel it is quite time-consuming to raise the support tickets.
Nonetheless, the platform is great for its features and functionalities and is a quality hosting service provider, which in our opinion, is worth a shot.