If you have to host needs that are too specific such as if you want a backup as a service, is it easy to find a hosting service provider that provides you with just that? We do not think so. Therefore we're here to offer you a suggestion.
Web Werks is a hosting service provider-specific in its services and offers plenty of benefits. These services include hosting, servers, domains, collocations, security, backups, etc.
So let us dive into this Web Werks Review to know more.
About Web Werks
Being in business for about two decades now, Web Werks is pretty proud of its data centres. There are plenty of data centres already running, and a few are still in the process of hosting thousands of other websites and servers.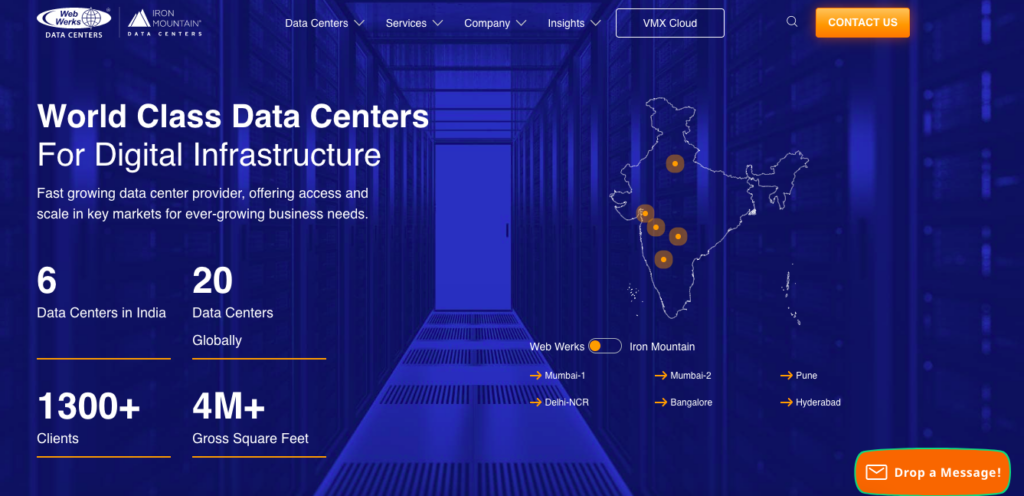 This hosting platform offers dedicated servers, VPS servers, colocation, managed services, public and private clouds, etc. There is more to the list we will learn in this Web Werks review.
Test and Analysis
It is now time to test out the services of this platform in this Web Werks review.
User Interface & Ease of Use
Let us now talk about aspects you only find out about once you start using the hosting platform. But since you are here at this Web Werks Review.
We could tell you how easy it is to navigate your way through the user interface offered by this hosting platform. Whether you are an expert or not, you will get your hands adjusted to the interface of Web Werks pretty quickly.
Web Werks Customer Support
Now comes customer support, you might not always consider this, but it is a requirement. When you have an issue to be resolved at 3:00 am, your tech-savvy neighbour might not be awake, and the internet might not help.
You can contact the customer support of Webwerks, which is available to you 24/7 through live chat, emails, and calls.
Security Analysis
One thing you must consider while buying a hosting plan is the security system offered by the hosting service provider. In the case of Web Werks, you can relax knowing that your data is safe with Web Werks as this platform provides you backups, Managed Firewalls, DDoS Mitigation, etc.
Web Werks Data Centre
Web Werks data centers are located in:
Key Features Of Web Werks
Let us now list the key features of this hosting platform in this Web Werks Review.
Customization
As we said earlier, if you are someone with specific needs, you can always come to Web Werks. Why? This hosting platform offers you plans per your needs, which means you can create your plan yourself.
Colocation
If you live in India, but your customers reside in Dubai, what is the point of opting for a data centre in India? The data centre's closer to your customers, the better the service. With Web Werks, you get the facility to collocate to a data centre you want.
DDoS Protection
If you fear losing your data, like most people who hand over their data to hosting service providers on the internet, Web Werks can keep you away from that fear. With this hosting platform, you benefit from DDoS protection, which means that your data is safe from any DDoS attacks. 
What Types Of Web Hosting Are Offered By Web Werks?
This hosting platform offers services such as:
Web Werks Refund Policy
Web Werks does not offer any refunds to any of the services once you have placed the order.
This turns out to be a huge disadvantage especially when you are not satisfied with their services.
Web Werks Pros & Cons
Now we will look at the pros and cons of this hosting platform in this Web Werks Review.
Pros
Multiple data centers
Backups
Monitoring
Customizable
99.995% Guaranteed Uptime SLA
Cons
No information about the refund policy
Confusing process
FAQs – Web Werks Review
Is Web Werks hosting good?
Why choose Web Werks hosting?
You could choose Web Werks for your website or servers for a few reasons, such as the availability of multiple data centers, the option to customize your plan, backups, and more. 
Conclusion – Web Werks Review
As we have reached the point in this Web Werks Review, we have to look back and point out the features that we loved and those we did not love that much. The multiple data centres worldwide did steal the show. 
Also, customizable plans, backups, SaaS, BaaS, and other services kept us interested. However, the biggest disadvantage we could find here is the fact that you will not be provided with your money back even if you have issues or do not like the services given to you.