When you are a beginner at something, you would require lots of help and support from someone who knows well what you are at.
The same applies to hosting, but it requires more than support, such as affordability, features, speed, etc.
Turkticaret is a hosting service provider that can offer you just that. Here you get excellent customer support that will help you through tasks and plenty of services to choose from. 
Let us explore this platform in this Turkticaret review.
About Turkticaret
Let us start by knowing the basics of this hosting platform. As the name suggests, this hosting platform is based in Turkey and offers its platform and the cPanel control panel in the Turkish language.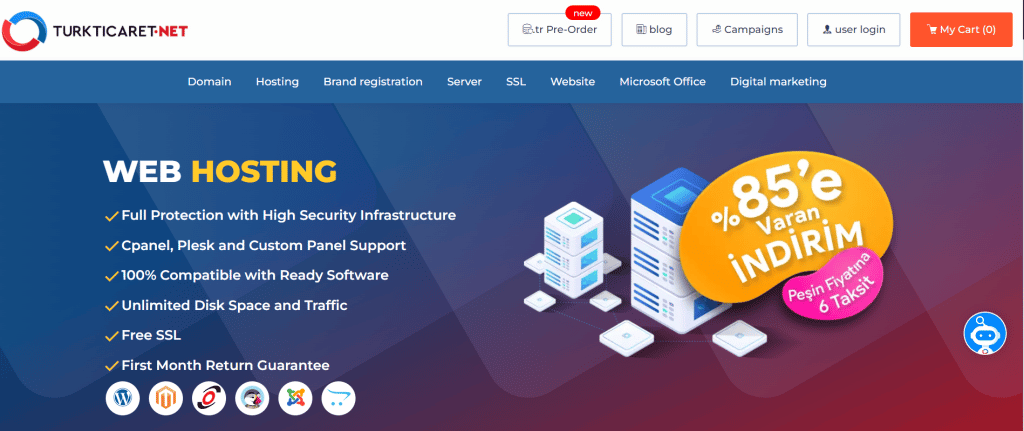 Here, you get access to plenty of services. And by plenty of services, we mean many choices with hosting, domain, name, security, etc. Also, you get the added benefit of friendly and responsive customer support.
Test and Analysis
Let us test the services offered by this platform further in this Turkticaret review.
User Interface & Ease of Use
As you know, the easier a hosting is to understand, the more you yield. To help you do that, this hosting platform has designed a simple dashboard and offers a cPanel control panel so that you get the best out of what you paid.
Turkticaret Customer Support
The customer support offered by Turkticaret is pretty supportive. Calls and live chats can reach out to the customer support team. You can ask them to help you through any tasks, and you will receive complete assistance. 
Security Analysis
Security is also offered as a separate service at Turkticaret, which tells us how important your data's security is for this hosting platform. Therefore, it provides free and paid SSL certificates, anti-spam, anti-virus, etc.
Key Features of Turkticaret
Here's a list of some of the key features of this platform in this Turkticaret review.

cPanel
To help your hosting experience get even easier and smoother, Turkticaret offers you one of the easiest control panels. cPanel is one of the most preferred control panels due to the ease it provides to its users.
Free SSL Certificates
To keep your website ahead with the number of visitors and encounter fewer errors, you must have an SSL certificate issued by a verified distributor. Therefore with Turkticaret, you get an authentic SSL for free for your website. 
One-Click Installation
Another feature that Turkticaret has added to its hosting is the availability of one-click installation software. This helps you install various CMS within clicks and work your way through hosting with less struggle.
What Types of Web Hosting are Offered by Turkticaret?
Some of the hosting plans that Turkticaret offers are:

Turkticaret Domain
It's time to look at the domain-related services offered by Turkticaret. It is more than registering and transferring a domain name, but we will focus on these two in this Turkticaret hosting review.
Domain Registration
You can easily register your new domain name at Turkticaret. This hosting platform offers you plenty of domain names to choose from. The good part is that Turkticaret is a verified domain registrar and provides domain names starting from $0.99. 
Domain Transfer
Transferring your already registered domain name to Turkticaret has been made even easier with the help of its customer support. This hosting platform helps you easily migrate your domain name and complete assistance from the customer support team.
Turkticaret Pros & Cons
Let us now look at this platform's pros and cons in this Turkticaret review.
Pros
One-month refund policy
Free website migration
Supportive customer services
FAQs – Turkticaret Review
Is Turkticaret Hosting Good for beginners?
Turkticaret offers a cPanel control panel which makes it pretty easy for beginners. But it is in Turkish, which could be problematic for many users.
Does Turkticaret offer website migration?
Yes, with Turkticaret hosting plans, you can migrate your website for free. You can ask customer support to help you do the same.
Why Choose Turkticaret Hosting?
You could choose Turkticaret as your website's hosting service provider due to its affordable hosting plans with lots of features and a refund policy.
What is the refund policy of Turkticaret Hosting?
Turkticaret offers a one-month refund policy. This means you can use its hosting services risk-free for a month.
Conclusion – Turkticaret Review
Now it's time to conclude this Turkticaret review and look back at what we learned about and the observations we made. This hosting platform has amazing customer support but might not always be in English.
Here you get a cPanel control panel to make your work easier, but in Turkish again, which could be changed with the customer support team's help. However, you get a one-month refund policy, free SSL certificate, and more, which could be advantageous.