It is rare to get comfortable while choosing a hosting service provider, especially if you are a beginner.
If you are looking for something that offers you managed servers and hosting, getting the ease and all the features on one platform will get a little challenging.
To make your search easier, we are here with a suggestion.
Snel is a hosting service provider that offers you many managed server solutions. The count of hosting plans, servers, and features included is enormous.
Also, you get the security of European laws here.
Let us continue the list of benefits and shortcomings of this platform in this Snel review.
About Snel.com
With an objective to provide fast internet hosting solutions to the world, Snel was established in 2010 with the name which means 'fast.'
This hosting platform has several server locations, and its data center is located in Rotterdam.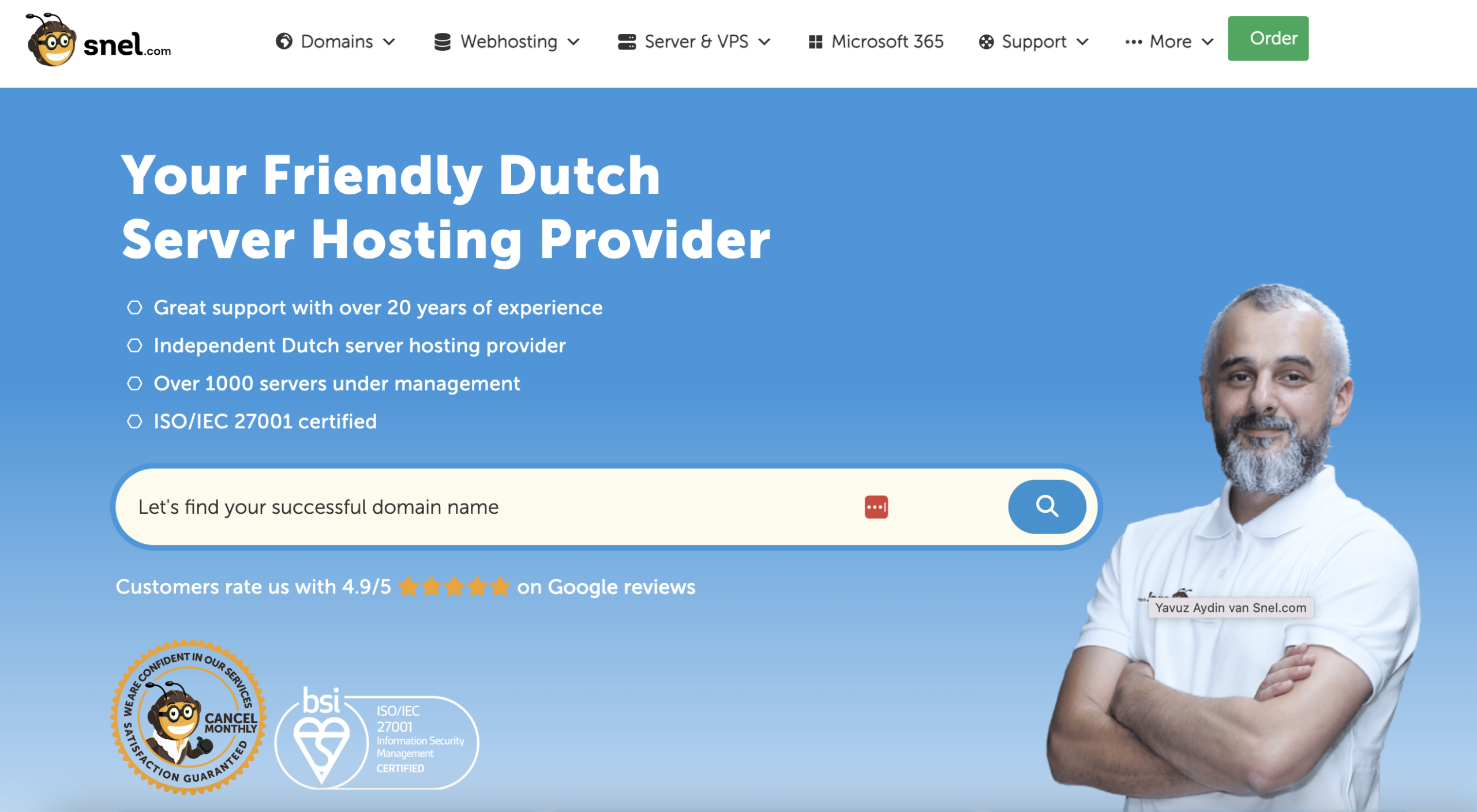 This hosting platform offers a variety of managed server plans such as cloud VPS, dedicated servers, etc.
Also, you get hosting plans such as professional web hosting, reseller hosting, etc. The features are phenomenal and efficient so let us look at them as we continue this Snel review.
Speed Test and Analysis for Inmotion
First of all, we had to test the services offered by Snel to let you know what to expect from this hosting platform.
User Interface & Ease of Use
Regarding the user interface and ease of use offered by Snel, you can stay relaxed here because it will not cause any stress due to its features.
This hosting platform provides a simple dashboard with a Plesk control panel and features such as a one-click install to make your hosting experience smoother.
Snel.com Customer Support
Customer support is one of the best qualities of Snel. This hosting platform keeps its customer satisfaction above all and works towards it.
You can contact the customer support team of Snel through live chat, emails, and calls. The customer support team is amicable and replies pretty quickly.
The only problem here is that not all services are available 24/7.
Security Analysis
Let us now understand the security system offered by Snel. This hosting platform makes keeping your data safe a priority.
And therefore, it provides features such as SSL Certificate, spam filter, daily backups, antivirus, Imunify 360, etc., so your data's safety is never compromised.
Types of Web Hosting Plans Does Snel.com Offer
Snel offers hosting services such as:
Key Features of Snel.com Hosting
Now comes the time to take a look at the key features of this platform in this Snel review.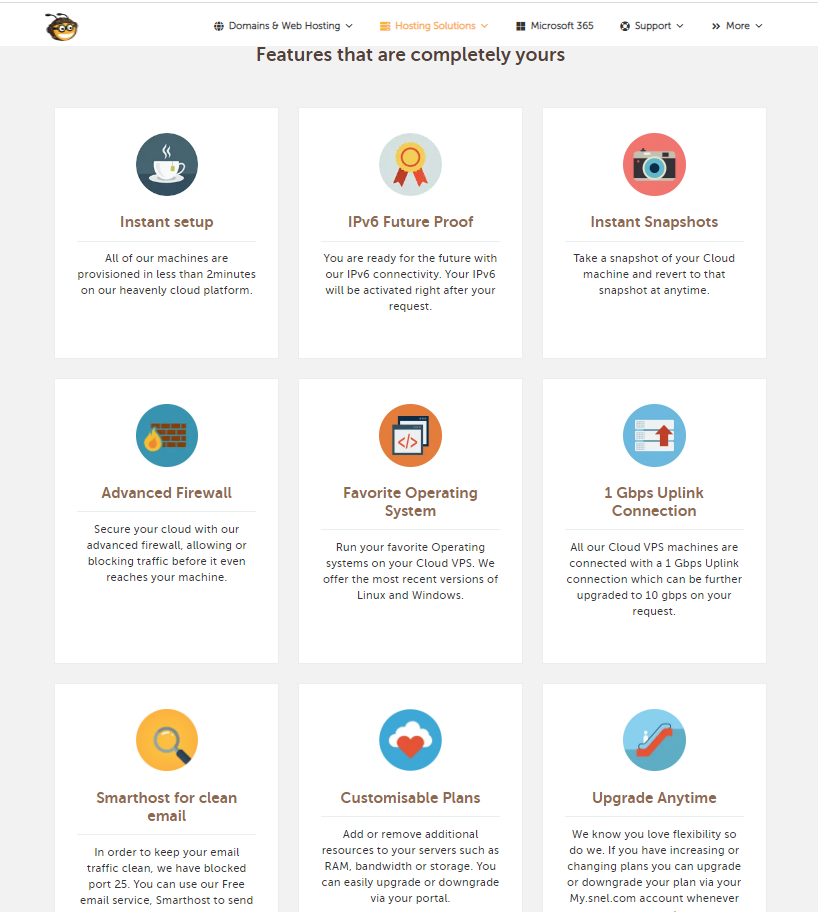 Instant Availability
Since you are a business owner and have worked days and nights to reach this place in your career, why waste even a minute?
With Snel, you do not have to, as this hosting platform saves your precious time and makes your hosting plans and servers available instantly after completing the payment process.
Always Up-To-Date
You must have encountered situations where your application or account stops working, and then you realize that you forgot to update it?
This won't happen with Snel, as this hosting platform performs automatic updates to keep your account always up to date.
SEO ToolKit
As someone who runs a website or is planning to start one, you must know how crucial the role of SEO is in growing your online presence.
Snel understands this and wants to help. Therefore the hosting plans offered by this platform give you a complimentary SEO toolkit.
SSD Storage Only
Speed is another factor that keeps your website on top of search engine ranking. So why would Snel sit back and watch?
With this hosting platform, you get to store your data in SSD storage drives, offering your websites a fantastic speed.
Snel.com Refund Policy
Snel does not provide any refund policy or free trial.
Snel.com Pros & Cons
Let us now list out the pros and cons of this platform in this Snel review.
Pros
SEO toolkit
WordPress toolkit
99.9% uptime
Anytime upgrade
Cons
No refund or free trials
Only one data center
FAQs:- Snel Review
Is Snel.com Hosting safe?
Yes. Snel offers entirely safe hosting plans. The features provided to keep your data safe are pretty reliable. Also, this hosting platform follows European law, so the legalities are followed strictly.
Why Choose Snel.com Hosting?
You could choose Snel as your hosting service provider as this hosting platform is customer-oriented, which means you get top-notch customer support. Also, the plans here are scalable and easy to use.
What is the Starting Price of Snel.com Hosting?
The starting price for Snel hosting is about $4.99 a month. The prices increase as the features of the plan increase.
How is the customer support of Snel?
As we mentioned earlier, customer support is one of the best services offered by Snel. The customer support team here is amiable and quick at what they do. However, all the services are not available 24/7.
Conclusion – Snel Review
As we conclude this Snel review, we would like to bring your attention to the factors that might affect your experience with this hosting platform. Snel only has one data center, which could be bothersome.
The plans do not have a refund policy and might seem a little pricey, but the number of features it offers covers up for that.
However, this hosting platform offers phenomenal customer support, security and ease, so give it a try.