Are you searching for fast servers at an affordable price? Do you want very reliable uptime? We might have a solution for you.
SatisfyHost is a service that provides these and much more at a relatively low cost. They achieve amazing uptimes with Tier-3 and Tier-4 Datacenters.
So, let's truly explore how good SatisfyHost is. Without further introduction, let's start our SatisfyHost Review.
About SatisfyHost
SatisfyHost was founded in 2012 by Shohanur Rahman Shohan. SatisfyHost wanted to fill the vacuum for cheap and powerful hosting services.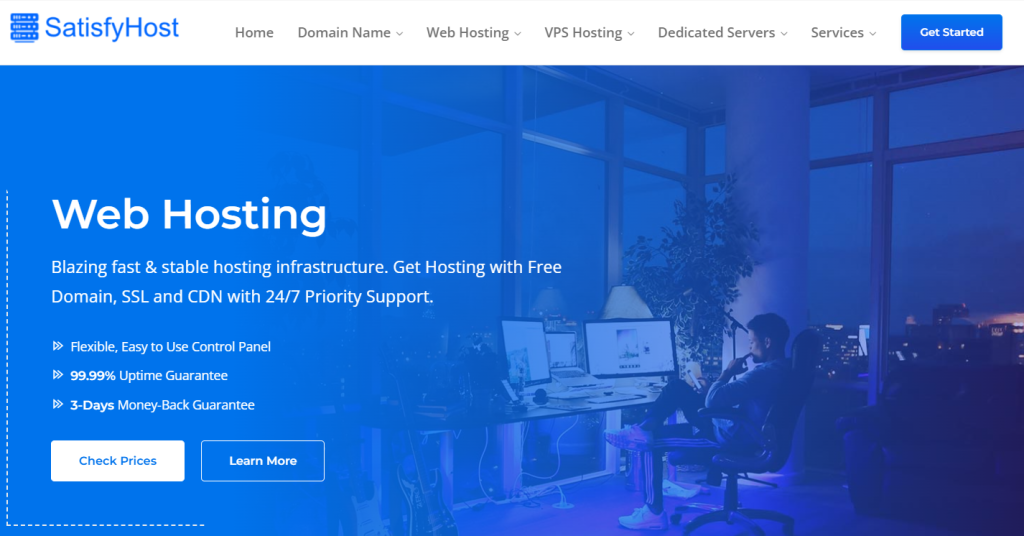 It seems they are achieving what they wanted. Their services are very cheap and very affordable as well. They offer various types of services, from Web Hosting to Dedicated Servers.
Test and Analysis
User Interface & Ease of Use
User Interface is very important as it determines how quickly you can navigate the system and get things done. This is useful for both professional and new users.
SatsfyHost's web hosting has the latest cPanel. This looks modern but functions well. You also get an easy one-click installer with the services.
With dedicated servers from SatisfyHost, you can buy DirectAdmin and cPanel from them.
SatisfyHost Customer Support
Good customer support means less downtime and less figuring things out for yourself. Everyone can benefit from good customer service, whether professional users or new users.
You can contact SatisfyHost in various ways-
Their Customer Support is pretty responsive, and they answer quite promptly. So, we don't think you would face any problems with customer support.
Security Analysis
When you are dealing with confidential data, Security is very important.
This hosting service provider offers SSL Certification and this way your server gets HTTPS status. In their VPS Server and Dedicated servers, you get features like SSH and Root access.
SatisfyHost's Dedicated Servers claim 100% network uptime. They also provide DDoS protection. As a cherry on top, you get IPMI Port control.
This way, you have complete control over the servers.
SatisfyHost Data Center Location
Data Center Locations determine how fast and snappy your experience would be. SatisfyHost has its data centers in the following locations-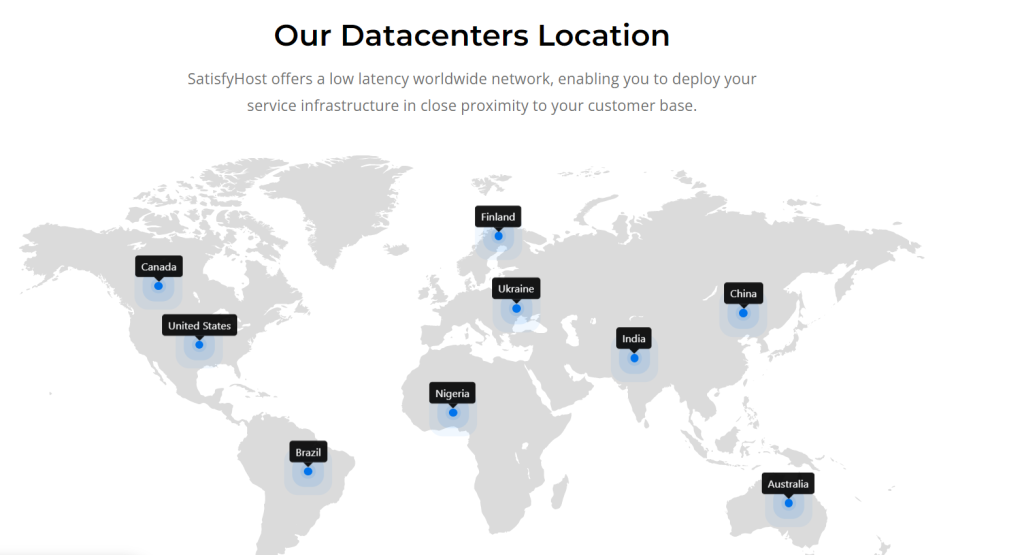 Core Features of SatisfyHost
Uptime:
The uptime of service is very important. It tells you how reliable a service is. The uptime of SatisfyHost starts from 99% and goes up to 99.99%.
Customer Support:
With multiple support options such as live chat, Tickets, Mailing, and calling, you can try reaching out to them in every manner.
It makes it easier and a lot more convenient for every customer and those seeking more info to resolve their queries faster.
Types of Web Hosting SatisfyHost offers
SatisfyHost offers various types of Hostings. These are-
SatisfyHost Domain
Along with various Hosting services, SatisfyHost also provides Domains. They support various top-level domains.
Buy New Domain:
You can buy a domain name from them at pretty competitive pricing. They have 115 top-level domains for you to choose
Transfer Domain:
If you are not happy with your current domain provider, you can also transfer your existing domain to them. You just need the Epp/ Auth code.
SatisfyHost Hosting Pros & Cons
Like any other service, SatisfyHost also has some good features and some flaws as well:
Pros
Good customer Service
Multiple services available
Global data centers
Easter to buy and transfer domains
Accepts crypto as a payment method
Cons
Although their security features are good, they are often limited to costlier plans.
Only a 3-day money-back guarantee
Frequently Asked Questions – SatisfyHost Review
What is the payment gateway of SatisfyHost?.
SatisfyHost Review : SatisfyHost supports various methods of Payment. These are-
Card
PayPal
Google pay
Perfect money
Crypto Currency
But they informed us they only accept Bitcoins and their forms of payments from limited users. So, contact them if you want to use that feature.
Why choose SatisfyHost hosting plans?
SatisfyHost offers its services for a very affordable price. Their customer service is great, and they also offer good security features. So, if these are your priorities, you should choose SatisfyHost.
Does SatisfyHost offer Lifetime Free SSL?
SatisfyHost offers free SSL to its users. But they don't mention the term. We think these services are limited to the term of the service.
What extra services does SatisfyHost offer?
SatisfyHost Review: SatisfyHost also offers some extra services. These include SSL certificates, a G Suite account, and domain services.
Conclusion – SatisfyHost Review
Did you get all the answers to your questions? Are you considering making SatisfyHost you're Hosting Service?
SatisfyHost offers phenomenal up-time with their Dedicated Servers. They have good customer support with super-fast live chat.
So, you can always try the service see for yourself if the service is correct for you. But make sure to read the T&Cs of the refund policy.
They only have a 3-day refund policy which might not be a great option if you are looking to try out their services.
But with a plethora of features available, you might never choose to get your money back but invest a lot more into it.