There are various kinds of hosting service providers all over the internet. The location of the servers and the customer support are essential aspects when choosing the best among them.
If you are looking for something with a global reach, Profitserver is the best option for you.
ProfitServer has one of the most affordable hosting plans you can find on the web. With unlimited traffic, fast server SSD, excellent customer support, and a lot more features, this hosting service provider is the perfect option for you.
But that is not all about it. Let us learn more in this ProfitServer Review.
About ProfitServer
ProfitServer is a hosting service that has services in 11 countries. They provide various kinds of hosting, including Shared Hosting and Dedicated Servers.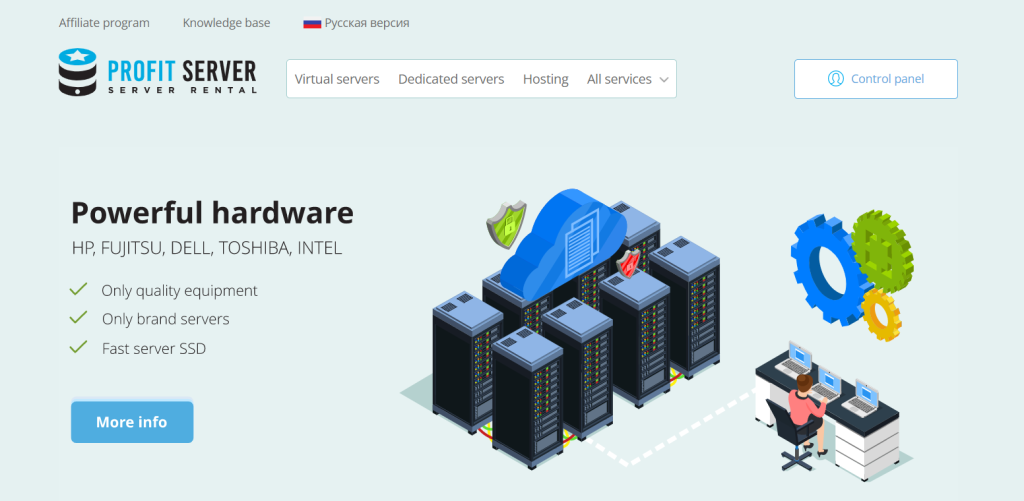 Also, you will find 99.9% SLA uptime along with an intuitive and modern-looking Website so that you can choose your desired service very easily.
Test and Analysis
User Interface & Ease of Use
A great user interface is always appreciated no matter what the service is. ProfitServer has done a great job of making websites easy to navigate and made them very intuitive.
You can have a look for yourself. They use icons, and the Layout is quite sensible as well.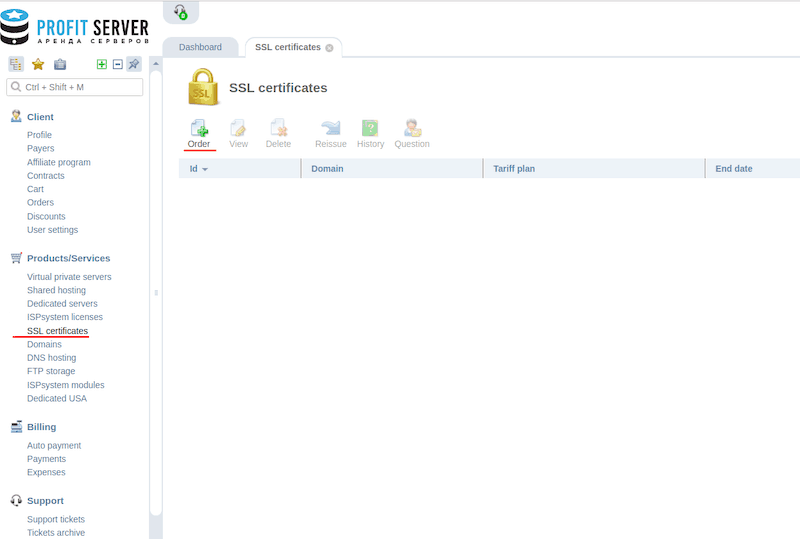 ProfitServer Customer Support
Customer Support is also a big part of a Hosting Service as you never know what problems you will encounter.
So, good customer support and good manuals and tutorials are a must-have.
ProfitServer Supports 24/7 Customer Support via Tickets. But unfortunately, they don't have a call support line.
Despite the lack of a call line, they have great tutorials to solve many commonly encountered problems and inquiries.
So, be sure to check out their Knowledge Base section if you choose their service. You can also ask questions there to get a solution.
Security Analysis
All their Hosting Servers are equipped with Free SSL Certificates and Everyday Backup.
You can also choose from various Operating Systems for Dedicated Servers, and you can upload your own ISO as well.
They also claim that 'Cloud cluster architecture with maximum fault-tolerance.'
Moreover, you will find compensation for the downtime if their servers are down. They say, "We will compensate you for the downtime of your projects ten times".
ProfitServer Data Center Location
Choosing the right Data Center is important as the closer you are to your server, the lower the latency and the better the experience is.

They have Data Centers in 11 Countries, and you can easily choose which country you prefer for virtual servers. Their servers are located in:
You can check out their Data Center names as well on their Website: https://profitserver.net/vds.
Core Features of ProfitServer
ProfitServer provides various Hosting as well as various Dedicated Servers. Along with them, they have some add-on services as well.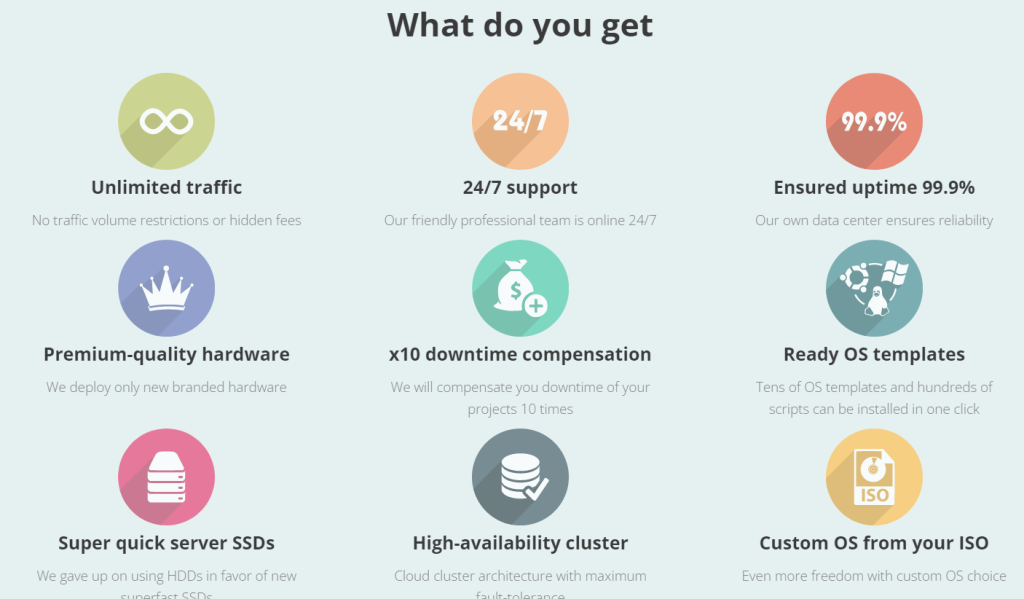 Not only do they use SSDs for their servers, but with services provided worldwide, you can make the best use of them.
Types of Web Hosting ProfitServer offers
ProfitServer offers a lot of services. They cover dedicated servers as well as web servers. The services they provide are mentioned below in detail: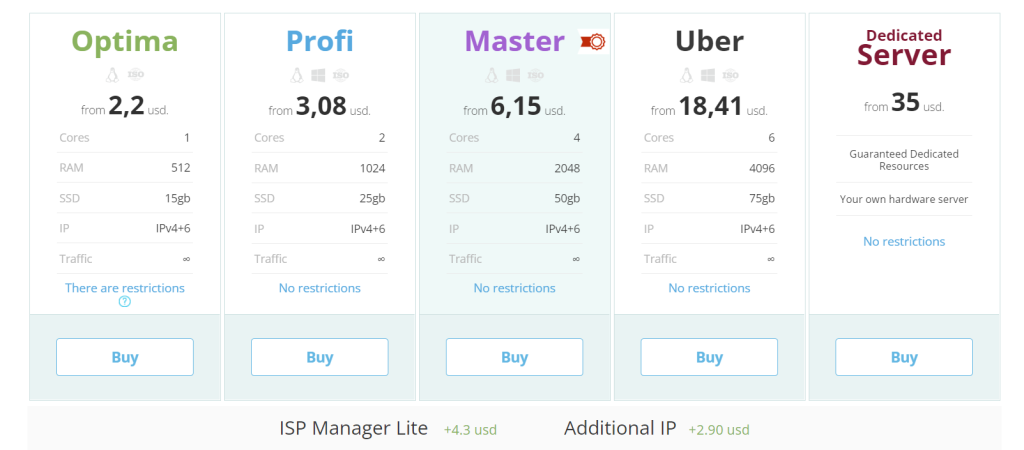 ProfitServer Domain
ProfitServer provides domains as well. You can buy various domain suffixes along with regular ones. So, if you are after a domain, you can check out ProfitServer too.
ProfitServer Hosting Pros & Cons
Here are some of the major pros and cons of ProfitServer Review:
Pros
Good Looking UI and documentation on how to set up and change configurations.
They support a lot of Operating Systems for their dedicated servers and allow you to upload your iso file.
Multiple data centers
Accepts crypto as payment
Cons
Does not have a call support option
Frequently Asked Questions – ProfitServer Review
What payment methods does ProfitServer accept?
ProfitServer states that they support various payment methods, including PayPal, VISA, MasterCard, and even Bitcoin.
Can I upgrade my account if I need to?
Although they don't mention upgrade plans, you can contact their Customer Support. Also, they do have a 7-day trial period
ProfitServer creates a custom plan?
ProfitServer does not mention any options for a custom plan. But you can reach out to them directly and ask them.
Why Choose ProfitServer premium plans?
ProfitServer Review: ProfitSever is a service with a great UI, and they promise 99.9% up-time. With premium plans, you can avail all the features you are looking for at the lowest possible cost.
Conclusion – ProfitServer Review
Here we are, with all you need to know about this hosting service provider. ProfitServer gives you not only the basic plans with necessary features but also premium plans with added benefits at an affordable price.
If you have huge websites with massive traffic, look no further since this might just solve all your issues by handling large traffic.
Customer support is great in many aspects, but the lack of a call option that might help solve detailed queries could be problematic for some.
Furthermore, you will find multiple payment options available here, along with the ability to pay your subscription amount via cryptocurrency which will keep you anonymous.