Netway is a cloud hosting service provider that covers various services like web hosting and cloud solutions for a better hosting experience for the user. The ultimate mission of Netway is to provide the best version of itself and a one-stop solution for a cloud service.
Its various benefits are domain registration, hosting services, cloud solutions, and e.-mail services. Netway ensures maximum customer satisfaction with a motto of fulfilling customers' requests.
Considering all these things, we could not stop ourselves from checking whether Netway actually offers what it promises or not. So, we compiled a detailed Netway review for you to go through and analyze if this is a web hosting provider suited to your requirements or not.
About Netway
Netway is a company that was established in the year 1996. It is a company based in Thailand with 20 years of experience. The company is a conglomeration of other companies: Netway Communication, RV Global Limited, and Web expert company limited.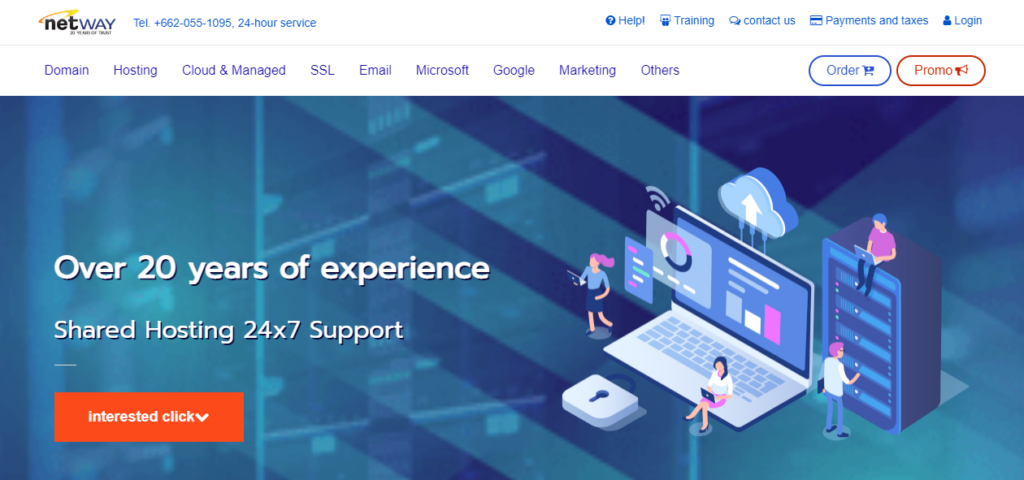 The company is believed to have 5,000 users globally as well as domestically. The company has well-established policies and standards designed for the smooth running of the services provided to the users.
Security is the main feature of Netway, and basically, this is the main reason that attracts users. It ensures 24-hours customer care for its users. Thus, it is altogether an ideal hosting service provider.
Test and Analysis
We have performed multiple tests and analyses for Netway to understand how good it is for its usage, security, and support. Here in below are the results of our analysis.
User Interface & Ease of Use
The website is interactive and designed for the user's convenience. The whole setup is designed for a satisfactory result from the clients. The platform has all the basic information on the screen's home page, so the user can find all relevant information in one place. The whole setup is well-oriented and, thus, is best in all aspects.
Netway Customer Support
The customer care services that Netway provides are well acted and have all the basic communication facilities to ease the user with all options of connection.
The whole website is endowed with many services such as a mobile number, e-mail id, live chat option, and a 24-hour direct messaging service and you can expect a timely response from the support team for any queries, questions, or support tickets you raise.
Security Analysis
The security provision that Netway provides is well endorsed with all features like two-step verification and a firewall system for protecting users' information. The whole security provision is automatically updated regularly and thus, is well up-to-date.
Core Features of Netway
The features are discussed below in brief and are exclusive when it comes to Netway.
You can integrate different Microsoft, Office, and Google accounts with your website hosting to have more ease in managing websites and business emails.
The hosting has VMware support which is great for load balancing and managing high traffic on your website. So, your website always has high speed and performance.
The hosting takes daily and weekly backups to keep your data safe and secure from data loss and other threats.
Types of Web Hosting Netway offers
Netway provides the following hosting services to its users.
Netway Hosting Pros & Cons
This section elaborates on the shortcomings and the key features of Netway as a web hosting service provider. These Pros and Cons can inform the user about the benefits and disadvantages of using Netway as a hosting server.
Pros
The cloud-based storage application the provision of providing consultation and installation services as well.
It has the utility of status updation for users.
Cons
The support is available only in Thai.
FAQs – Netway Review
Does Netway offer a free trial for Linux and window Hosting plans?
Where is the Linux Hosting Datacenter located?
Linux data centres are located in Thailand. They have a well-established network of data centres to give its users all the basic facilities to avail the best of its services.
After payment, how many days will I get the tax invoice/receipt?
The tax invoice or receipt is provided immediately or after just 1-2 days of payment processing.
Conclusion – Netway Review
The various facilities Netway provides are what a user desires from a web hosting provider. We may say that Netway has all the great amenities like a good privacy setup, a 24-hour customer care unit, and well-up-to-date firmware.
The whole platform of the web hosting service provider is well-designed. It is updated regularly to ensure that the user gets the most advanced facilities out of the hosting provider.
So, concluding this Netway review, we can say that it is a good platform and you can definitely give it a try.