Mweb is one of the oldest ISP in South Africa and currently offers web hosting services to local private users and small business owners. Mweb is an IT giant in South Africa and is famous for introducing its uncapped ADSL service, which connects hundreds of thousands of users across the country.
Knowing this about Mweb, we were keen to review it after our tests and analysis. We have tested the hosting on multiple parameters like security, support, and features and compiled this Mweb review so that you can decide whether they are the right hosting service for you or not.
About Mweb
Mweb was launched in 1997 and only recently started web hosting services. They introduced the capped ADSL service and free Wi-Fi in 2003 and launched an uncapped ADSL service to homes in 2010.

Moving on, they found fibre in the home products and went on to provide hosting solutions.
Test & Analysis
Refer to the following points for the analysis of the services provided by Mweb.
User Interface & Ease of Use
Mweb uses cPanel to control its servers which is the industry standard for web-based control panels allowing for management and control of all allocated resources with ease and flexibility.
Mweb Customer Support
Mweb offers 24/7 customer support with individual support teams for sales, technical, or billing inquiries. You can contact the support team via phone support and a ticketing system that will provide directions and solutions in a reasonable amount of time.
Security Analysis
Mweb offers various security solutions to protect your personal information and stays safe online. With features like online risk management, fraud warranty, and security training. Using Digimune, you can safeguard your personal information against data leaks, breaches and the illegal selling of private information online.
Key Features of Mweb
Here are some of the main features offered by Mweb.
Types of Web Hosting Mweb Offers
Currently, Mweb only offers shared web hosting services with its data centres in Cape Town.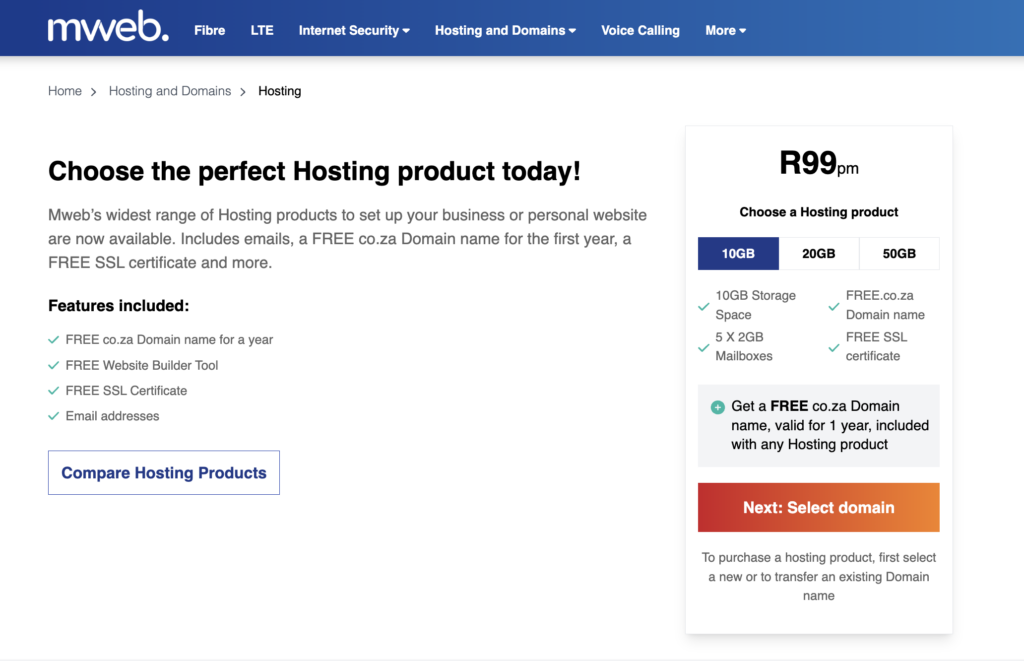 Mweb Pros & Cons
While testing out the services provided by Mweb, we found the pros and cons.
Pros
Unlimited storage
Unlimited traffic
Local servers 
24/7 support
Cons
No virtual private servers
No dedicated servers
FAQs – Mweb Review
What Kinds Of Hosting Offer By Mweb? 
Where is Mweb Hosting Company Located?
Mweb is headquartered in Cape Town, South Africa.
What Type Of Payment Method Accepted by Mweb?
Mweb accepts payment via credit or debit card.
Conclusion – Mweb Review
Mweb offers very good hosting solutions for bloggers and online enthusiasts who like to write and share content. The prices are pretty reasonable, and they provide unlimited storage and traffic, which very few hosting companies do, and their support is available even during holidays.
Overall, Mweb is a recommended hosting company if you're situated in South Africa.