Are you trying to find your way out of your slow hosting provider? Finding a hosting service provider that can guarantee a good quality of service and especially a fast speed could be brutal. Let us help you out.
Monovm is a hosting service provider with plenty of server locations which means that this hosting platform can ensure a pretty good speed. Spoiler alert: you might have to look into your budget because this hosting platform will fit in it moderately.
Let us know more about it in this Monovm Review.
Monovm OverView
Monovm was founded in 2012 by three brothers and is based in Lithuania. As we mentioned earlier, this hosting platform has plenty of server locations. By plenty, we mean 35 server locations across the globe.
This hosting platform offers WordPress hosting, Linux hosting, Email hosting, domain name registrations, SSL certificates, etc. So let us move further and learn about this platform in this Monovm Review.
Test and Analysis
It is now time to test out the services of this platform in this Monovm Review.
User Interface & Ease of Use
Let us talk about the factor that will affect the yield of this hosting platform; the user interface. Understanding the hosting platform determines how much you will get out of it.
Therefore, this hosting platform, with a dream to globalize and attract clients from all over the borderless world, has made an effort to make the interface user-friendly and succeeded.
Monovm Customer Support
Now let us come to customer support. How does that affect me? When you buy a hosting plan, you might sometimes have doubts, and the internet cannot always help with your specific issues.

Therefore no matter when you want a problem to be resolved, you can contact the customer support team of Monovm which is operational 24/7 through live chat, calls, and emails.
Security Analysis
Security is one of the most important aspects of any hosting service provider, and you should never ignore it.
Therefore, Monovm does not excuse it either, and this hosting platform offers security on different levels such as SSL certificates, ImunifyAV, backups, etc.
Monovm Data Centre Location
Monovm has 35 server locations, and its data centers are located in
Key Features Of Monovm
Let us now look at this platform's key features in this Monovm Review.

15-Minute Setup
If you fear losing your time while waiting for your account to be set up on a hosting platform, you must lose that fear now. Monovm understands how precious your time is for you and your business.
Therefore this hosting platform sets up your account within 15 minutes and nothing more.
Daily Backups
We understand that viruses or other attacks can happen anytime, not just in months or weeks. So why risk losing your data? You do not have to lose any of your data with Monovm, as this hosting platform offers you daily backups.
cPanel Control Panel
As we mentioned earlier, Monovm has made your hosting experience easier through its user interface. One of the factors that it includes to do so is cPanel. cPanel is highly trusted and easy to use for beginners.
What Types Of Web Hosting Are Offered By Monovm?
Monovm offers the following hostings:
Monovm Refund Policy
When it comes to the refund policy offered by Monovm, it is both good and bad news. This hosting platform provides a 100% refund, but it will depend on the service you bought and verified by the billing department.
You are only allowed a refund within 24-48 hours of services bought. If the hosting service providers are unable to provide any possible solution, your money will be refunded. Overall, you can only get a refund in terms of technical issues which could not be resolved.
Monovm Domain
What domain-related services does Monovm offer? Let us check it out.
Register a New Domain
With Monovm, you get the facility to register your domain with a certified and reliable registrar.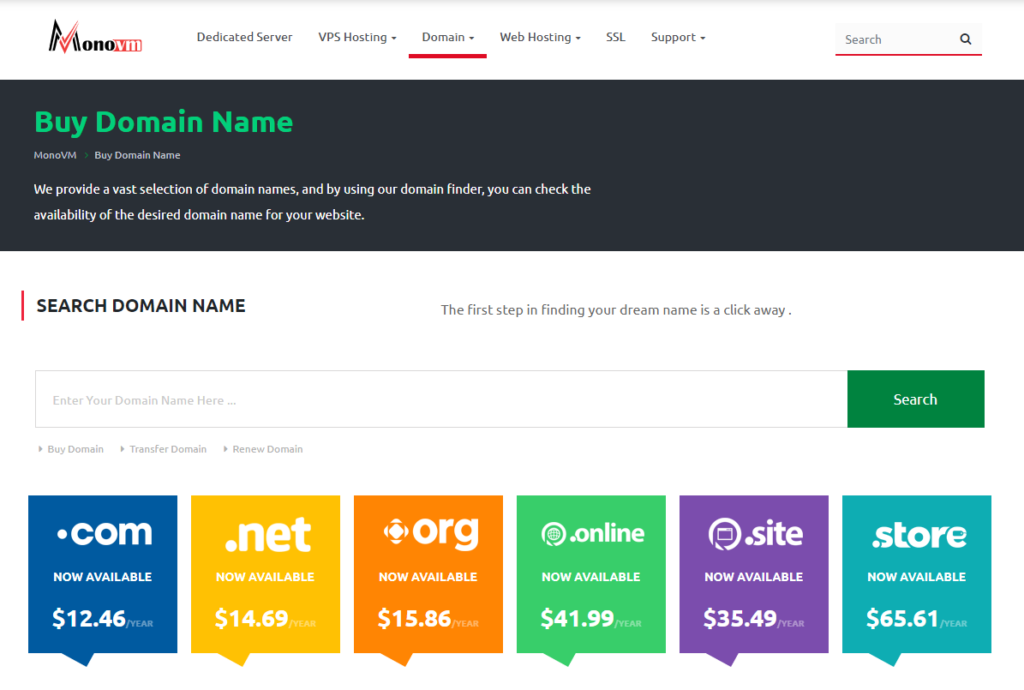 This hosting platform registers your domain name with little to no hassle involved. The prices start at about $11.74 a year.
Transfer a Domain
Along with domain name registration, you get the facility to keep your old domain name alive by transferring it to Monivm at affordable prices.
Monovm Pros & Cons
Let us list the pros and cons of buying a Monovm Review.
Pros
35 server locations
Free Setup
Reliable customer support
Unlimited parked Domains
Unlimited data transfer
Cons
No information about data centers
Cannot cancel the service once purchased for a refund
FAQs – Monovm Review
How do I get Monovm Business Email?
What kind of Services does Monovm offer?
Monovm offers WordPress hosting, Linux hosting, Email hosting, domain name registrations, SSL certificates, and more.
How much does Monovm cost?
There is no standard price tag on all plans. The prices depend on the plan that you buy. However, the most basic and cheapest plan costs about $5.99 a month, a Business Email.
Does Monovm Provide Free SSL Certificates?
Does Monovm offer Domain Transfer Services?
Yes, Monovm offers domain-related services such as domain name transfer, domain name search, and domain name registration.
Conclusion – Monovm Review
Now that we are concluding this Monovm review, we would like to look back and consider a few factors that caught our attention; the availability of 35 server locations was one of them.
This hosting platform offers services such as SSL certificates, daily backups, and instant sets with free Setup, which kept us interested. However, clear information about the data centers and refund policy would be great.