Online identity and online recognition are very important these days. The whole world is moving towards digital. You need to move online as well as you have the potential to reach more audiences and potential customers.
Besides advertisements, an organic way to reach your audience is by appearing in search results.
After you make a stunning website or create a stunning one, you need standalone or bundled hosting. Your Search Engine Optimization Ranking does depend on your Loading Speed. So, it is very important to choose good hosting.
Today we are going to review a service called Hubforhost.
About HubforHost
HubforHost is an Indian Company based in Mumbai, India. They provide you with Managed Cloud Hosting for your needs. You can either use their services for your business or your personal needs.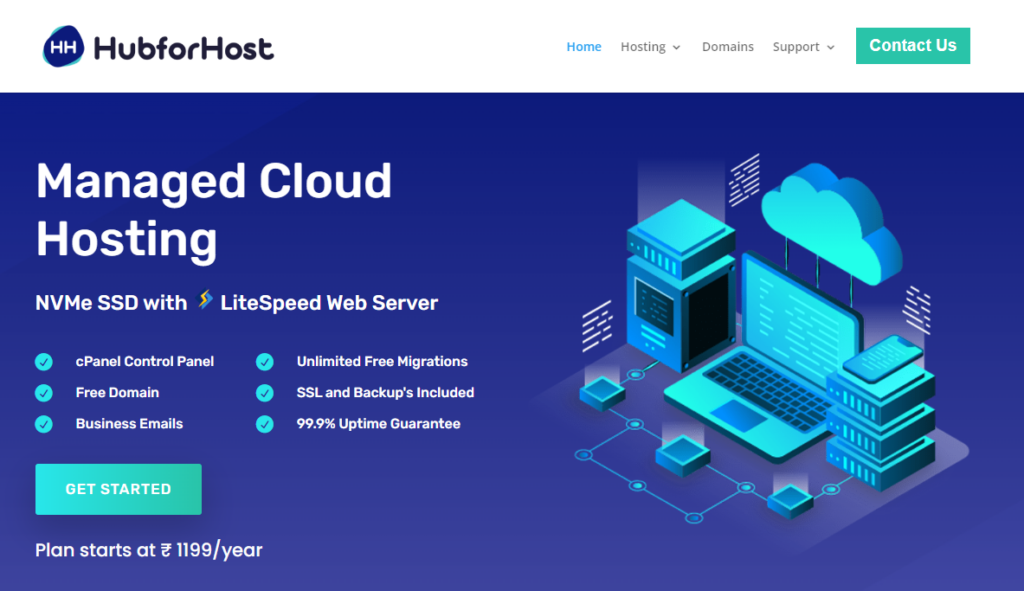 Hubsforhost is an Indian company that claims to provide the best experience with stable and reliable Hosting Services.
You can find various kinds of Hosting Services, including Managed Cloud Hosting, Email hosting. Furthermore, this hosting service provider has multiple other services along with these. But their main business is managed Cloud Hosting with LiteSpeed Web Server.
Test And Analyze
With every hosting, certain tests are instrumental to understanding its efficacy and usability. Herein below are the results of some of the tests and analyses on HubforHost.
User Interface & Ease of Use
HubforHost uses cPanel as its management Interface. cPanel is quite intuitive and very easy to use. Although it is not very modern looking, it gets the job done as it can be easily understood.
Along with cPanel, it also features a one-click app installer which is pretty useful and time-saving it. You can easily install apps like WordPress and make your Website.
HubforHost Customer Support
Customer Support is a big part of any business-related service; downtime in business means you don't generate any revenue.
HubforHost claims you can raise a ticket to get answers from their team. They also have a number listed on their Website that you can use for telephone calls and get your queries solved.
Apart from this, you can directly mail them your issues, too, and the best part is their live chat option which is super quick every time.
Security Analysis
Another important aspect of any Business-related service is the security features, as they eliminate downtime and keep your data secure.
HubforHost claims to keep a 30-day backup of your data. They also promise 99.9% uptime and claim to use Cloudfare's CDN Service. Along with this, they provide unlimited free SSL Certificates.
Types of web hosting are offered by HubforHost:
HubforHost mainly provides two services. Those are:
Along with those, they also provide SSL Certificates.
HubforHost Refund Policy
HubforHost claims a 14-day money-back guarantee with their services. You need to submit a cancellation request for that service 24 hours prior to the end of the service you have opted for. Once done, your money will be refunded, excluding the domain registration amount.
This policy is only applicable for managed cloud hosting plans, i.e. HH-BUSINESS and HH-ULTIMATE. You cannot get a refund for managed cloud hosting HH-GROWTH plan, domain name services, and multiple other services.
HubforHost Pros & Cons
Pros
Excellent customer support
30-day backup of your data
Intuitive control panel
Cons
The refund policy only limited to particular services
Only a single server is available
FAQs- HubforHost Review
Conclusion- HubforHost Review
Did you get all the answers to your questions about HubsforHost? HubsforHost accepts a lot of payment methods. So, you can pay however you want.
They also have good Customer Service and User Interface. So, you can always try HubforHost for yourselves, especially as this comes with a 14-day money-back offer.
But this refund policy does have loopholes where not all the services can be taken under this policy. There is no doubt in admitting that customer service is brilliant in all the aspects that makes it worthy of every penny spent on the services.