Going through the multitude of web hosting providers present on the web right now, it has become increasingly difficult to choose a web hosting provider.
It is important to go through all the basics and test its features before going through with a web hosting provider. To save you the effort, we have thoroughly explored an interesting web hosting provider, HoteldaWeb.
HoteldaWeb is a hosting service provider that has been providing its services in various ways under hosting. Here you get lots of options to choose from and also get tools such as website builders at economical prices. 
Let us know more about it as we progress in this HoteldaWeb review.
About HoteldaWeb
HoteldaWeb has been around for about two decades, the company was founded in 2002 and has been offering its services to the world through its data center in Brazil. This hosting platform has a lot to provide you with at pocket-friendly prices. 

With HoteldaWeb, you get hosting plans such as website hosting, Turbo hosting, email hosting, etc. Besides, you also get hands-on services that include website builder and domain name registration. 
Test and Analysis
Let us now put the services offered by HoteldaWeb to the test. 
User Interface & Ease of Use
So first comes the user interface. The user interface offered by HotelDaWeb hosting is pretty simple to use.
Although the website is built in Portuguese, you can still handle it in English; however, it claims to offer cPanel in Portuguese. Also, this platform uses a cPanel control panel, making it even more suitable.
HoteldaWeb Customer Support
HosteldaWeb hosting offers 24/7 customer support through two channels: emails and support tickets. The options for customer support are quite a few. Also, the support is not always in English. 
Security Analysis
HoteldaWEb hosting does not say much about the security systems included with its hosting but does mention free SSL certificates, Firewalls, and 24/7 monitoring so that your data never gets stolen.
Key Features of HoteldaWeb
Let us now list the key features of this platform in this HoteldaWeb review.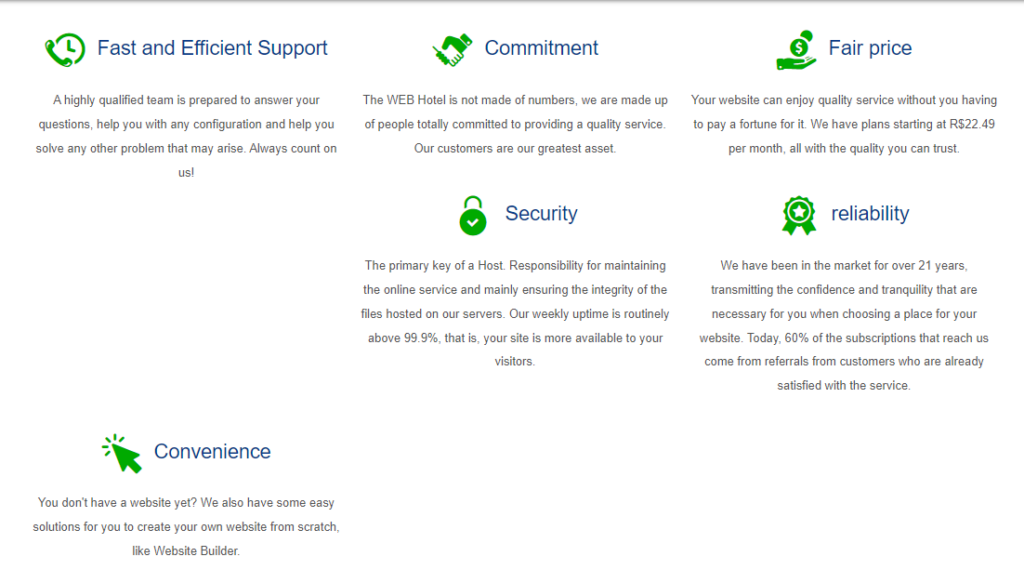 Free SSL Certificates
To ensure that your website always makes secure connections on the internet and never leaks information, HoteldaWeb offers you SSL certificates for free. This will also help your website gain traffic as your website will remain safe for others to access. 
Website Builder
If you want a website that does not fit into a template or cannot be understood by a professional, with HoteldaWeb, you have the power in your hand to build your website with its website builder feature. 

Unlimited Bandwidth
If you ever had to pay extra for going over the bandwidth limit allotted by your hosting service provider, do not worry. You do not have to do that anymore with HoteldaWeb hosting, as this platform offers unlimited bandwidth. 
What Types of Web Hosting are Offered by HoteldaWeb?
HoteldaWeb offers the following hosting plans:
HoteldaWeb Domain
We may now look at the domain-related services offered by HoteldaWeb hosting.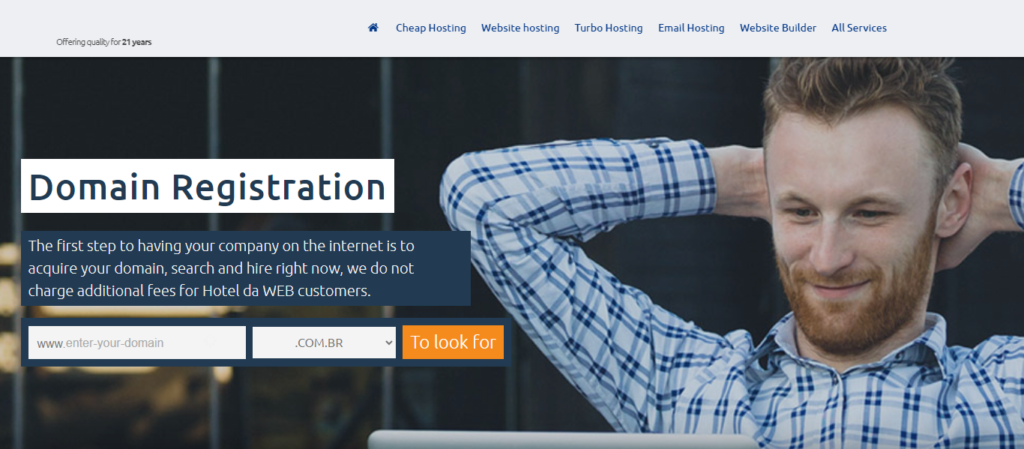 Domain Registration
A benefit that comes along with registering your domain name with HoteldaWeb hosting is that this hosting platform does not charge any additional fee while registering your domain name. Also, the prices are pretty low.
Domain Transfer
HoteldaWeb does not mention much about its services related to domain name registration.
HoteldaWeb Pros & Cons
Now it's time to consider the pros and cons of this platform in this HoteldaWeb review. 
Pros
Free SSL
Website Builder
Affordable
Cons
5-days trial period
No information about domain transfer
FAQs – HoteldaWeb Review
How is the customer support of HoteldaWeb?
HoteldaWeb hosting offers fewer options for customer support. The customer support team is always available, but the support might not always be in English.
Is HoteldaWeb Hosting Good for beginners?
Yes, but it would be even more convenient if you knew some Portuguese.
Does HoteldaWeb offer free Hosting?
HoteldaWeb offers five-day free hosting for you to check out its services and then decide.
How many Data centre locations does HoteldaWeb provide?
HoteldaWeb hosting has one data center located in Brazil.
Conclusion – HoteldaWeb Review
Now that we have gone through all the specifics of HoteldaWeb, it is clear that Hoteldaweb is a decent web hosting provider and doesn't have anything extraordinary compared to other web hosting providers. This hosting platform only has one data center, which could affect your website's speed. 
Also, non-Portuguese speakers could find this hosting platform a little problematic. However, this hosting platform offers affordable hosting plans with free services such as website migration and SSL certificates, which could work for beginners.