If customer support is your primary concern, we get it because it is one of the essential services you require while working with a hosting platform. We are here with a suggestion which could give that to you.
HostPapa is a hosting services provider, with one of its best services being customer support. This hosting platform offers various hosting services such as WordPress hosting, reseller hosting, etc.
You might want to know about this platform so let us continue with this HostPapa review.
About HostPapa
HostPapa is a hosting service provider with over a decade of experience in this hosting industry. This hosting platform has numerous data centers across the globe and is the first choice of thousands of users.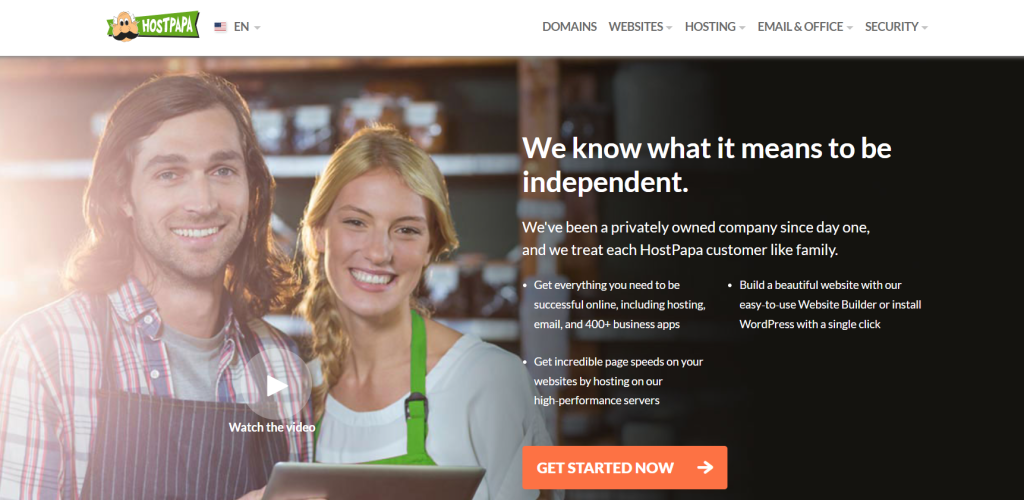 This hosting service provider offers numerous hosting services, such as WordPress, reseller, VPS, and web hosting. Also, you get tools to measure your progress with these hosting plans.
Test and Analysis
Let us now put the services offered by HostPapa to the test.
Ease of Use and Interface
With HostPapa, you get a user interface developed by this platform to offer you the most ease possible. Also, you have access to cPanel, which makes your hosting process even more accessible.
HostPapa Security Analysis
HostPapa employs many features to keep your data safe, including SSL certificates, email virus scanning, spam protections, server firewalls, DDoS protection, network monitoring, and more.
Apart from the general security measures, HostPapa pays special attention to your data security. It introduces a plan for consultation and security. You can get the consultation for free and buy an affordable security plan.
HostPapa Customer Support
Another service that HostPapa excels at is its customer support. This hosting platform offers customer support through live chat, calls, emails, and fax. The response time provided by this platform is pretty tiny, and you will quickly be responded to your queries.
Also, the plan we spoke about in the security section, PapaCare+, applies here as it is best when you are new to hosting and don't know what to do. This plan will guide you through hosting and consulting what you need to do in a certain situation.
Key Features of HostPapa
Let us now take a look at the key features of this platform in this HostPapa review.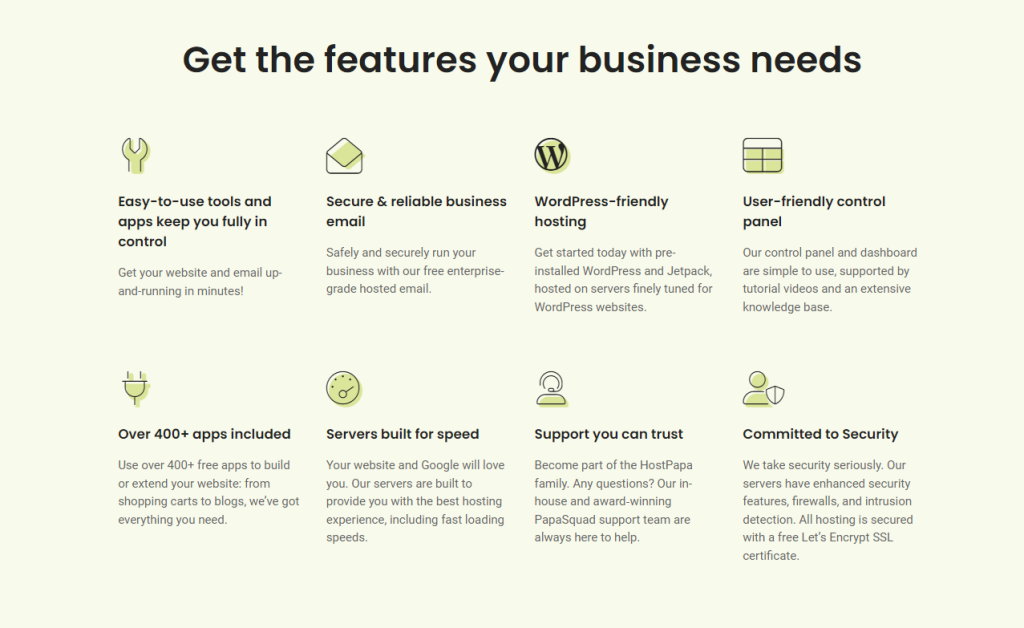 Free Website Migrations
Staying with a hosting platform that does not satisfy your hosting needs is equal to waiting for your money. So why not move to HostPapa, which understands your needs with free migrations services.
HostPapa Website Builder
Making your website yourself is the best way to get exactly what you need. But to make it, you must know coding. But it is not valid with HostPapa, which offers you a website builder which is easy to work with, even for beginners.
CDN
You must also look into your website speed to rank your website on top. That is why with HostPapa, you get a CDN which ensures that your website is at its fastest speed and on the top of search engine ranking.
PapaCare+
Hostpapa is a hosting service provider most concerned about its customers, ensuring that you invest in what suits you. This hosting platform has a different plan for hosting consultation and security.
Statistics
To know how your website is growing and what strategies are working, you must measure when your website sees growth. You know that's working, but what to do in order to use it?
With HostPapa, you get tools such as stats to measure your growth and customer behavior.
Types of Web Hosting HostPapa offers
HostPapa offers the following hosting plans:
HostPapa Domain
Let us now look at the domain-related services offered by HostPapa.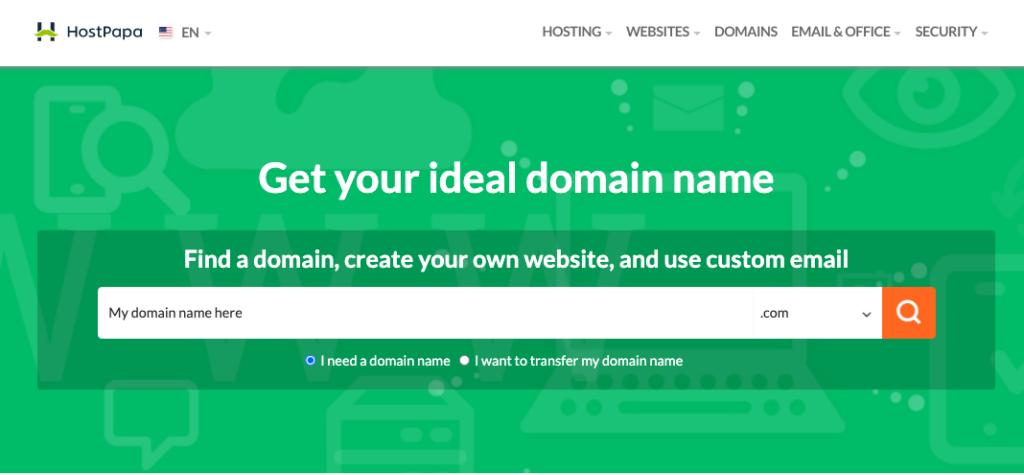 Register Domain
With Hostpapa, you can register your domain name without downtime and with complete ease. This hosting platform offers some of your websites' most affordable domain names.
Transfer Domain
You can get your domain name transferred to HostPapa without experiencing any downtime. Also, the services are completely assisted, so do not worry about loss.
HostPapa Hosting Pros & Cons
Let us now consider the pros and cons of this platform in this HostPapa review
Pros
Quick customer support
Multiple data centers
Good refund policy
PapaCare+
FAQs – HostPapa Review
Does HostPapa offer money-back?
Yes, with HostPapa, you get a 30-day money-back guarantee. You will have a month to test its services and then decide. The money will be credited to you within 90 days of the service cancellation.
Which hosting plan should I choose for my new site?
If you are starting up a new website, it is better to choose a starter web hosting plan or managed WordPress hosting plan to help you with your hosting tasks.
Why Should You Choose HostPapa for Your Website?
You should choose HostPapa for your website as this hosting platform has numerous data centers and offers quick customer support. Also, you get plenty of features such as website builder, security, etc.
Does HostPapa provide a free domain and SSL?
Yes, with hosting plans offered by HostPapa, you get access to free SSL certificates for security and a free domain name registration.
Conclusion – HostPapa Review
Let us now conclude this HostPapa review as we have looked at it in detail, and we must know what will affect your hosting experience. This hosting platform does not offer a free automatic backup which might be bothersome.
However, you can access multiple data centers, CDN, etc., to keep your websites fast. Also, you get features such as a website builder, SSL certificates, DDoS protection, and more to satisfy you. Here you can use their consultation service to help make better decisions and get the best out of your hosting plan.