Get the best quality dedicated servers at cheap rates!
Now that sounds a bit amusing, isn't it? Well, as amusing as it sounds, it is true. One would hardly believe to see quality servers and cheap prices in the same sentence.
We came across this amazing platform, HostNoc and they offer dedicated server hosting at a very affordable price range. Now, how could we keep this fantastic news from you?
So, here we are with a detailed HostNoc Review to help you know all about this platform that provides cheap and affordable dedicated servers for scaling your business.
About HostNoc
HostNoc is a new company in the hosting industry that established itself in 2018 with the dream to offer excellent IT infrastructure, support, and security services with the best quality dedicated server hosting. 
The relatively new company has seen tremendous growth in the short period of 4 years with its brilliant team of dedicated and passionate cloud engineers, cyber security experts, and web services professionals who collaborate together to deliver state-of-art web services with tremendous effort on security to ensure consistent and scalable digital transformations for its customers.
Test and Analysis
Let us now test the services offered by this platform in this HostNoc Review.
User Interface & Ease of Use
All the dedicated servers offered by HostNoc are simple and easy to understand. They make efforts to provide servers that meet the customers' end-to-end and unique needs and requirements. So, you can expect a simple and sleek user interface with significant ease of use.
HostNoc Customer Support
The customer support at HostNoc is pretty brilliant. Their support executives are available 24/7/365, and the responses on the live chat are almost instantaneous.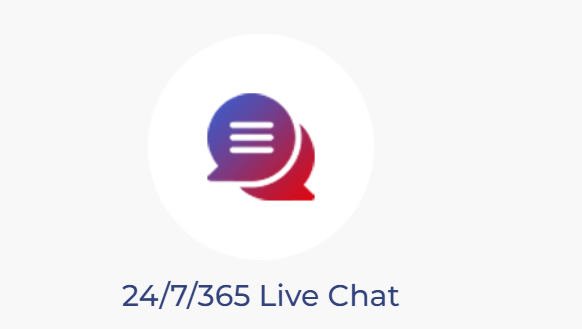 Moreover, you can also reach out to support via support tickets or phone calls.
Security Analysis
The security of your servers is of utmost importance. You need to keep the servers safe and protected at all times.
HostNoc ensures this security by offering DDoS protection with all the servers, ensuring that your business infrastructure is always safe and prevents unwanted attacks and hacking.
HostNoc Data Centre
HostNoc has its data centres in multiple locations around the world. Some of the places where the data centres are situated are-
And this list is pretty long. So, you can choose any location of your liking, and there's a probability that you'll find a HostNoc data centre in that location.
Key Features Of HostNoc
So far, we've seen how great HostNoc is with its security and support. Now, let us look at its performance by checking out the features you get with HostNoc servers.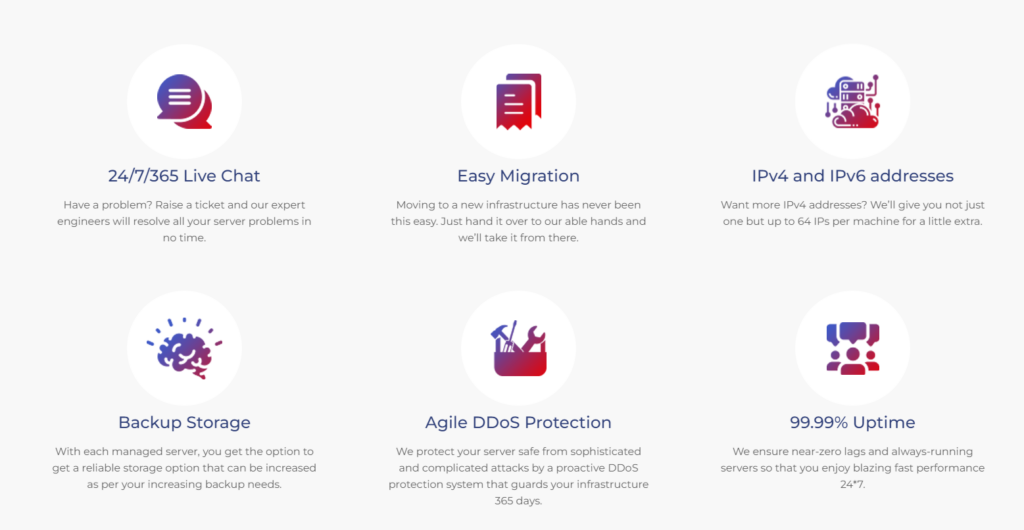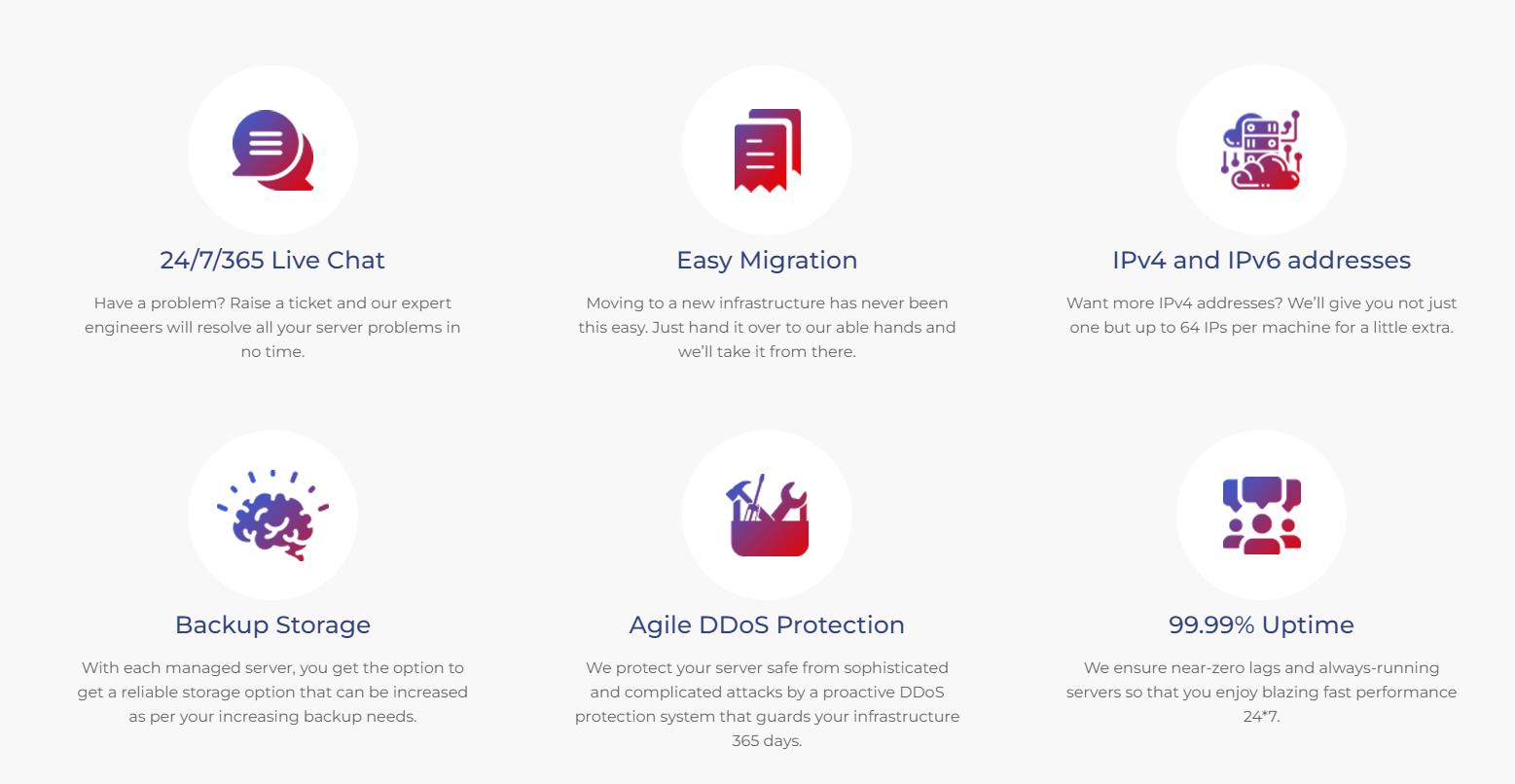 IPv4 and IPv6 Addresses
There are no problems with the IP addresses you can get for your servers on HostNoc. With all their plans, they offer as many as 64 IP addresses to ensure the fast speed and performance of the servers.
Quick and Easy Migrations
If you have got your servers with some other company and want to move your infrastructure to HostNoc, it's no problem at all. With their quick and easy migration features, your entire business infrastructure gets deployed on HostNoc servers in no time.
Backup Storage
Your storage on your servers will determine the capacity of the data, and you want to ensure that this storage is safe. With HostNoc, you've got excellent storage options on your servers, and you can even increase the storage per your needs. So, storage never comes as an issue on HostNoc.
99.9% Uptime Guarantee
Your servers must always remain online for uninterrupted operations. You get this assurance with HostNoc, given that they provide up to 99.9% uptime guarantee for all their servers which means that the servers will work at high-speed at all times.
HostNoc Refund Policy
HostNoc doesn't have a full refund policy nor offers a refund for all its services. If you're looking for a refund for dedicated servers on HostNoc, you'll not get the same.
Nonetheless, HostNoc provides a 15-day money-back guarantee on its shared hosting and reseller hosting plans, and you can get the same after the deduction of setup fees and surcharge if you request their support portal.
HostNoc Pros & Cons
Pros
High-speed storage with options to increase storage as per requirements.
99.9% uptime guarantee.
Constant support from the technicians.
Quick migrations from other server infrastructures.
High level of security with the hosting.
Cons
There is no refund available on dedicated servers and most of the services of HostNoc.
FAQ's – HostNoc Review
Why do we use HostNoc?
HostNoc is a great platform for cheap web hosting, affordable, reliable, and high-performing dedicated servers with great features and functionalities. Given the significant ease and convenience of using HostNoc servers, it's a great company to try.
Is HostNoc secure?
Yes, HostNoc has strict security features for all its hosting server plans. You can have your servers secured with a DDoS protection system, SSL certificates, firewalls, etc.
Conclusion – HostNoc Review
This was all there was to cover in this HostNoc Review. From the foregoing review, we can conclude that HostNoc is indeed a good platform that meets all the unique and specific customer needs and offers highly secure servers that meet customer expectations at best.
Moreover, the pricing for the servers is cheap, and you've got many options to choose from. So, overall, it's a great platform, and you can give HostNoc dedicated servers a try to see how they pan out for your business.