Are you confused about the hosting solution that you must take for your website? Well, it is a confusing decision. Choosing the right host is essential because it impacts your website's speed and performance. Well, we are here to help you with that choice with our hosting reviews.
For today, we have come up with a HostForLife Review based on its speed, performance, support, security, and features that we have analysed for months. Have a read of this review to determine if this hosting suits you or not.
About HostForLife
HostforLIFE is a European-based web hosting company that offers high-standard web hosting services to its users. The essential feature of it is its high user services. The standard of facilities it provides is quite important for its users' immense popularity that HostForLIFE offers for its users.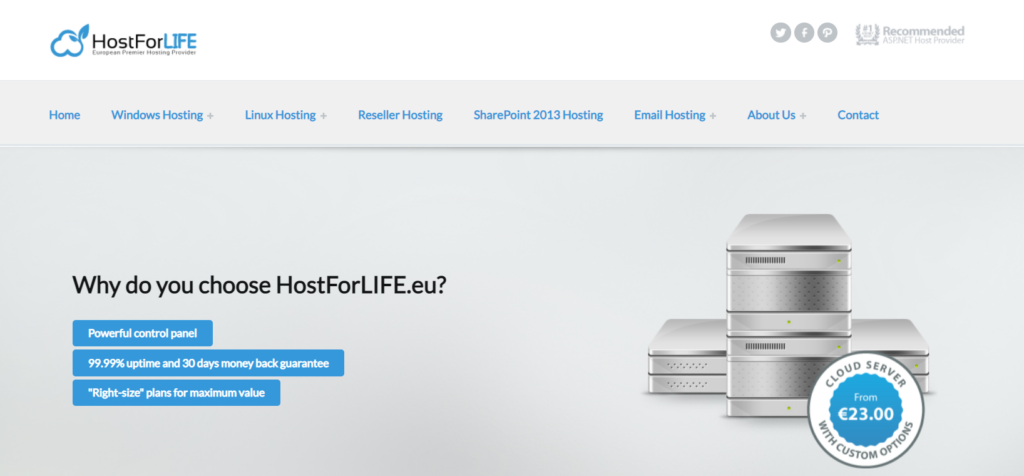 One of its impressive features that are inculcated in HostForLIFE. It is green and uses clean energy only, it is a Microsoft hosting partner with all the server experts in its team to cater to the needs of its clients.
Test and Analysis
The following parameters are used to define the credibility of a web hosting service provider. It is these qualities that define how the web hosting service provider is different from other service providers-
User Interface & Ease of Use
The website has a lively and interactive user interface that's easy to understand and navigate through. It has Plesk Control Panel which is a powerful control panel and allows you to manage your website operations more effectively and efficiently.
HostForLife Customer Support
Not much can be said about the customer support of the company. They have their contact number for different branches mentioned on the website so that the users can easily drop their queries on a contact us form on their website.
However, they lack a live chat support system and the users may have some difficulties in getting support and assistance.
Security Analysis
The company has additional data security layers for having good security, and maintenance features enabled on the database. The whole security system is updated frequently, and this gives the user a good amount of credibility and reliability from the user's side.
Key Features of HostForLife
The following section deals with the special features that are mainly vital for the uniqueness of HostForLIFE as a web server

The hosting comes with high-speed SSD storage that allows you to store data conveniently and maintain the speed and performance of the website.
The hosting comes with a simple and easy-to-use Plesk control panel that offers better control over the operations of the website.
The hosting comes with a DNS Failover feature which is essential to keep the website from going down. With this feature, your DNS servers will never fail and your website will remain uptime.
You can easily install different CMS like WordPress, Joomla, etc., for your website for more ease of operations.
Types of web hosting offer HostForLife
HostForLIFE offers the following types of web hosting services-
HostForLife Pros & Cons
Hereinbelow are the major pros and cons that we found for HostForLife
Pros
It uses green energy to power its operations.
Easy to use and easy to understand interface.
Excellent uptime guarantee.
Cons
The customer support system is good.
FAQs – HostForLIFE Review
Does HostForLife offer a free domain?
No, HostForLIFE does not offer a free domain to its users.
How many Data Center Locations do HostForLife provide?
There is only one data centre that HostForLIFE has, which is located in Amsterdam, Netherlands.
Is HostForLife good for beginners?
Yes, a host for life is good for beginners. It has special assistance for beginners to resolve whatever query they face while operating the platform for the first time.
Does HostForLife Provide a free SSL Certificate?
No, it does not offer a free SSL certificate. It has a very low price to offer an SSL certificate.
Conclusion – HostForLIFE Review
The whole processing of HostForLIFE is quite user-friendly and applies to beginners or advanced users. A dedicated workforce supports the entire team to work relentlessly and care for clients who do not know how web hosting works. Thus, we must remember that the entire establishment of Hostforlife is worth enjoying.
We hope the HostForLife Review was helpful for you to analyse your options and choose what is best for you.