We have fantastic news if you're looking for a hosting service based in India. Web hosting and VPS hosting are some of the services offered to customers by Globehost.
Along with many other services, GlobeHost also provides Windows Hosting, Shared Hosting, Reseller Hosting, and much more. They also have Firewall and Data Encryption options with their services.
Join us as we investigate various features of GlobeHost. We would investigate their Usability, Security, and even their pros and cons.
Without further ado, let's get started with our GlobeHost review. So that you may decide on this service with more information.
About GlobeHost
GlobeHost is an Indian company with servers in India and US. They are certified by Cloudflare and offer 99.9% up-time at a very affordable price. GlobeHost provides high-quality hardware and has been a reliant name in the web hosting industry.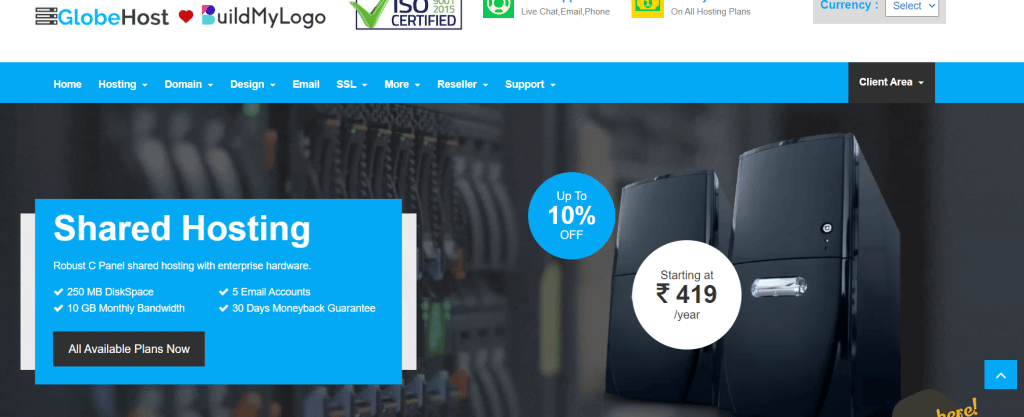 It has over 30000 clients and has received positive reviews for its services. Offering various types of web hosting plans, GlobeHost is a great web hosting provider and we will examine its various features so you can make a better judgment.
Test and Analysis
User Interface, Security features and Customer support are the most important aspects of a web hosting service and we have examined the performance of these components from GlobeHost.
User Interface & Ease of Use
The User Interface is crucial since it determines how simple it is to use the tool and how quickly you can complete a task. Both experts and beginners feel the importance of a decent user interface.
Popular and extensively used, cPanel. GlobeHost employs cPanel as its control panel for managing all of its service's operations and maintenance procedures. Therefore, it would be simple to discover instructions and guidelines.
GlobeHost Customer Support
Another essential component of a hosting service is customer support. Good customer service helps you save time and frustration when anything goes wrong, or you want to test something.
GlobeHost promises 24/7 assistance. Phone numbers and Live Chat are available to contact Globehost, and besides that, you also get the option to request a callback.
Security Analysis
A hosting service's security features, or how they manage and protect you, are another crucial component, particularly when they have access to private information.
Backup and Restore are available in many of Globehost's plans. You can get SQL 2012, ASP.NET MVC4 support with their Windows specification. 
Besides, you can protect your services with firewall security. The Data Encryption in Globehost serves to make your data more secure.
Key Features of GlobeHost
GlobeHost offers many attractive features for its users and we have mentioned its key features in this article: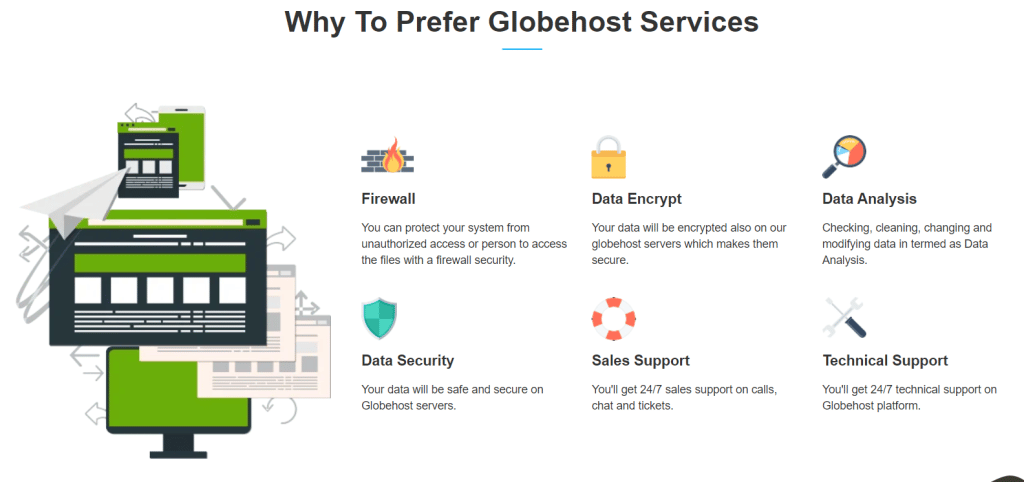 Affordable Plans
GlobeHost offers its web hosting plans for affordable rates which make them a great choice among small and mid-sized businesses.
99.9% Uptime Guarantee
GlobeHost offers 99.99% uptime guarantee for its plans so you don't have to worry about your website not being available to consumers. Most customers reported more than 99.98% uptime for their websites which is a positive sign.
Google Pay-Per-Click Marketing
GlobeHost offers Google's PPC marketing services for your websites so that you can monetize your website with ease.
What types of web hosting are offered by GlobeHost?
The goals and services Globehost has are diverse. The following are the web hosting services that Globehost provides:
GlobeHost Domain
Users of GlobeHost can also purchase domain services in addition to hosting packages. Globehost both sells domains and allows you to transfer your current domain.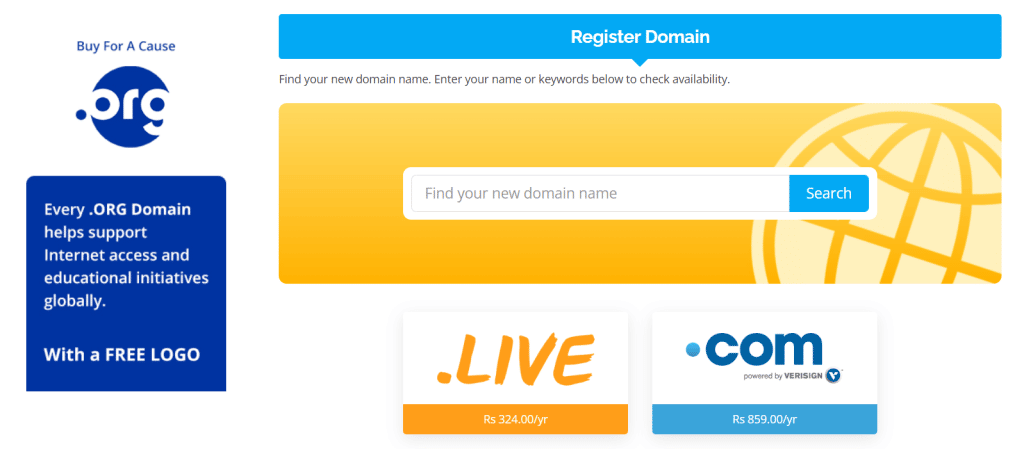 Domain Registration
On GlobeHost's website, you may check the Domain Checker section to see if your desired domain is available.
Domain Transfer
You may transfer your current domain to GlobeHost in addition to buying new ones. Therefore, you can choose GlobeHost if you don't like your current service.
GlobeHost Pros & Cons
To give you a proper review of GlobeHost, it is important to mention its pros and cons so you can make a better decision.
Pros
24/7 customer call support with tickets.
30-day money-back guarantee. 
Cons
Data Centers are only in India and USA.
FAQs – GlobeHost Review
Is GlobeHost good?
The plans of GlobeHost are very affordable, starting with ₹279/yr with a 3 year plan. So, with this low price and a 30-day money-back guarantee, their service is a pretty good deal.
What is the refund policy of GlobeHost?
Globehost has a 30 money-back policy. So, they reimburse you the money after deduction. They have mentioned more about their Payments in the Payments section of their Terms and service page.
To check it out, visit- https://www.globehost.com/terms-of-service
Does GlobeHost offer website migration?
No, you don't get free migration services with Globehost.
Does GlobeHost offer Website Design?
No, you don't get any dedicated website designing features with Globehost.
Conclusion – GlobeHost Review
Did you enjoy their qualities? They provide a fantastic user interface, as we previously highlighted. Additionally, you receive 99.9% uptime. Numerous payment options are accepted, and a 30-day money-back is also included with all of their services.
So, if these are the configurations you're searching for, you may test out their services using their servers in the US and India.
We spoke about a number of limitations and features of GlobeHost We also responded to questions concerning GlobeHost. It is now up to you to make a decision.