Cloud technology has been cutting edge in meeting business requirements for more affordable and accessible resources. With its popularity, cloud technology has made its way into almost every organization. Today, most organizational resources and data are being hosted on public clouds and virtual machines.
However, knowing the right hosting company for this advanced technology requires research, testing, and analysis. We have done all this work for you and come up with yet another review of an excellent company, which is Genesis Hosting Review, expert at public cloud and VM hosting.
Go on and have a read of this detailed Genesis Hosting Review to see if this is the cloud hosting platform suited to your business or not.
About Genesis Hosting
Genesis Hosting is a cloud, and VM hosting company established in 1997 and has a good name in the industry for providing competitive cloud resources, servers, and virtual machines to clients worldwide.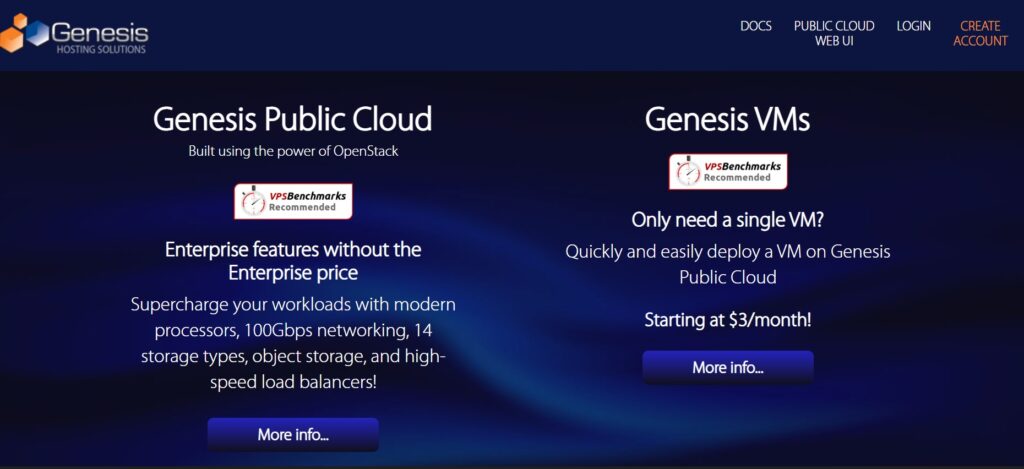 The company has a high-security digital realty data center in Chicago, and it's from this data center that it provides all its services backed by the expertise and experience of dedicated IT professionals who have been in the cloud industry for decades. 
Test & Analysis – Genesis Hosting Review
Every hosting company requires thorough analysis and testing. We did that for this review and herein below are the results of our tests and analysis for different user parameters.
User Interface & Ease of Use
Genesis Hosting uses the cPanel service, an industry standard that offers an open configuration with no limits in functionality except SSH access. The web-based UI provides options to change and customize every server parameter.
Genesis Hosting Customer Support
Genesis Hosting provides 24/7 customer support for both technical and sales-related problems. You can contact the support team via the support ticket system on the website.
When you open the support ticket, you can choose your query type and the priority for it. Based on priority, Genesis hosting resolves your query. The responses are very quick.
When we raised the support ticket for a query, we got the response within 2minutes of submitting the ticket.
Security Analysis
Genesis Hosting provides excellent security from malware, viruses, and other attacks with redundancies. It includes layer DDoS protection and network protection with Fortinet's FortiGuard, eliminating attacks, blocklisting IP addresses, and anti-hammering.
Key Features of Genesis Hosting
Here are the key features offered by Genesis Hosting:
The servers are equipped with the highest performing Xeon Skylake processors that deliver excellent performance and help you operate the cloud servers at high speed and flexibility.
The servers come with 14 storage volume types and many more advanced features for storage, thus making it easier to securely store your data on your cloud resources, more accessible and easily available.
All your data always remains safe from the risk of losses as Genesis servers take regular and continuous backups for desktops, servers, files, and images. Additionally, the servers also back up G-Suite and Office 365 data.
Types of Web Hosting Genesis Hosting Offers
Genesis hosting offers the following types of web hosting services:
Pros & Cons – Genesis Hosting Review
While testing out the services provided by Genesis Hosting, these are the pros and cons we found.
Pros
Fast and powerful CPUs.
No additional charges other than for storage and IP addresses. 
Good documentation. 
Cons
The CLI management interface and the jump host have a significant learning curve.
Network transfer costs are not included in basic prices. 
FAQ – Genesis Hosting Review
What kinds of users and organization types does Genesis work with?
Genesis offers services for both large and small businesses alike.
What languages does Genesis support in their product?
Genesis supports English in their products.
How much does Genesis cost?
The services offered by Genesis start from $5 /month and go up to $1360 /month.
Conclusion – Genesis Hosting Review
So, coming to the final conclusion, we can summarize that Genesis hosting offers several top-of-the-line services at very competitive rates and has been in business for over two decades. All their servers come equipped with excellent network-level DDoS protection to prevent attacks and are secure. The support is also great.
So, with all the factors combined, concluding this Genesis Hosting review, we can say that Genesis Hosting is a good company for cloud hosting solutions and worth a try.