Choosing a Hosting service can be overwhelming. Sometimes, you wish this process could be done more efficiently. So, to make this simple for you, in this article we will review.
Read our review and choose if this service is worth it or not. We will discuss the merits and demerits of this service. We will also tell you about its key features.
So, let's get started with our Easily Review without wasting more time.
About Easily
Easily intends to provide its users with a transparent product. They want to give their users " an uncomplicated website experience and terrific customer support."
Easily is also PCI DSS compliant. So, there are fewer chances of online fraud if your customer shops on your Easily Website. This is combined with their human support.
Test and Analysis
To undertake a proper review of the Easily hosting service, we have evaluated the key components that will determine your experience.
User Interface & Ease of Use
A good User Interface should be at the top of the list for those who are new to Hosting. Not only newbies but many professionals also prefer an easy-to-use hosting service with a good UI.
If you opt for Easily, you would get their Online Presence Builder that lets you drag and drop a Website for yourself. Not only that, but you also get a one-click Joomla and WordPress installation.
Easily Customer Support
Customer Support is a very important part while choosing a service, and it should be considered, especially if you run a time-intensive website that can't afford to go down.

With Easily, you get knowledgeable and experienced support representatives who offer real human support. You can call them on their two numbers inside and outside the UK. You can also email them through their 24 hours a day email service.
Security Analysis
Security is a big deal when the sensitive data of your customer is involved. Protecting the data is the right thing to do, and there could be liabilities if you do not. So, Security features are something to look for when choosing your Hosting Service.
The Internet can be a dangerous place if you are not protected. Easily keeps the bare minimum of data on their systems, and they do not store credit card details.
Their services are PCI DSS compliant, which is short for Payment Card Industry Data Security Standard. This certification makes your website more immune to various issues.
Key Features of Easily
The following pointers highlight the various features that makes Easily different form other web service providers. These are the distinguishing parameters that makes it stand apart from other service providers.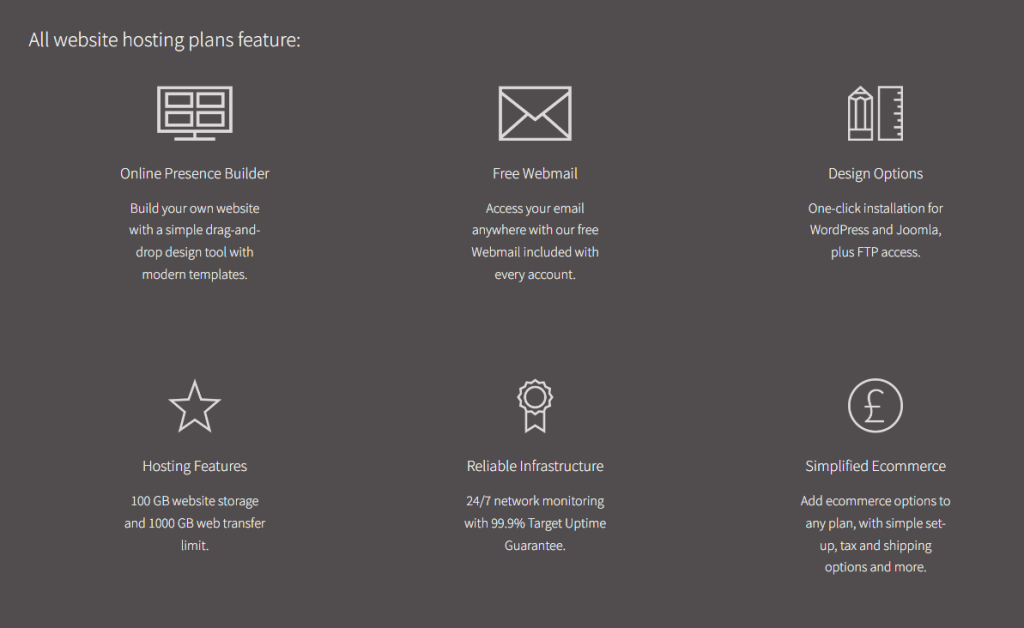 Compliance policy
Easily has a great compliance policy which makes it important for its users. It has the PCI DSS compliance which earns it some additional support from its users in terms of reliability and trust.
Online Presence Builder
The Online Presence Builder feature is very well maintained on the service provider's side. It has various tools to access your website and rate it among the set parameters so as to enable the user about the shortcomings and the positives of the website he or she has designed.
Types of Web Hosting Easily offers
The Web Hosting plans from Easily are in three tiers. These are as follows-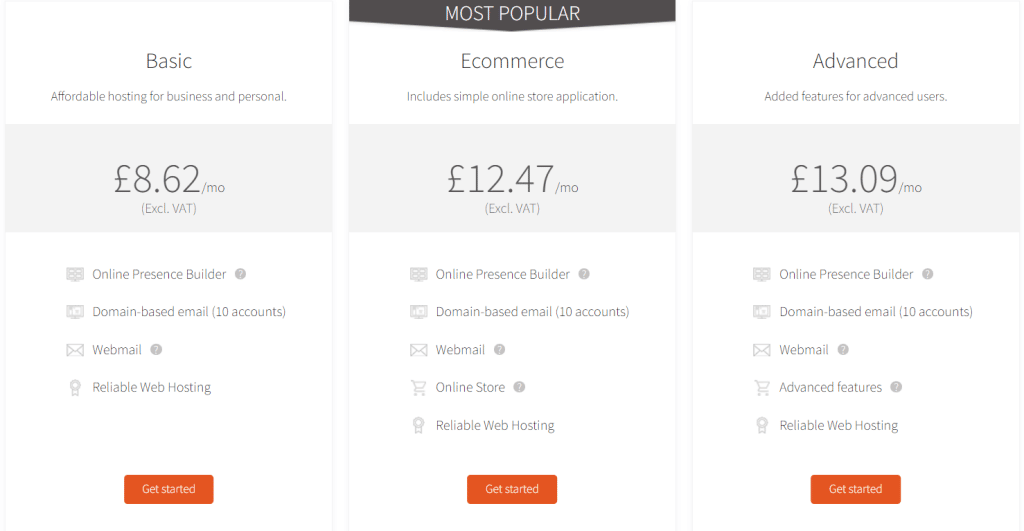 Easily Domain
You are not limited to Web Hosting services. You can also buy Domain services from Easily. They have more than 100 TLDs for you to choose from. You can transfer your existing domain to them.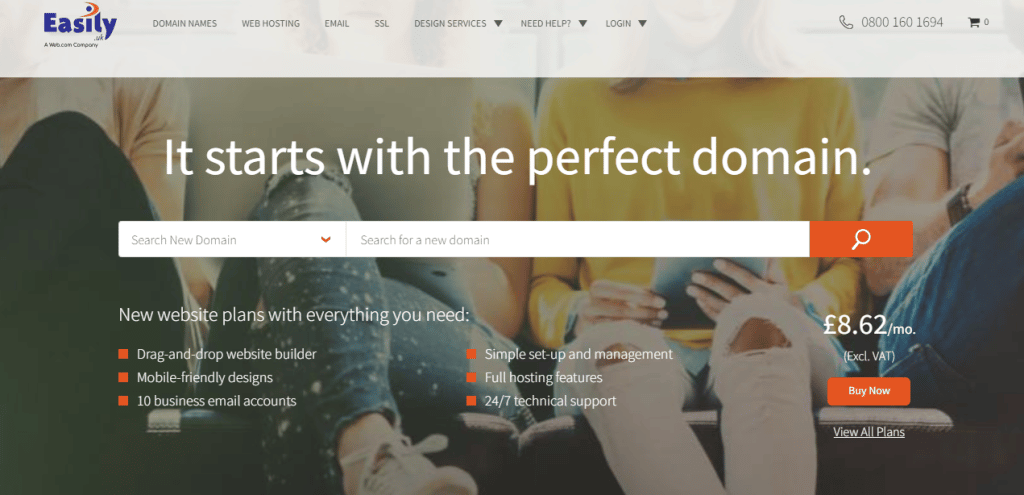 Easily Pros & Cons
Now that you have an idea about the Easily hosting review, you must be wondering about its advantages and disadvantages compared to other web hosting providers. Thus, we have listed the pros and cons of Easily hosting.
Pros
Affordable hosting plans
One-Click WordPress Installer tool
30-day money-back guarantee
Cons
No cPanel support
No free SSL and Domains
FAQs – Easily Review
How much does Easily hosting cost?
Easily hosting comes with three plans. They start from £8.62/m* and go to £13.09/m*.
*All prices exclude VAT
Can I get free domains and SSL?
No, Easily does not provide free SSL and Domains to their users.
Which operating systems are available for Hosting Plans?
Easily don't mention any particular OS for their Hosting plans. But they support PHP 7+, Python, ASP / ASP.net
Conclusion – Easily Review
Can you quickly figure out if this service is right for you? We discussed various aspects and features of Easily and then proceeded to answer a few questions.
If you can't figure out if their service is right for you, you can take advantage of their 30-day money-back, try their services, and get firsthand experience. This will help you choose and determine if this service is really for you.