If you are someone who wants to start a website from scratch but does not have the budget to build and host it or also pay a website builder, you are on the right page. We are here with a suggestion.
Altervista is a hosting service provider that offers to build your website free with the best templates available.
Also, you get to host your website at affordable prices with many beneficial features.
Let us continue this Altervista review to know more.
About Altervista
Founded about two decades ago in 2000, Altervista is a creation of a person who was just 20 years old and has now become one of the best website building and hosting platforms, especially in Italy. 

This hosting platform offers you a beautiful yet functional template to build your website whose price ranges start from being free of cost.
There are not many hosting plans here, but the prices and features are worth trying.
Test and Analysis
Let us now test the quality of services offered by Altervista.
User Interface & Ease of Use
Altervista is a beginner-friendly hosting service provider, visible on its user interface. This hosting platform offers an easy-to-use dashboard and website-building tools that do not require any expertise or experience. 
Altervista Customer Support
The customer support offered by Altervista could be lacking a few features. This hosting platform provides reliable customer support but only offers it through emails, support tickets, no calls, and live chat.
Security Analysis
This hosting platform offers a variety of security features at different levels. To start with, you get SSL certificates to keep your website's connections encrypted.
Also, you get regular backups and scheduled backups with ghosting plans and FTP access.
Key Features of Altervista
We will now list the key features of this platform in this Altervista review.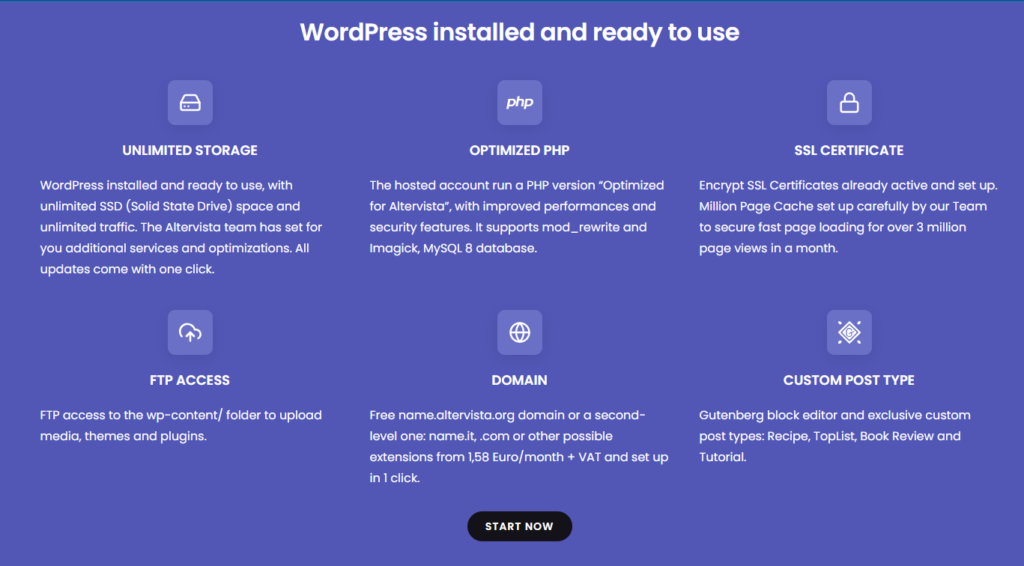 Unlimited SSD Storage
As you may know, the speed of your website is one of the deciding factors for your website's success. Without great speed, your website will not grow further.
Customers will refrain from visiting your site if it takes a lot of time to load. That is why Altervista offers unlimited SSD storage to keep your websites fast. 
Unlimited Traffic
As your website grows further, you will get more and more traffic. But a limit on it might stop your online business's growth.
Therefore with Altervista, you get an unlimited traffic feature that keeps your website running for all visitors.
Pre-Installed WordPress
With managed WordPress hosting offered by Altervista, you get pre-installed WordPress to make your hosting experience even easier.
Also, it has been optimized for millions of monthly views.
Types of Web Hosting Altervista offers
Altervista offers the following hosting:
AltervistaHosting Pros & Cons
We may now consider the pros and cons of this platform as we continue this Altervista review.         
Pros
Unlimited space and traffic
Easy to build websites
Easy Monetization and Privacy Policy
Cons
No information about the control panel
Less customer support options
FAQs – Altervista Review
What is the cheapest way to host a website?
You could host a website cheaply through a free hosting plan—a few hosting service providers, such as Altervista, offer free hosting with plenty of features. 
Is Altervista's unlimited hosting really unlimited?
Altervista offers unlimited space and traffic to its users. As for Unlimited Hosting, the platform has no offers for unlimited domain names. Hence, we cannot say quietly it is entirely unlimited in every manner.
Do I need to pay extra for backups with Altervista? 
You get free backups from Altervista; however, if you want a scheduled backup, you will have to pay for it.
What payment methods does Altervista accept?
The payment methods for Altervista keep changing over time, and you may have to choose which are available now.
Conclusion – Altervista Review
We may now conclude this Altervista review and look back at its features and if it is worth our time, money, and energy.
This hosting platform offers fewer options for customer support and does not say much about its data centers and control panel. 
However, the services offered by this hosting platform are, to a large extent, free and unlimited.
Also, this platform is beginner-friendly, so you do not have to worry if you have no hosting experience.