Whether you are looking for a hosting service provider that offers you fast hosting services or your needs lay in affordability, both in one is hard to find. Therefore, we are here with a suggestion.
VentraIP is a hosting service provider with a significant range of hosting and other services such as WordPress hosting, reseller hosting, and domain name. Also, you can get a customized plan here.
So let us now get into this VentralP Review.
About VentraIP
Founded about a decade ago in 2010, Nexigen Digital Pty Ltd, trading as VentraIP (ABN 91 137 543 018), is an Australian-based hosting service provider. This hosting platform uses data centers operated by the publicly listed company NEXTDC.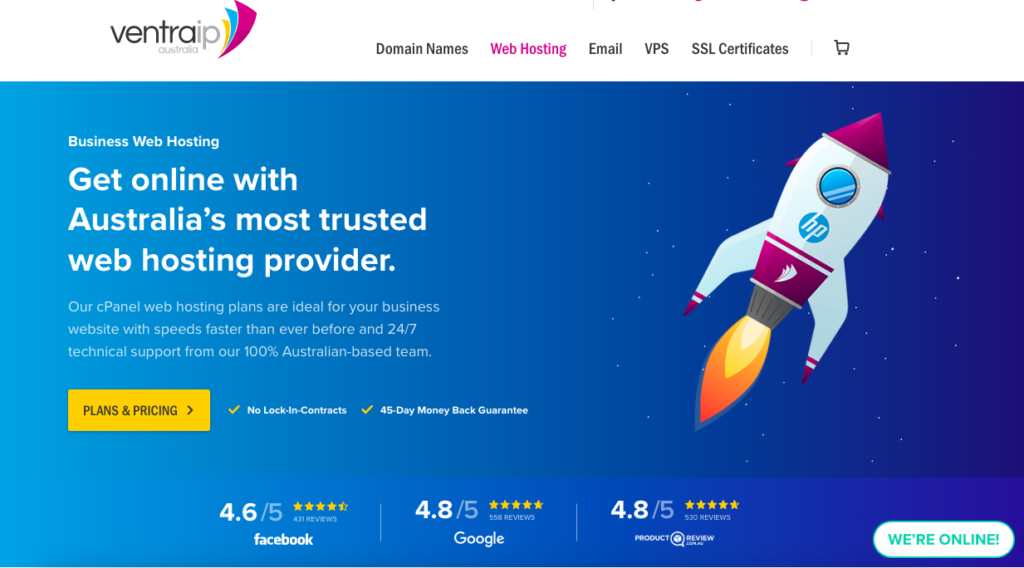 On this hosting platform, you get the benefit of building a custom plan for yourself and hosting plans such as WordPress hosting, business hosting, reseller hosting, and more services such as domain name registration. 
Test and Analysis
It is now time to test out the services of this platform in this VentraIP Review.
User Interface & Ease of Use
Let us now take the user interface offered by VentraIP into consideration. As long as our experience, this hosting platform provides an easy-to-use interface that will suit beginners and experts in the hosting field. 
VentraIP Customer Support
Now, if we consider the customer support offered by VentraIP, you can contact the customer support team 24/7 through live chat, emails, tickets, and phone calls.
However, you might not always be answered on one medium, and you will be told to move on to the next. 
Security Analysis
So what are the features that VentraIP offers to secure your data? On this hosting platform, you get security features such as ImunifyAV Code Protection, security advisor, DDoS protection, and more to ensure the complete security of your data. 
Key Features Of VentraIP
Now it's time to list out the key features of this platform in this VentraIP review.
Staging And Cloning
You might have encountered a situation where you made a change in your website and published it without testing it, as you did not have the facility to do so. 
It turns out you made a mistake, and now your website is messed up. To avoid this situation, VentraIP offers you the facility to clone or stage your WordPress website.
Free Comodo SSL Certificates
Security of your data is essential on all levels, even when your website connects with other websites on the internet. Here the use of SSL certificates could keep your website's connection encrypted. Therefore, VentraIP offers you free Comodo SSL certificates.
Custom Hosting
We are using this hosting plan as a feature here, and you get the complete advantage of scaling and building a plan per your needs. Here you can choose the resources you want and how much you want.
What types of web hosting are offered by VentraIP?
VentraIP offers the following hostings:

VentraIP Refund Policy
With VentraIP, you get the benefit of a 45-day refund policy. This means that you get enough time to try the resources and decide if you want to keep it or apply for a refund which you will get within 45 days of purchase.
VentraIP Pros & Cons
Now we will list out the pros and cons of this hosting platform in this VentraIP Review.
Pros
Custom plan
Scalability
Long refund policy
Lots of security features 
Cons
No own data centers
Live Chat does not have an active customer support team
FAQs – VentraIP Review
Can I Trust VentraIP?
Yes, you can trust VentraIP for its services. This hosting platform offers a good range of services with reliability, legalities are always followed, and your data's security is never compromised.
Can I get a free domain for VentraIP?
VentraIP does not say much about free domain names. However, here you can register your domain names at quite a bargain. 
Is VentraIP hosting good?
Yes, though the range of hosting plans is small, these four hosting plans, including business hosting, reseller hosting, business hosting, and custom hosting, are pretty reliable when running a business online.
How many data center location provide by this company ?
VentraIP uses data centers operated by the publicly listed company NEXTDC in Sydney and Melbourne.
Conclusion – VentraIP Review
Now we must list the peculiarities of this hosting platform as we are ending this VentraIP review. You get customer support through three channels on this hosting platform, yet the speed is not that quick.
Also, this hosting platform does not own data centers but uses resources from other organizations. However, the services and features are helpful at all levels of your online business.