Reading and watching Manga has been a habit for many people. However, finding a free source is a highly time-consuming and complex task. But don't worry; we have listed the best free Manga websites below.
We will start by understanding what is a Manga website, what are the best free Manga reading websites and finally, understand how to read Manga safely online and save yourself from any possible struggle. Let us get started.
What is a Manga Websites?
Manga is a type of storyline and a style of characters that is a product of Japan and has now spread across the globe. These stories have plots on themes such as action, romance, adventure, and more.
Manga stories are popular due to the exciting storylines and the eccentric characters that keep you hooked and often obsessed with it that you can find yourself reading them all the time. A Manga website is a website that offers Manga content on the internet.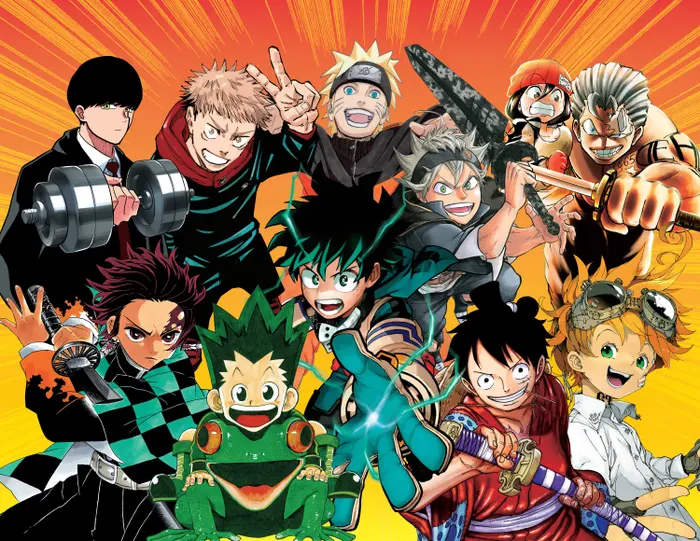 You can find such content in readable and watchable formats to suit your entertainment requirements. Many websites provide Manga content on a paid subscription, but we would not like to watch you pay for something you love so much. So here's a list of the best free Manga sites.
16 Best Free Manga Reading Websites 2023
Now, as you know what is Manga and what is a Manga website, let us look at some of the best free Manga websites in 2023.
1. Mangapark
Think about a Manga heaven and then look at Mangapark; they will look the same. This platform has everything you need; whether it is a years-old Manga or a new release, you can find it all on Mangapark.
You can search for your favourite Manga through the search bar offered by the platform or navigate through the interface.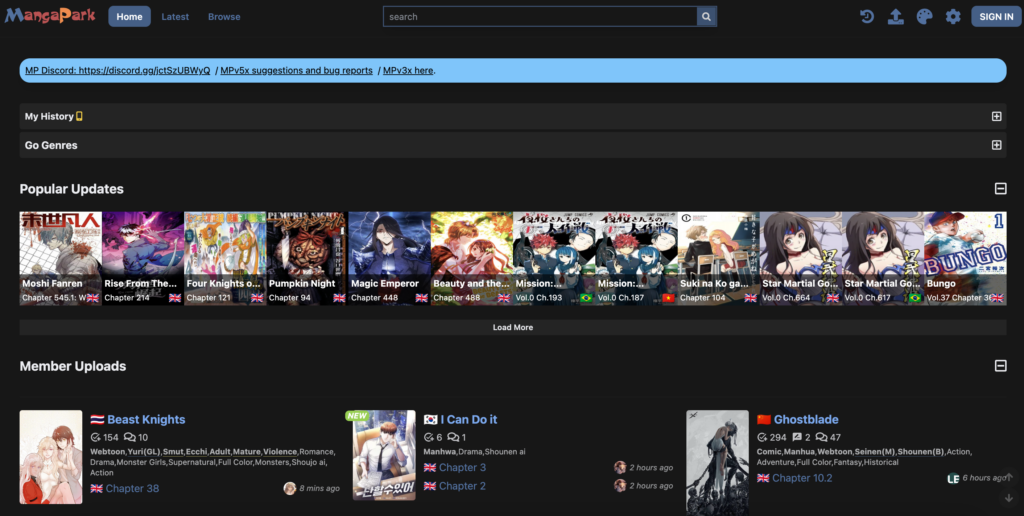 However, if you are looking for something new or something that most people have found exciting, you can search for the most commented-about, rated or most popular Manga at Mangapark.
You can find Mangas of all genres at Mangapark. Whether you want action, romance, or mystery-themed Manga, Mangapark will give it to you and never disappoint.
---
2. Mangadex.tv
The next platform on this list of the best Manga websites is Mangadex.tv. This platform offers a variety of Manga content. It is most suitable for those who like to read adult Manga, as this platform has a vast variety to entertain you.
The interface might look like the old Facebook website, but don't worry; it is highly responsive, and you can find anything you like here with just a click.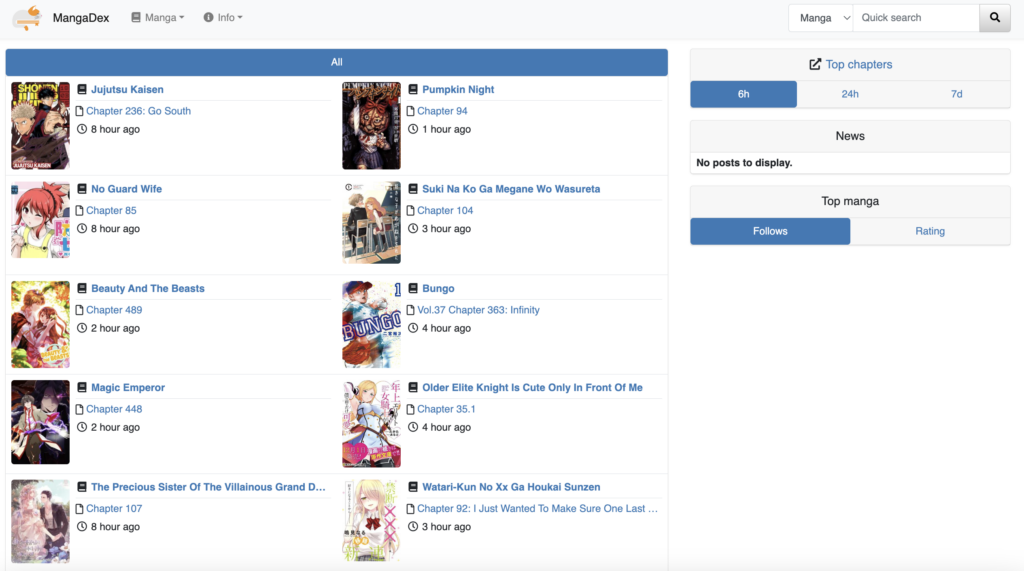 To look for your favourite read, you can use the search bar or scroll through the website.
Mangadex.tv has Manga from all timeframes and styles, so it will always keep you entertained, and you will never get bored on this platform.
---
3. MangaFox
Thinking about where to find your favourite Manga for free? At MangaFox. This platform has Manga content for every genre you can think of.
They have categorised content into themes, and you can look through them by selecting one on the interface. Also, if you are looking for a specific Manga, look for it through the search bar, and you will find the complete edition at MangaFox, as it has got it all.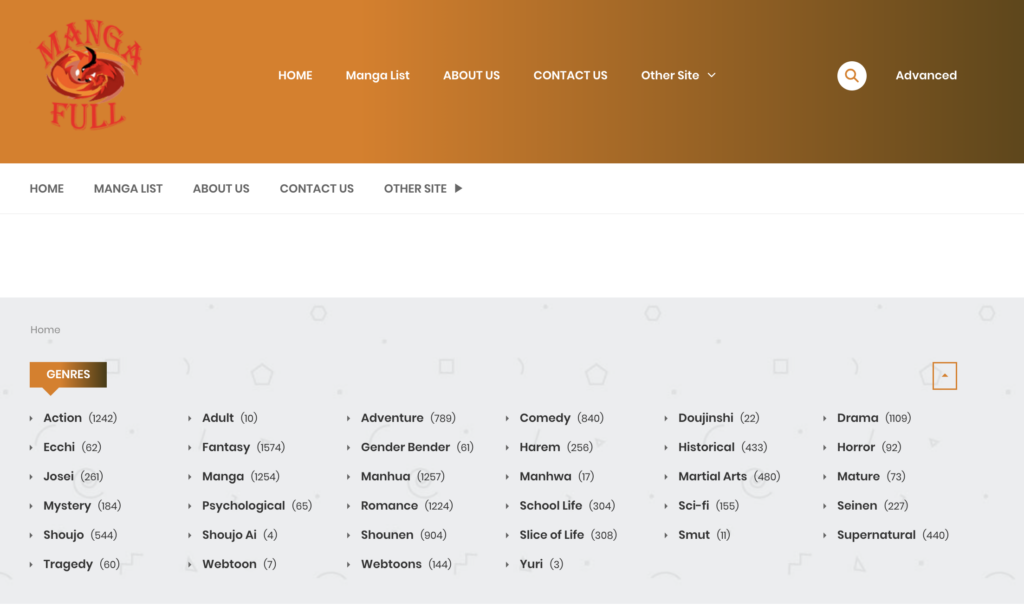 If you are trying to find something that is most popular these days, it is not a problem; MangaFox also offers a section where you can see the most rated Manga and explore.
---
4. Crunchyroll
If you are a Manga fan, there is no chance you haven't heard of Crunchyroll. This platform is a popular Manga provider that people use around the globe. You can read every Manga here and watch Anime content on this platform.
The interface is quite impressive and straightforward to use. You can look through the categories offered by this platform and find your favourite Manga on this platform.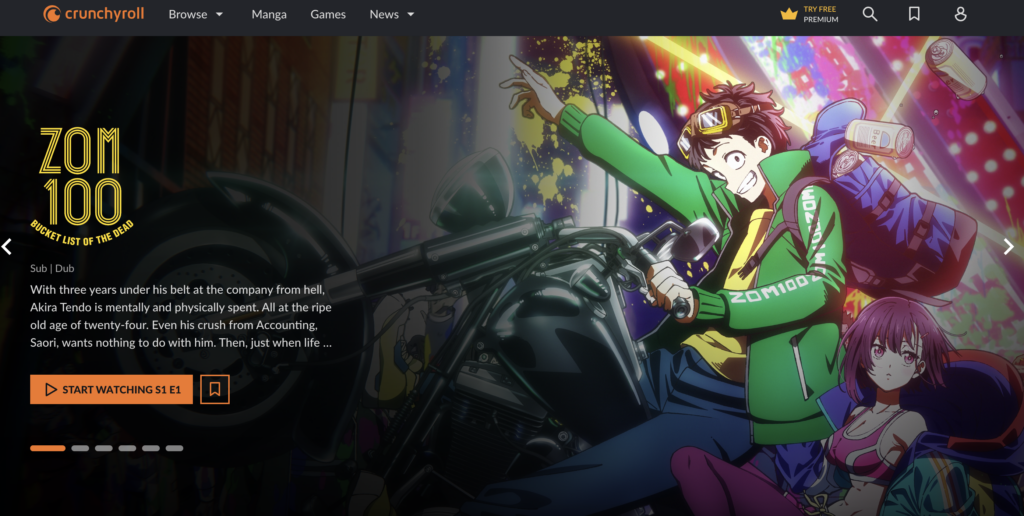 Also, why miss the content if you do not like to read? Just choose an Anime movie which will keep you interested throughout without annoying advertisements.
Also, do not worry; you will not have to wait months to get your hands on the newest Manga, as Crunchyroll will get it for you as soon as possible.
---
5. Comico
You will not feel you are using a free website when you get your hands on Comico. This platform has the best and most straightforward interface for you to look through your favourite Manga and find them quickly.
The content comes on this platform soon after it is released, and you do not have to wait for a long time to watch your favourite Manga that you have been waiting to release for months. Just watch it whenever you want here.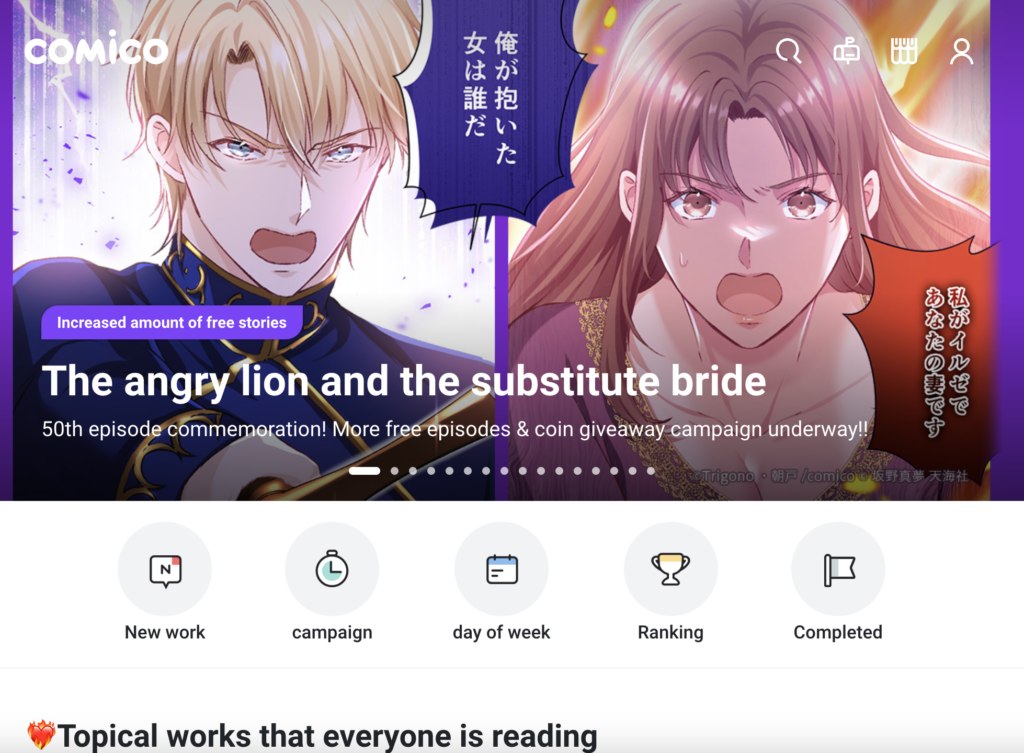 However, Comico is most suitable for those fluent in Japanese as it provides a Japanese interface and content, and it could be challenging to comprehend for a person who does not understand the language.
---
6. Manga Owl
Find all your favourite Manga content on Manga Owl. This platform has a variety of genres to choose from, and this platform can entertain all age groups and people who prefer all themes of Manga.
Also, this platform offers you a personalised interface where you can track your reads and maintain the history of your choices. Through that information, you will be provided content that sits well with your options for Manga.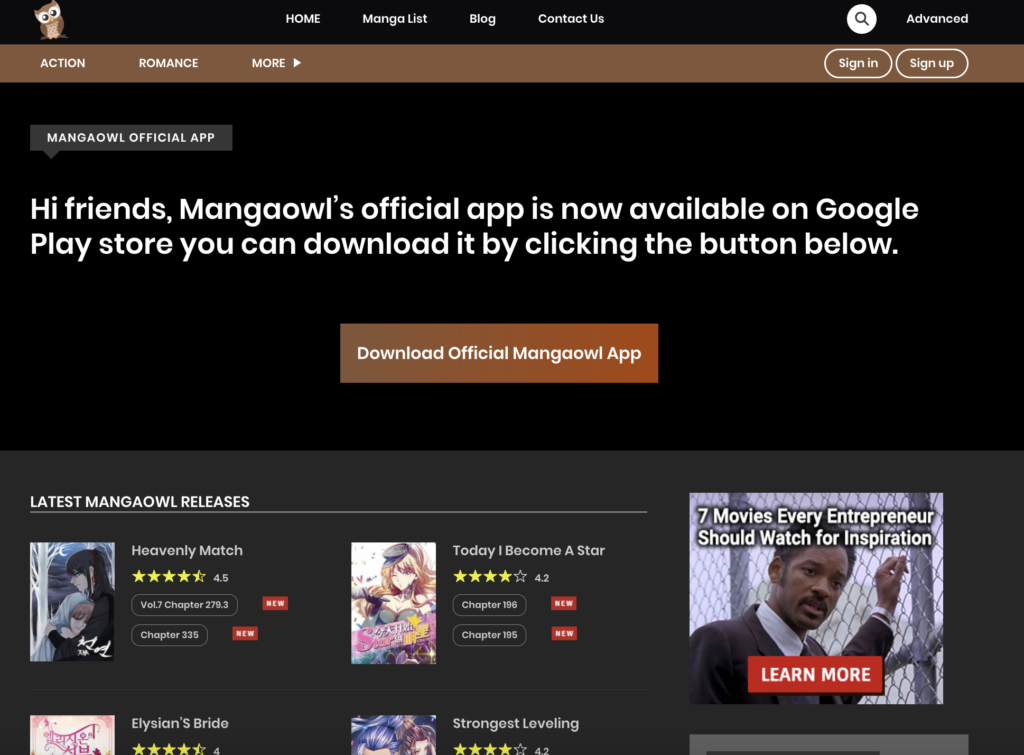 However, Manga Owl frequently updates its website, so it could be hard to find the website all the time. But the wait is worth it as this platform has every Manga content you need for free.
---
7. Book Walker
Now, you have a different medium to absorb all the Manga content whenever you want. With Book Walker, you can read all your favourite Manga content as soon as it is released in excellent quality.
Also, you can listen to all the Manga content on this platform as it also offers audiobooks which will help you listen to new and exciting Manga stories with an excellent voice anytime you want;
whether you are doing your chores or travelling, you will always be able to enjoy what you like.
---
8. Mangago
If you want to read Manga content as soon as it is released but wish to maintain the quality of content, you should try Mangago. This platform has a massive library of Manga content that will never disappoint you.
You can look for your favourite Manga on Mangago by typing the name on the search bar or scrolling through the website. If you are still determining if the presented Manga is good, look at the rating on that content, and you will know.
This platform is the best choice if you want to save time and money and enjoy all your favourite Manga content in one place.
---
9. Mangadex.org
Mangadex.org is the best place for you if you like to keep things organised even while having a fun time.
Mangadex.org has a simple yet organised interface which supports all the content categorised into theses you can choose from. You can maintain a reading list, meet people who like to read the content you want and make friends with them.
Therefore, along with providing you with the favourite content you have been looking for for free, you also get to meet people of the same interest here. Isn't that great?
You can also find stories from different countries and enjoy all you want for free without disruptions.
---
10. Bato.to
Explore the best Manga content on Batoto. This platform offers a massive collection of Manga content for free.
You can find content here through the search bar, and you will notice that this platform has everything you want. Not just Japanese, you can find Manga content from various countries with different plots and plot twists.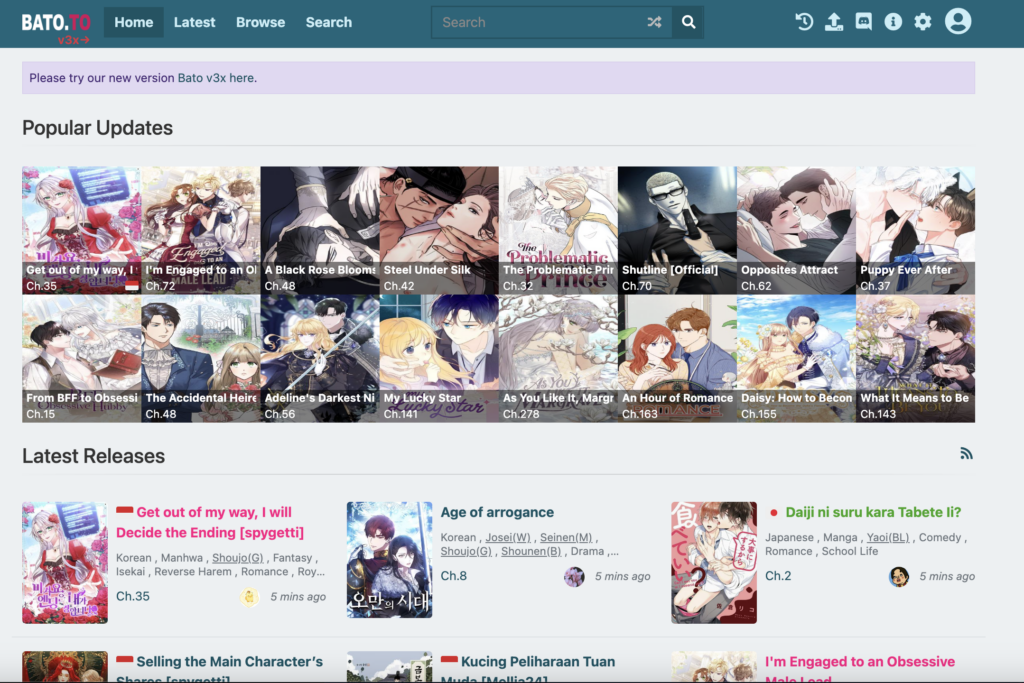 This platform will give you all the top ranges with a basic description so that you know what you are getting into and save time.
---
11. Manga Rock
Liked the poster but do not know if the Manga you are about to open is worth your time? Stop guessing and try Manga Rock, which offers a small summary about each Manga so you are not left guessing.
This platform is quite simple to use and will provide you with everything you need; whether you like a romantic Manga or something that sends chills down your spine, Manga Rock has everything for you for free.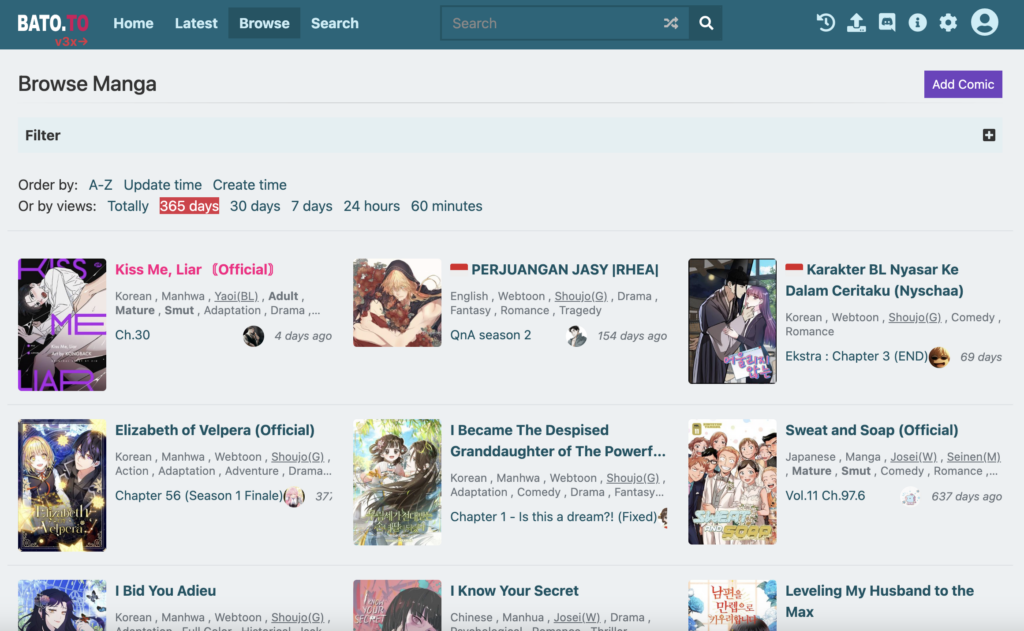 Also, you can see how many people liked a certain Manga to see what the likeability of the content and stay ensured that you will not be provided something you won't enjoy.
---
12. KissManga
KissManga has every Manga you want to read. You will love how fast this platform gets its hands on the latest Manga and provides you for free and, at times, for a small price, which you will be okay with spending once you see the quality of the content.
If you like to read while travelling, it can be made possible with KissManga, as it can also be accessed through a mobile phone. Also, you can choose between a light or dark mode to suit your eyes and prevent any damage.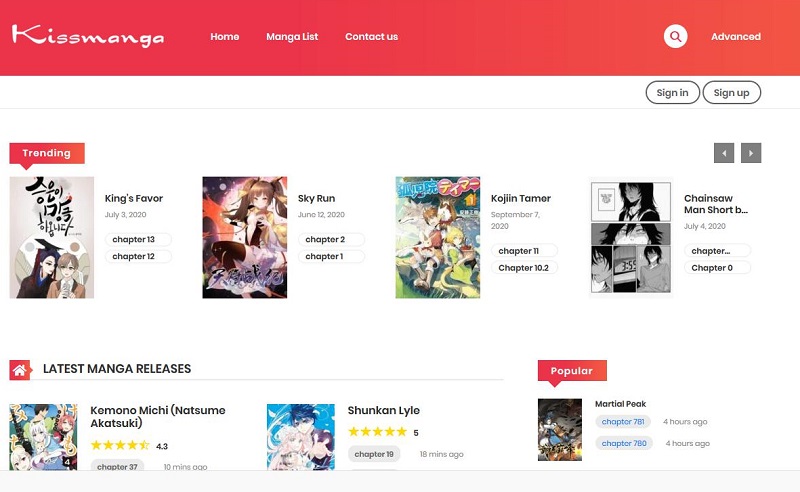 This platform has a selection of Manga content to suit every age group; whether you have a child under the age of 10, you are between 10 and 18 or anywhere further, you can always find something that will interest you at KissManga.
---
13. ReadManga
Is there a specific genre of Manga you like? Such as a school life Manga? But where do you find a collection of Manga content dedicated to a theme? At ReadManga. This platform offers plenty of Manga reads based on the genre you like.
You can choose from school life, Isekai, Manhwa or anything else; ReadManga has it for you. The quality of each Manga on this platform is top-notch, and it will never disappoint you.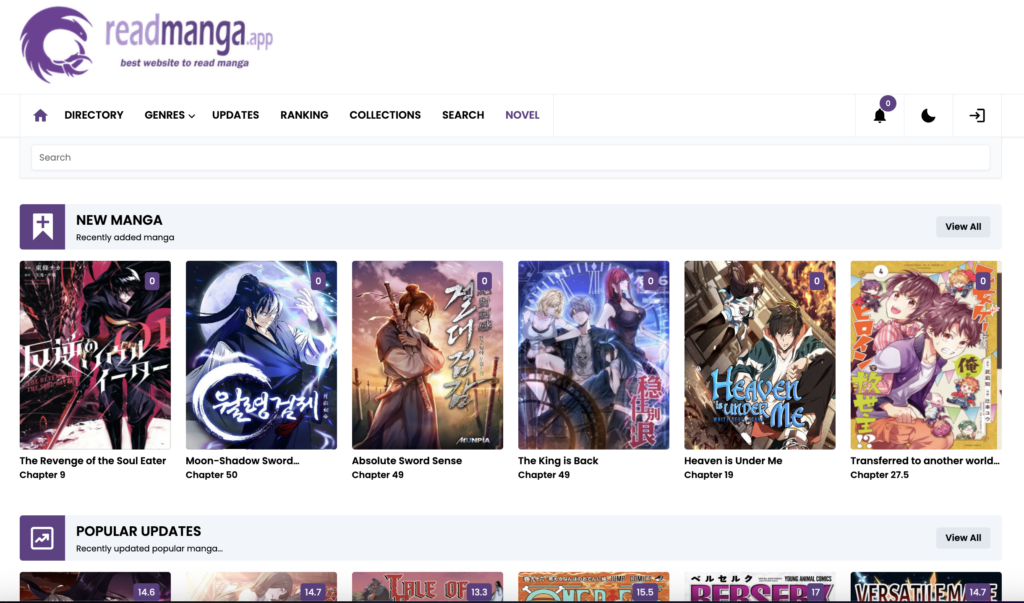 Also, you can find the most liked and latest content at the top of the ReadManga website. With ReadManga, you can meet people who like what you want and chat with them through this platform.
---
14. MangaHere
Find every Manga you want at MangaHere. This platform offers all the top-rated and newly released Manga for free. You can access this platform through various devices and formats, such as a website and an application for your mobile phone.
You can look for your favourite Manga through the search bar or navigate through the website. All the new releases and top-rated Manga are listed on the homepage of MangaHere so that you do not have to waste time looking for them.
Besides Manga, MangaHere also sells Anime items you would like to buy. Therefore, MangaHere is suitable for all those who enjoy reading Manga and also want to collect collectibles.
---
15. MangaFreak
MangaFreak is an excellent place to relax and read your favourite Manga. You can find all the new releases and top-rated Mangas on this platform for free, even without signing up on this platform.
MangaFreak is a popular free Manga site blocked in many countries due to copyright issues. We suggest you use a VPN and access the original website, as the mirror websites are filled with advertisements and pop-ups.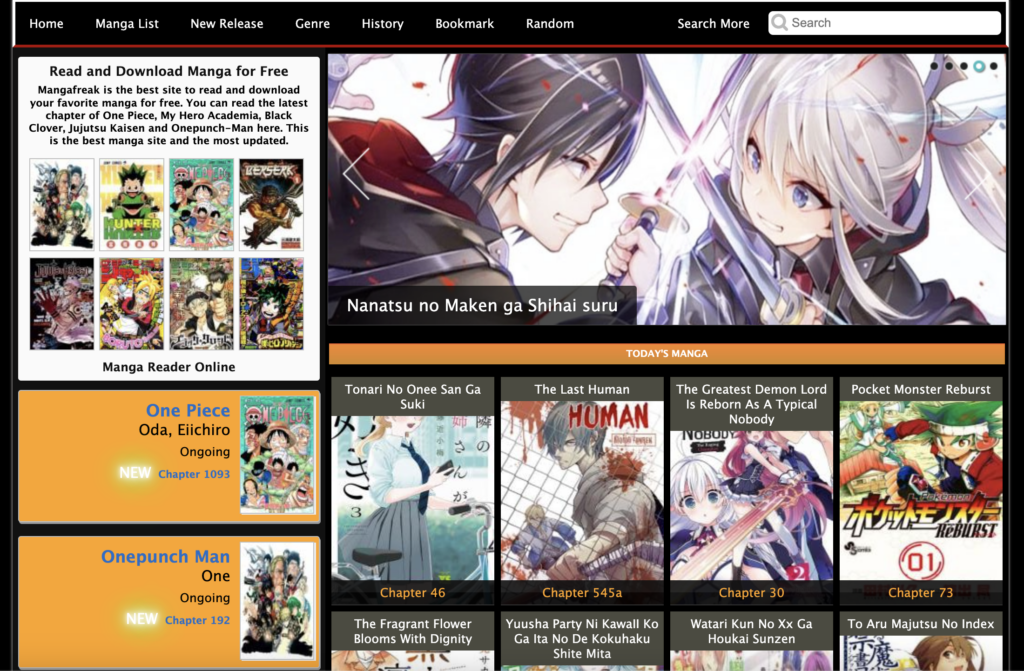 You can use an ad blocker, but the issue is that free websites are often filled with malware, so we suggest a VPN for when you want to enjoy such a beautiful website.
---
16. MangaStream
MangaStream is a popular Manga content provider but is blocked in many countries, so that you could have a problem looking for the original website. Therefore, we suggest you start with using a VPN on your browsers.
Once you access MangaStream's website, you will find every Manga you are looking for here for free. Enjoy all you want at MangaStream without annoying ads with an ad blocker.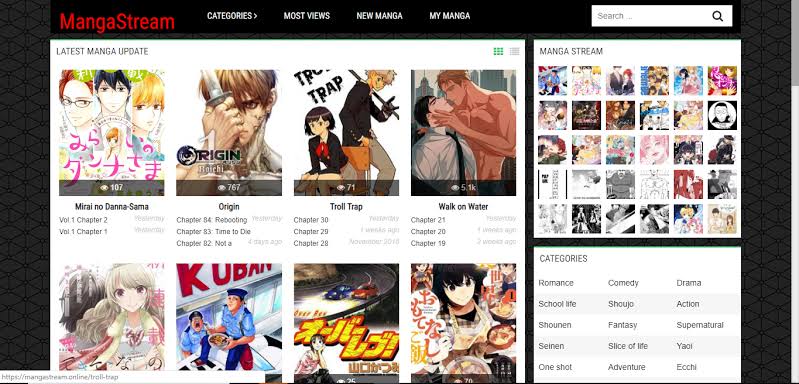 You can find Manga of all genres here, and stay assured you never get bored on MangaStream. Though MangaStream is a free website, the quality of content is still maintained, and you will not regret trying to find a reliable VPN to use this platform.
How to Read Manga Online?
Various websites are dedicated to providing Manga content, but they are often expensive. However, you will also find websites offering the latest and most liked Manga content for free.
Nonetheless, the free website may not be as safe to use. Free websites often run on revenue generated through advertisements, and often, ads become a gateway to malware into your device.
Also, a free website provides pirated content, which means it does not respect the copyright regulations and causes loss to the copyright owners and, therefore, is considered illegal in many counties and blocked.
You can stay protected through a proxy or a VPN for both dangers. These services mask your IP address, meaning you can use any website even if it is blocked in your country. Also, a VPN offers additional security layers, which also include ad blockers and provide a greater level of security.
Is Reading Manga and Comics Dangerous
Reading Manfa and comics is undoubtedly fun but does not always have to be dangerous. But when does it get dangerous? Using a paid site might not put you and your device in danger, but a free site does put you at a greater risk of damaging your device and stealing your identity.
A free site does not have the budget to buy the copyright of the content it offers online and, therefore, provides pirated content and often links to another source of the Manga you are looking for.
Due to the lack of budget, it might not be able to buy a hosting that offers adequate security to its visitors. A website that does not have secure, solid web hosting can be a danger even to the visitors. Therefore, using a free Manga and comic site without a security layer is undoubtedly dangerous.
What are the Risks of Using Manga Websites?
A Manga website is not something dangerous or poses some risk to your identity or your device. However, the risk factor comes when using a free Manga website. How?
As mentioned earlier, a free website only sometimes has the budget to provide adequate safety to visitors, becoming a gateway for identity breaches and malware into your device.
Free Manga websites are blocked in many countries, and accessing one can get you into legality issues; hence, there are several risks of using Manga websites.
How to Stay Safe When Visiting Manga Sites
By now, you already know the dangers of using a free Manga site. You might click on an advertisement or a pop-up and not realise that these things invite a lot of malware and provide your data to a third party.
Now that there are so many threats on a free Manga website, what do you do to keep yourself safe online? Use a VPN or proxy.
A proxy will mask your IP address for any website you visit. This is helpful when you are trying to visit a blocked site in your country and consecutively block your IP by identifying your location and blocking it.
A proxy will provide a new IP address when visiting a blocked website. There are a variety of proxies, such as a data centre or residential proxy, and both are efficient.
When it comes to a VPN, it does something similar but with a lot more safety. It masks your IP address, gives you access to the website you wish to access, and ensures that no malware can damage your device.
VPNs often come with ad blockers and similar security features which keep your identity hidden and all the threats away from you.
Best VPNs to Read Manga Online
In case you need clarification about the best VPN to use when using a free Manga website, here are a few suggestions.
1. NordVPN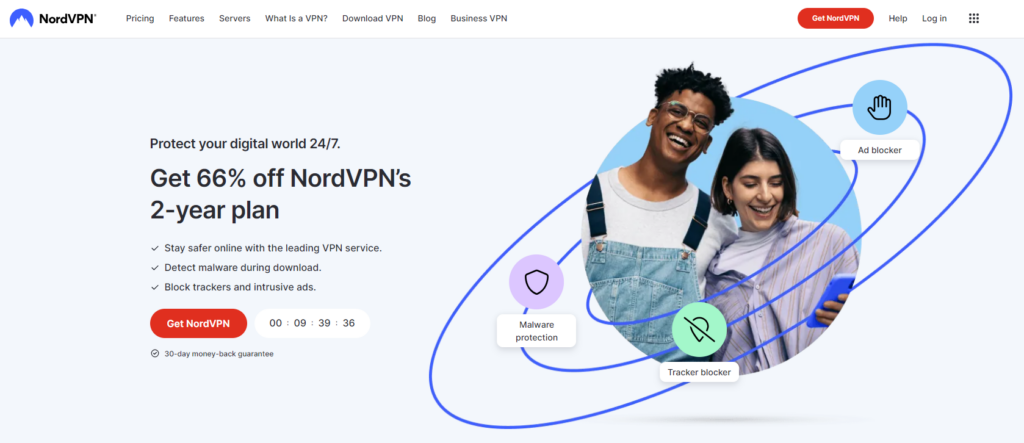 Now, share all your files on a private network kept safe and dedicated to you and your friends to have a secure experience online with NordVPN. This platform offers the most speed and security while browsing through the internet.
---
2. ExpressVPN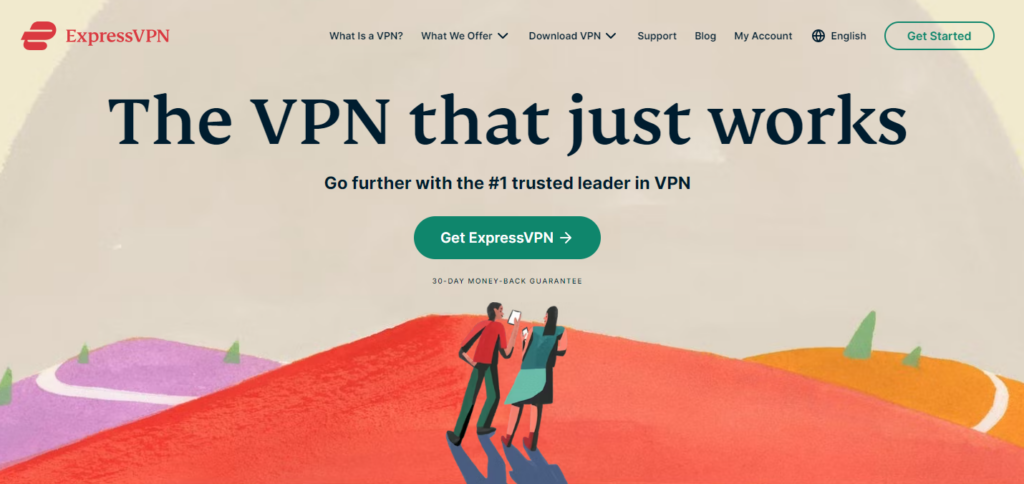 ExpressVPN is a fast, secure and cost-effective VPN platform. This platform offers one of the best security features and has one of the highest rates of getting you into any website. This means your IP will never be revealed, and you can access any website.
---
3. SurfShark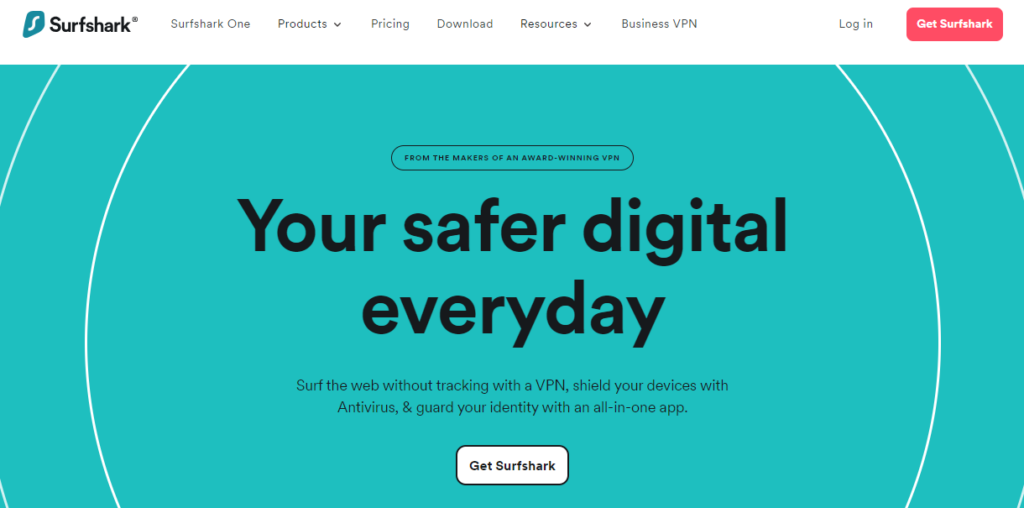 SurfShark is a perfect addition for someone who likes to travel but wants to maintain the security of their identity and devices. This platform offers fast connections and a high level of protection online, and the chances of accessing every website you want to access are pretty perfect.
FAQs – Best Free Manga Sites
Is Manga legal?
Yes, Manga is undoubtedly legal. It is an art form from Japan and has now grown to take over the globe.
What is the safest manga website?
Most websites listed above are safe if you use the original website. However, as a big company, Crunchyroll is one of the safest Manga websites.
What is the biggest Manga site?
As mentioned, Crunchyroll is a great site to gain all the new and old Manga content. Also, many other websites listed above offer a vast library of Manga reads.
Are Manga and Anime the same?
Manga and Anime are similar, but the mediums are different. Manga is written, and Anime is shared through a visual medium.
Which is the best site to read Manga online with no ads?
Most websites listed above might have ads; however, a few which do not are Crunchyroll and Bato.
Conclusion – Best Free Manga Sites
Now you have a list of the best free Manga sites to read all your favourite Manga. These platforms offer the latest and most liked content you would love to read whenever you want.
Also, you now understand the dangers of using a free Manga website and how to be careful. Ensure you choose the right VPN provider and are good to go.