WordPress 5.9 releases a block-based editor that is enhanced with many fantastic site editing features. This means that the user can make changes to the website in real-time publishing. Thus Gutenberg is ready to be used in a live publishing environment.
WordPress 5.9 is named "Josephine", in honour of acclaimed international jazz singer Joséphine Baker. The latest major update of the number one Content Management System on the market comes with a slew of new features, significant changes, and bug fixes.
The idea behind Gutenberg is to make building sites easier. So there's a lot of incentive to adopt Gutenberg. WordPress 5.9 Beta arrived on January 25th, 2022. It is the first major release of 2022 and will come with many new features and improvements from its earlier versions.
The focus of site-building and editing is basically emphasized upon blocks and intrinsic web design; refining, editing flows for block themes, additional design tools, navigation menus, interface for theme.json, and a new default theme in the WordPress admin. It is the third major release of WordPress 5.9 of the year 2021.
You may find that sites load up faster, are easier to design, and because a better user experience that may help you exceed your business goals.
Here is a list of theme blocks features introduced in 5.9:
The Block Paradigm essentially divides a web page template into sections that are called blocks. A web page template is simply a group of blocks that are organized to form the design and then styled with fonts, colours and images. Every block has styling options for fonts, layout and colours.
However, Gutenberg is not a new technology. Gutenberg has been "in the works" since November 2017 and has been under development since then.
Sections of the entire site editor have been released and tested with WordPress 5.9. If you've ever used a page builder like Divi or Elementor, you will feel comfortable using the new Gutenberg full site editor.
Perhaps the most advisable step is to create a staging area for familiarising Gutenberg, either online or on your computer, with a desktop development environment like Largon that simulates a web server.
How to Build Sites with Gutenberg
WordPress has published a web course titled. The website publishers could learn how to build sites with Gutenberg with simple site design and site editing features.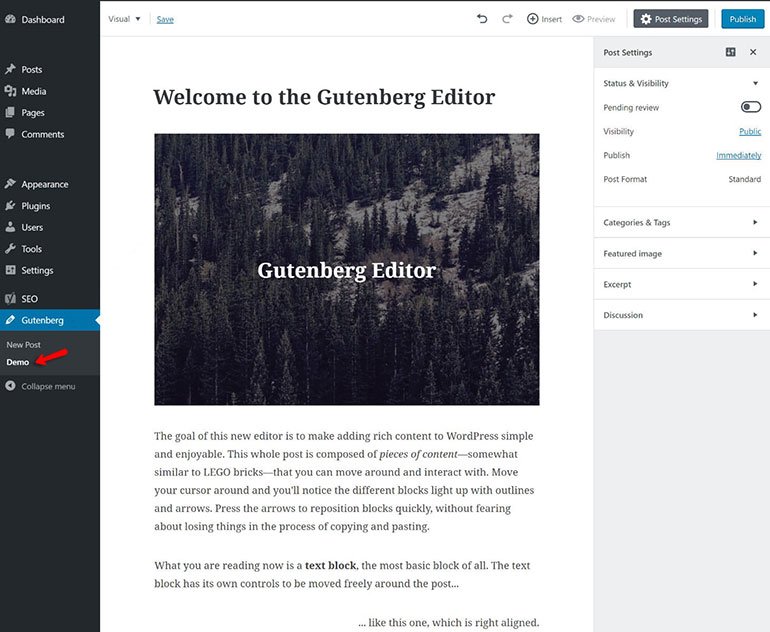 Some may hesitate to try out the latest and newest version of anything, but it's been around for years and is ready for today's new generation.
WordPress Default Block Theme
It also features a Pattern Directory that can help publishers swap in premade blocks that can be customized. WordPress 5.9 contains a drag and drop feature that makes it easy to place page elements wherever you want.
Try it out yourself now!
Citation
Read the Official Annoucement
Learn How to Build with Gutenberg