When a client search for the services of a Just Host Support hosting provider, the most essential just host features they look for are domain registration, website builder, and web hosting packages with excellent just host pricing.
JustHost offers all these services and products; customers will never have to look for another option. Their customer support has been rated high by all their customers.
What is JustHost?
JustHost offers a secure and reliable hosting environment for clients to host their business website, blog, or online store.
Customers' websites are hosted on quad-processor servers with high performance. Their data centre is equipped with a UPS backup generator as well.
How to Contact Support?
The JustHost customer support is available 24/7, every day. Customers can either call using the telephone or by submitting a support ticket and can use their live chat. You can use this Contact Support to get the details.
How to Contact Just Host Web Hosting Help Center?
You can contact the JustHost Web Hosting Help Center via telephone and live chat support. They have a toll-free contact number for the customer in the US; a common number is also provided for the customer from outside the US.
You can use it to contact the JustHost Help Center and find various knowledgebase articles.
How to Contact JustHost via a Call?
You can call the JustHost support team at their number, 888-755-7585.
How to Use Live Chat Support?
To use the live chat support offered by JustHost, you must visit the website of just host by clicking Web Hosting. You can see a Live Chat button on top. Click on it, and a new page appears on the screen.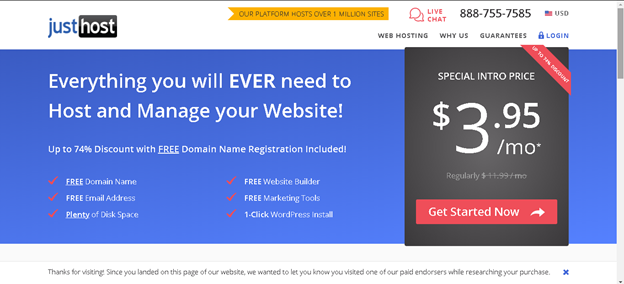 You must select if you are an existing customer or a new customer. Then you should have your name and other details required and click on the Next button. The next page will ask you about your issue.
You should select the topic and description from the drop-down menu, and you can also explain your problem in the space provided. Then click on the Start Chart button.
What is Just Host Support Phone Number?
The Just Host Support phone number is 888-755-7585.
How to Chat With the Just Host Support Team?
You can use the Live chat option of Just Host to chat with the customer support team.
While contacting the support team, keep some information handy, like the account username, domain name, admin email, password validation, token validation, and PIN validation.
How to Open and Access JustHost Support Tickets?
You can access the Just Host support ticket by visiting their website or clicking this link – https://my.justhost.com/hosting/help/ticket.
Any customer with queries about Just Host's services can Create a support ticket. You can find more details regarding submitting a support ticket below.
How to Submit a Support Ticket?
To submit a support ticket, you can follow the steps mentioned here.
Visit To WebSite.
The page will show you different boxes to select according to your query.
The options are affiliates support, host billing support, sales support, tech support, and verification support

After selecting the option you want, you can see the form below
You must enter the details like email address, full name, domain name, password, and the message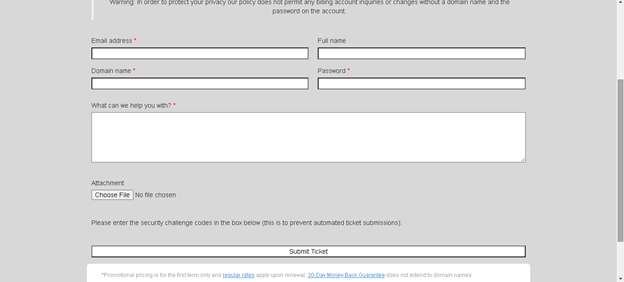 Attaching a file if you want, and this ticket is also feasible.
Last, click the Submit Ticket button to receive a mail from the customer support team regarding your query.
JustHost Support | FAQs
How Do I Contact Just Host?
You can contact Host through telephone, live chat, and even by submitting a support ticket.
Is JustHost a Good Web Host?
If you check the just host review from various clients, you will see the rating as 2.5 to 3.5 on 5. This shows that JustHost is not a high-profile web hosting provider.
However, it offers excellent services like free just-host domain registration, unlimited host domains, outstanding uptime, custom-tailored support, affordable web hosting packages, easy integration, and simplicity.
Moreover, they provide a cPanel control panel, a free script library, and a money-back guarantee.
Is Just Host Support Friendly?
JustHost has a friendly support team to serve you 24 hours a day. You can contact them any day, regardless of weekends or holidays.
Somebody is always there to guide you with your doubts and problems related to hosting.
Conclusion
Anybody can use the services of JustHost by purchasing a domain or transferring your domain from the current registrar to JustHost, assigning domains to your account, purchasing a hosting package, and more.
You can create an account first with a host login and access any information regarding your purchases and services.