iPage is a web hosting provider, but you can find anything you need to make your website online. You can start with registering a domain from iPage and then build your website using iPage website builder and choose the best web hosting option for your business.
Below you can find more details regarding their customer support team and how you can contact them easily.
What is iPage Support?
iPage support is the customer service department which is available 24*7 for the customers to clarify any queries related to the domains, hosting, and online presence.
Clients can contact the support team of iPage via live chat, phone, and by submitting an online form.
How to Contact an iPage Web Hosting Help Center?
You can contact an iPage web hosting service team by giving them a phone call, through live chat, and even by submitting an online form.
Click on this link to get the phone number or use the Live Chat Service. You can also check the knowledge base of iPage by reading articles based on various products and services of iPage.
How to Contact our Support Team?
Use this phone number (877) 472-4399 if you want to contact the support team of iPage. Support/contact to get more details and use the live chat.
Click on Chat now button and you will be directed to another page in which you can enter the details and start chatting with the customer support team. If Also you want to know about the iPage Nameservers | Update Your DNS, Check DNS Server
How to Use Contact Email Addresses?
You can use the email address of iPage to report any violation of their terms and services. You can either fill a Report Member Violations form or can send an email to [email protected]
How to Contact an iPage via a Call?
The customer support team of iPage is available 24 hours a day and they are happy to help you seven days. This means they work to assist their customer 24*7.
Clients can call their sales number to clarify any doubts regarding purchasing their products or services at 877-472-4399. For any other assistance, you can contact their Support Number: 877-472-4399.
👉 If Also you want to know about Just Host Support & Contact Us Support Team, Support Ticket
How to Use Live Chat Support?
Anybody can use their live chat customer support option to clear any doubts related to domains, web hosting, and other services.
Visit the website of iPage by entering the URL in the web browser or just. Once the page is open you can find a Help tab. Move the cursor over Help and you can see the contact options. In the submenu, click on Chat Now button.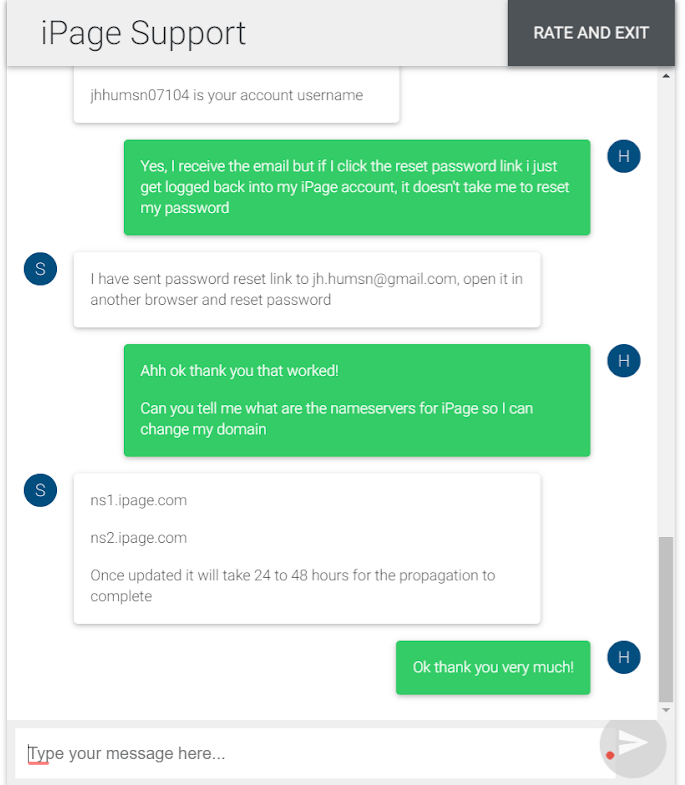 You can now see a new page where you must fill out the form's questions. If you are an existing customer, click on that option. Else select the New customer option. Then enter your name and other details and click on the Next button.
Then you can select the topics from the drop-down menu and can also select a description that matches your query. In the last field, you can explain your problem with other details. Finally, click on Start Chat Button.
How to Submit a Support Ticket?
To submit an iPage support ticket, you must have an account with iPage. Log in to the iPage control pane by clicking this iPage login.
When you access your account, you can find an option to submit a new ticket. Click on that, fill in the required details, and submit the support ticket.
👉 If Also you want to know about TheonionHost Nameservers Different Name server Records Used to Host a Website
iPage Support | FAQs
Conclusion
iPage support team includes trained experts who can deal with any issue regarding your web hosting and more. They offer all the required services to create and host your website.
So, if you are looking for a hosting option, consider iPage, since you can find every product and service for your website here. Their web hosting plan is affordable and has enough features to support your website in all ways.