GoDaddy Review doesn't make any sense nowadays because you can find hundreds of bad reviews of their hosting service.
Before starting discussing GoDaddy web hosting Review let me tell you one thing,
most of the high rating articles ranking on google about any hosting company doesn't mean that they are good hosting provider at all, Big hosting companies like GoDaddy,
HostGator, BlueHost run affiliate programs with a huge commission which attracts affiliate marketers to earn thousands of dollars with them.
Search on google with the keyword "GoDaddy Hosting Review" you will see links of WhoisHostingThis, PcMag, TopTenReviews websites ranking on top 3 results
and they all are affiliate marketers if you visit these websites and if you purchase anything from links on website they will make commission on that,
and that's why they show high ratings to worst hosting providers as well. The truth is these marketers promote Hostings like WP Engine, BlueHost,
Liquid Web but even they stick with HostGator Web Hosting which is really funny they recommend you expensive hosts and they go with HostGator or InterServer host their own websites.
GoDaddy Uptime and Reliability
We already shared few topics about GoDaddy in our previous articles but now I am going to share my feedback once again,
I had my first hosting account with GoDaddy in 2009 economy plan to host my SMF based discussion forum.
For the first few months, it was fair enough but speed wasn't satisfactory at all, then after 6 months, I noticed that my forum goes down even if we have 150 real-time traffic which is very low.
I got the email to upgrade my hosting plan but I decided to switch with Liquid Web hosting after a year.
So, according to my experience if your website doesn't have traffic and its just HTML or PHP website which hardly get 10K page views per month they are good at $12/year but when it comes to renewing
I highly recommend you to move with our premium hosting 😛 at YouStable.com or check our previous web hosting reviews.
GoDaddy Features and Security
In 2011 they were using the custom control panel which was really irritating but now they provide standard most love cPanel for every shared hosting user.
They have integrated some additional features on the control panel, for example,
WordPress Hosting users get pre-installed GoDaddy plugin which helps you to set up your WordPress blog or website easily.
But their service is the same like before and security is also satisfactory at all.
GoDaddy Support
If you are not technical they are sure you will need help to set up your account but trust me you are not gonna love their support service at all.
In the US and India they provide call support however on call you get basic support like DNS Update, Account Setup, etc but you need to open a support ticket to get any technical help.
When my website was there I called up for some changes in access and they took over 2 days which was really frustrating.
What I hate in GoDaddy?
There is one most annoying thing in GoDaddy which makes me crazy on every order, which is produced up selling.
They try to sell your product which you don't really need and if you are not a bit smart with your cart then you forcibly sell you additional products.
For example, just try to buy a simple .com domain name and place the order without editing your cart
you gonna notice that they will add a domain for an additional year + privacy protection. So next time be cleaver
GoDaddy Pricing, Hosting Plans
Here's a fast outline of GoDaddy's hosting plans:
Shared hosting plan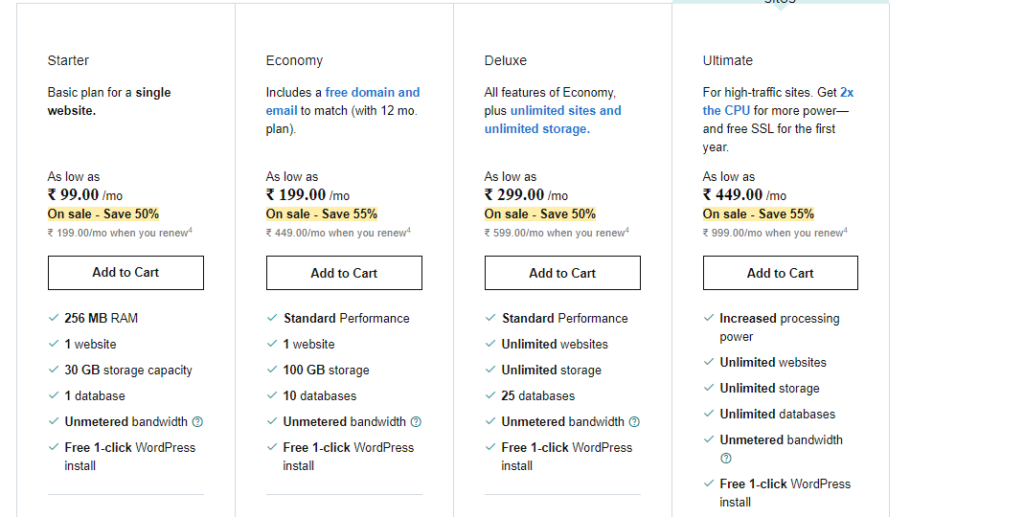 Economy Plan: Single website for $5.99/month (renews at $8.99/month). You catch 100 GB storage, free business email, unmetered bandwidth, and a free domain name for the first year.
Deluxe Plan: Limitless websites for $7.99/month (renews at $11.99/month). It comes with all of the Economy benefits, plus limitless storage and subdomains.
Ultimate Plan: All Deluxe benefits and more for $12.99/month (renews at $16.99/month). Includes two periods the processing power and memory, premium DNS, a free SSL certificate for the first year, and limitless databases.
Maximum Plan: All Ultimate benefits and much more for $19.99/month (renews at $24.99/month). You catch two times the power and memory, maximum site traffic and a free SSL certificate the whole term you buying.
Launch Plan: The inexpensive managed VPS plan jumps at $29.99/month and comprises of:
2 GB RAM
40 GB storage
1 CPU core
Enhance Plan: Second plan managed VPS jumps at $34.99/month and comprises of:
4 GB RAM
60 GB Storage
2 CPU Core
Grow Plan: Third plan managed VPS jumps at $44.99/month and comprises of:
6 GB RAM
150 GB SSD Storage
3 CPU Core
Expand Plan: Forth plan managed VPS jumps at $54.99/month and comprises of:
8 GB RAM
200 GB SSD Storage
4 CPU Core
In all these plans you can get some additional benefits and features.
AutoSSL functionality with cPanel
Uptime monitoring
1-click installs
Automated weekly backups
Automated software updates and patches
Dedicated Servers: These plans are certainly on the advanced end of the pricing and performance scale.
Small business proprietors may need to avoid headfirst in headfirst and obligating to a dedicated plan of this great through acquainting yourself with it never damages.
The most basic plan priced at $169.99/month contains the following capitals:
3 Dedicated IPs
Free SSL Certificate
4 GB RAM
1 TB RAID-1 storage
Unmetered Bandwidth
4 CPU cores @ 3.1GHZ
Further famous server specs for the savvy shoppers include root admission and extra backup facilities.
GoDaddy is most well-known as a domain registrar, but they are more than that: an all-in-one hosting corporation with all you need to get available and develop your website.
Calm to start a website with some of the inexpensive hostings everywhere
Progressive hosting as well as other products so your site can raise
24/7 live customer support via chat and telephone
Upsells a lot, and this can charge you if you don't watch out
It's a bit solid to cross the online help.
Godaddy Black Friday Deals
The greatest thing about GoDaddy Black Friday Sale is that you can catch your own domain at very inexpensive amounts.
There are many Godaddy Black Friday Deals and Godaddy promo Codes which proposals a vast discount on the Godaddy products.
Godaddy delivers outstanding customer support as they are very obliging.
And furthermore, their web hosting service is also very decent as their own blogs can now load within 5 seconds with is fairly decent.
GoDaddy Black Friday Deals 2020: 99% Off. $.99* .COM Domains! Get going with GoDaddy! Get Domain in just $.99
Store domains from GoDaddy just $.99*/1st yr! Get our home online today! (USD)
Get $1/mo Hosting with Godaddy.com Hurry Up!!! Get it now!
Rupees – RS 99* hosting! Get 24 months of Starter Web Hosting for just Rs. 99/mo.*
Summary
So, this was my GoDaddy Hosting Review in final words if you want to start your online presence with limited budget go with them or you may choose
YouStable, Hosting because here we offer affordable cloud shared and VPS hosting.
GoDaddy is best to register a domain name at really low cost but again for first-year only then we prefer to transfer Domains in our Reseller Club account.
You can also share your GoDaddy rating here and add comments to help others.