Best WordPress Translation Plugins for A Worldwide Website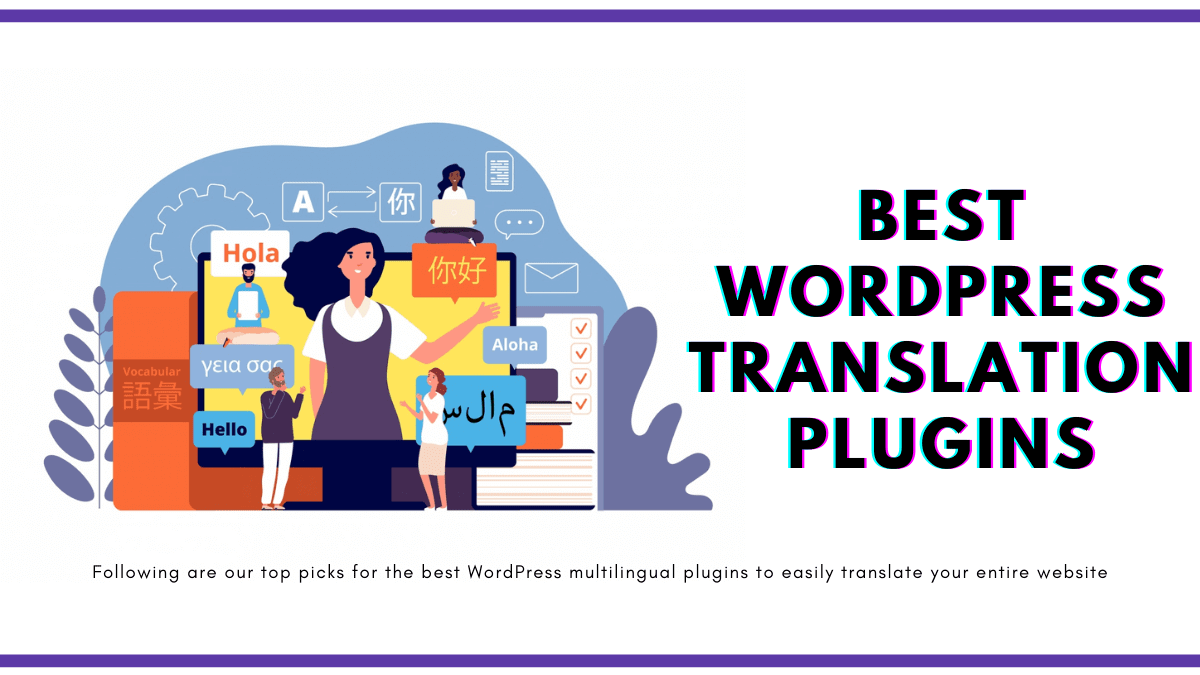 WordPress Translation Plugin: WordPress is used by more than 35% of people online and not all of them speak English only.
But WordPress doesn't have built-in capability to create multilingual websites. That is why there are many plugins to create a website with different languages.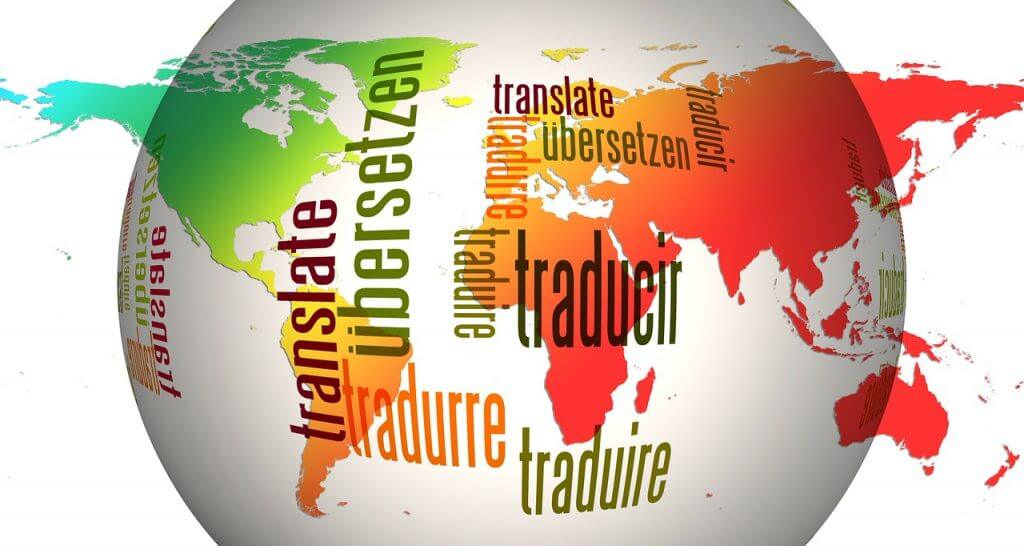 When you want to translate your WordPress site for your visitors you may need the help of WordPress translation plugin. If you are struggling to choose the best WordPress translation plugin for your website then this article is for you goldenslot.
In this article, I will list down the best 8 WordPress translation plugins so that you choose any of them as per your need to provide seamless content experience to your visitors.
Before choosing a WordPress translation plugin it is necessary to know what type of translation do you want- Manual or Automatic?
Manual translation needs the input of translation yourself. Which is time consuming and expensive also. But you will get a perfect translation and error free content. When you or someone manually enters the content and translates it the result will be perfectly correct.
Whereas in Automatic translation, the website itself translates the contents with the help of the system. It works the same way as Google translator's work. It is easy and quick but the result won't be 100% error-free.
Does WordPress Translation Plugins Help In SEO?
Creating a website and including content into it- the main motto behind this task is to rank on the Google search engine result page.
There is no website owner who doesn't want to reach the SERP page of Google. Here two different ways can work- either you have to run advertisements for each post to rank on Google or you have to implement SEO tactics.
The former option is more expensive whereas the later one is time consuming but doesn't cost you anything. Search engine optimization is hard when you try to rank in a single language.
But when you try ranking on a multilingual website chances are high that you may hit the place. It may seem difficult to rank on Google with a multilingual website but when you apply SEO principles and follow some basic guidelines targeting the language then chances are there to rank on Google.
Why is multilingual SEO important?
Who doesn't want to rank on Google? SEO exists to optimize your content and this also applies to your multilingual website content. When you target different audiences from different countries and places you have to target their language and region.
Multilingual SEO helps in reaching the target audience with the target language easily.
Google's algorithm always upgrades and you can target the audience behaviour with your content translation. Optimizing multilingual SEO will help you find new visitors from the region and will drive more traffic to your website.
Best WordPress Translation Plugins 2021
WordPress Translation plugin is for translating your website content into local language to attract more viewers.Here, I have listed the best 8 WordPress translation plugin for your use :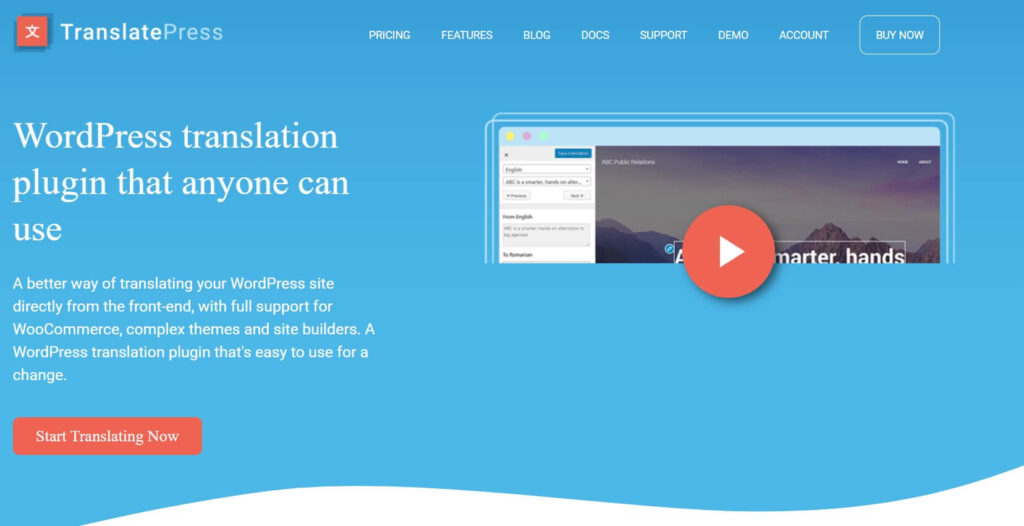 TranslatePress is a WordPress translation plugin that can easily translate the entire website page at once. It can also translate forms, output from short codes, and page builder.
The plugin is SEO friendly and can boost local SEO results. It means Google can crawl them and rank them on the SERP page. Switch between different languages when you are translating and see live preview changes instantly.
TranslatePress can translate themes, plugin and Metadata. It doesn't change the interface of the website. It is also compatible with WooCommerce. TranslatePress is a self-hosted plugin- which means you own the translation forever.
TranslatePress plugin supports automatic and manual translation. It has both a free and paid version.
If you want basic translation features then you can use it for free. For advanced SEO control and access to multiple languages, you will need to purchase its premium version which starts at only €79.
Pros
Full-fledged WordPress front-end multilingual plugin
Compatible with all plugins and theme
Live preview of the translated page when you edit them
Out of the box WooCommerce compatibility
Free version available
Embeds with Google translate
SEO support for multilingual sites
Larger HTML blocks translate by merging strings into translation blocks
Automatic and manual translation
Cons
Limited free version- you can only translate the site into 1 language
No SEO support in free version
Paid plan may seem costly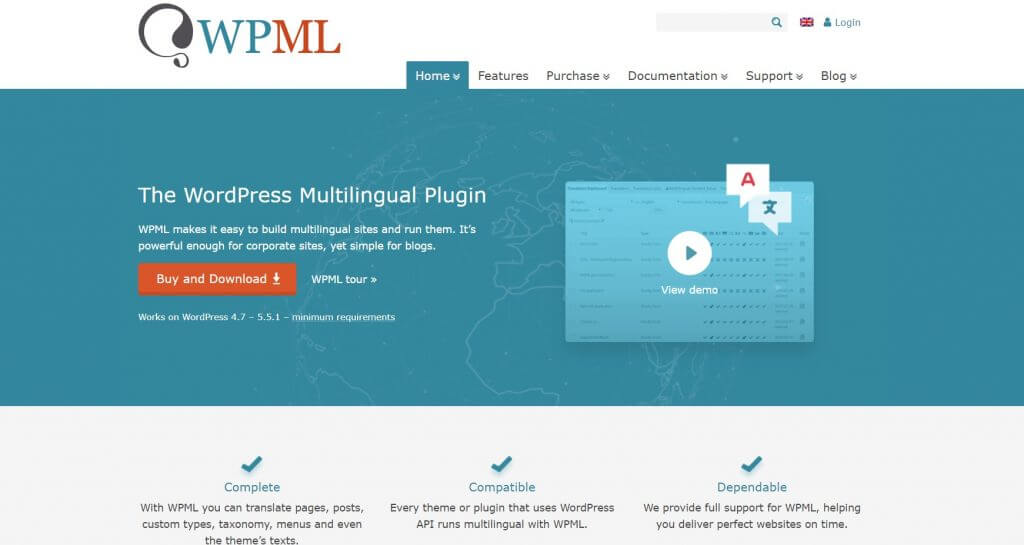 WPML is one of the well known translation plugins that have no free version available. Despite the fact that it has only a premium version, the plugin is very popular because of its features.
You have to only choose the language with which your website will run, and WordPress will translate the content automatically with a side by side editor.
WPML can translate every part of your website – theme text, taxonomy, page builder designs, widget texts and many more. It has both multilingual CMS and blog plans.
Multilingual CMS plans are for page builder support, custom field, managing translation teams and eCommerce.
You can connect your website to third-party translation services and select content to be translated and submit them directly to the website. Another amazing fact is that the translated content is fully SEO friendly and Google can crawl your translated content.
WPML has a manual translation option but you can also automatically translate your content. You can also translate all WooCommerce products easily.
The premium version price starts at $29 for the multilingual blog and $79 for multilingual CMS. I personally recommend you to buy for $79 as it provides more features like page builder, multilingual eCommerce support, translate widgets, multi-user translation management etc.
Pros
Create a multilingual website
WooCommerce compatible
Powerful translation management
Translation for theme and plugin texts
Works with most WordPress themes
Full control over how URLs look
SEO friendly translated websites
Reliable support and proactive development
Cons
No free version plugin
Uses large database
Complex for first time users
Bulkier for large network and sites

Are you looking for a powerful plugin to easily create a multilingual Wordpress site? Polylang is a perfect fit for your requirements. Polylang is a free popular WordPress translation plugin which is active on more than 400000 websites.
You can manually translate most of the site's content even with the free version. Use as many languages as you want to translate the content and WordPress language packages are automatically downloaded and updated time to time.
It supports two add-ons like Lingotek Translation and WooCommerce. Polylang has two version services – free and paid. With the free version you can do maximum basic features such as translating menu, widgets, pages, custom posts, and many more. REST API support, translation slugs in URLs, WooCommerce are under its paid version. Paid version price starts at €99 only for a single site license.
With Polylang, you can set up SEO friendly URLs for each language and it is compatible with many WordPress SEO plugins.
Pros
SEO friendly translation plugin
Supports RTL language scripts
Translates page, post, media, categories, menus, widgets
Compatible with WPML API
WooCommerce compatible
Use as many languages as you want
Cons
Some user claimed multilingual blog page does not support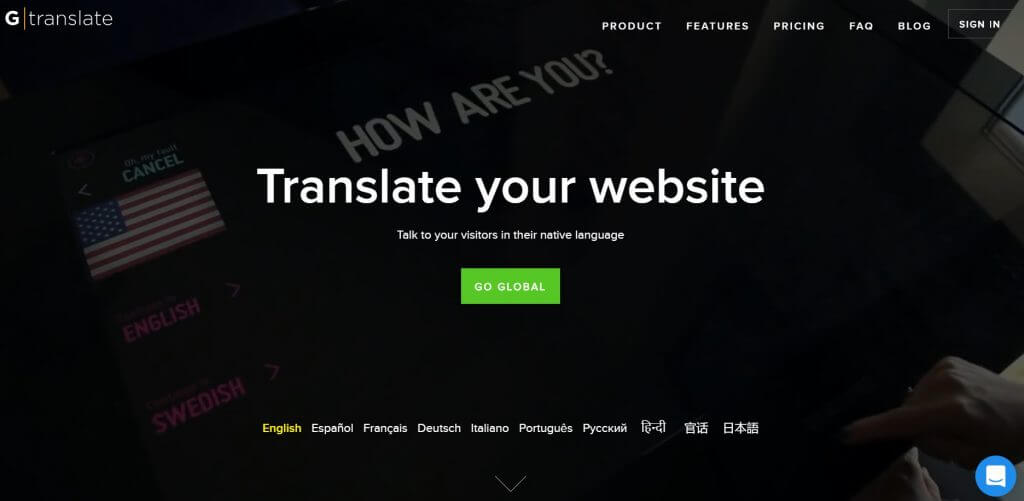 GTranslate is a famous WordPress plugin which is powered by Google Translate. The best part of GTranslate is it makes fast and instant translation on your website.
It supports both manual and automatic translation. The plugin automatically connects to Google Translate API and fetches any supported language. Advantage of GTranslate is the content automatically translates as per user's browser language.
It lets you add a drop down widget with country flags and users can translate your page as per their choice using Google Translate.
It has both free and paid versions and the free version is more basic than any other plugins available for WordPress. Free version doesn't provide Google indexing whereas the Pro version is enabled for multilingual SEO and SEO friendly URLs.
The price starts at only $7.99 per month and it gives you a 15 days risk free trial facility. To enjoy maximum benefits, I recommend you to upgrade to the pro version as the free version has certain limitations.
Paid version has facilities like Search engine indexing, neural machine translation, edit translation, URL translation, language hosting and many more.
Pros
Translate posts, pages, categories, tags, widgets, menus, themes, plugins and many more
500000 + world-wide installs
Supports WordPress, Drupal, Joomla!, Shopify, Squarespace and HTML
Available styles- flags, drop downs, flags with drop down, flags with language name, language codes etc
WooCommerce shop translation is also available
Multilingual interface
Free Google automatic machine translation
Doesn't take any time
This is automatic translator plugin that allows multiple languages translation
Cons
Google can't index the translated version from the site in the free version.
Free versions translations are not accurate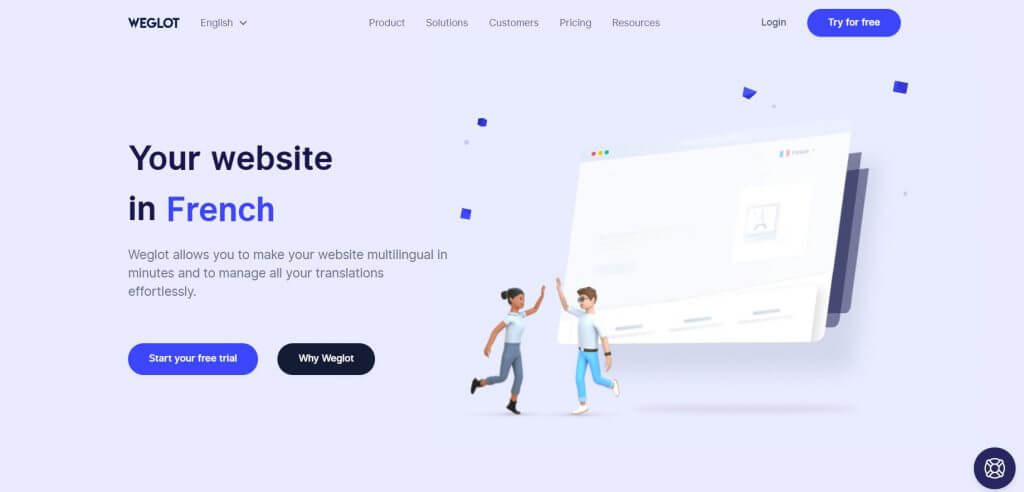 Weglot translates your content in no time. As an easy to use fast WordPress plugin Weglot translates content without writing a single line of code. It supports both automatic and human translations.
You can also do professional translations via the plugin. It is a cloud based website content translation plugin that supports not only WordPress but also Shopify, WooCommerce.
Remove the technical issues of translation with Weglot and keep all your translation at one place. Get more traffic and increase your conversion as it is optimized for SEO and your translated pages can automatically be indexed by Google.
Get real reports from real human- Weglot support team provides full-fledge support whenever needed. While doing setup, enter Weglot API to connect your WordPress site to their platform.
Now you can choose your preferred language, site language and language you want to add. Other features include SEO friendly URLs, language switched button and third-party translations services etc. it has both free and paid versions.
Paid version pricing depends on two factors –the number of words in your project and number of translated languages you need. Price starts at €99 per year only and you can get 2 months free subscriptions
Pros
User friendly translation plugin
Quick setup process
Get fully translated site in less time
The cloud interface makes it easy to manage all your translation at one place
Translates over 100 languages
Trusted by blogs, SaaS companies, e-commerce firms, mobile app landing pages, corporates
Supports both automatic and human translation
Real-time translation
SEO friendly plugin
Cons
Pro version is for maximum of 3 sites
High price as it uses SaaS billing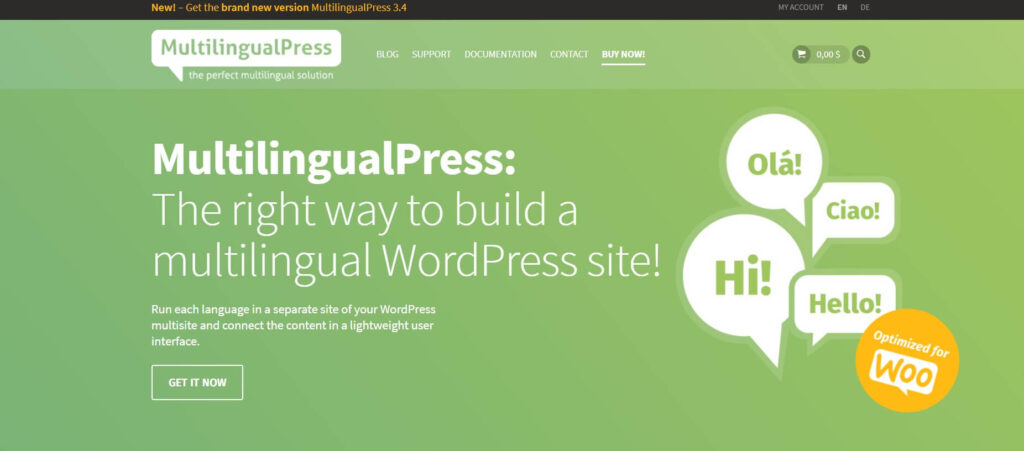 Do you want to link up unlimited websites with each other? MultilingualPress WordPress plugin is here to fulfil your requirements. Set a primary language for each site and connect to start translating.
It has a different approach to creating multilingual websites with WordPress. The plugin efficiently manages content for each language and improves performance by loading one language at a time.
The easy to use interface and single dashboard is the main feature of the plugin. MultilingualPress plugin is optimized for WooCommerce and YoastSEO sync. With just one click set in the frontend all the links to the available translations for each post.
Translate Portfolios, events, testimonials, WooCommerce products and many more. Due to good performance MultlingualPress translated websites rank high in Google search.
It gives SEO friendly URLs and permalinks. MultilingualPress lets WordPress handle your permalinks like you set them up. Paid version price starts at $199 per year.
Pros
SEO friendly URLs and permalinks
Top level domains per language
PHP7 powered plugin
Easy to use interface
Optimized for Woocommerce
Supports posts, pages, custom post types, taxonomies, and more.
Each language can be on its own subdomain, directory, or even a custom domain name.
Cons
Paid version plans are comparatively high priced
Google Language Translator

Google Language Translator (GLT) is now a part of the GTranslate family. GLT is full of attributes that a website requires for language translation. As a part of GTranslate, it has more than 500000 downloads world-wide.
The plugin is both Yoast SEO and WooCommerce compatible. As a search engine compatible plugin it helps in ranking in the SERP page. You can manually correct the translations in the premium version.
Language hosting, live chat support, and translates metadata, JSON objects, schema.org microdata, AMP pages, Proxy are some of the other paid features of the plugin.
You can choose to conceal "Suggest better translation" pop-up and the plugin can translate site, posts, pages, categories, tags, menus, widgets, themes, other plugins.
Pros
Can translate WooCommerce
Floating language detector
Google analytics segregations
Supports both manual and automatic translation
Supports over 80 languages powered by GTranslate
Simple and fast setup process
Google branding can be turned off if required
Cons
Google can't index the translated version from the site in the free version.
Loco Translate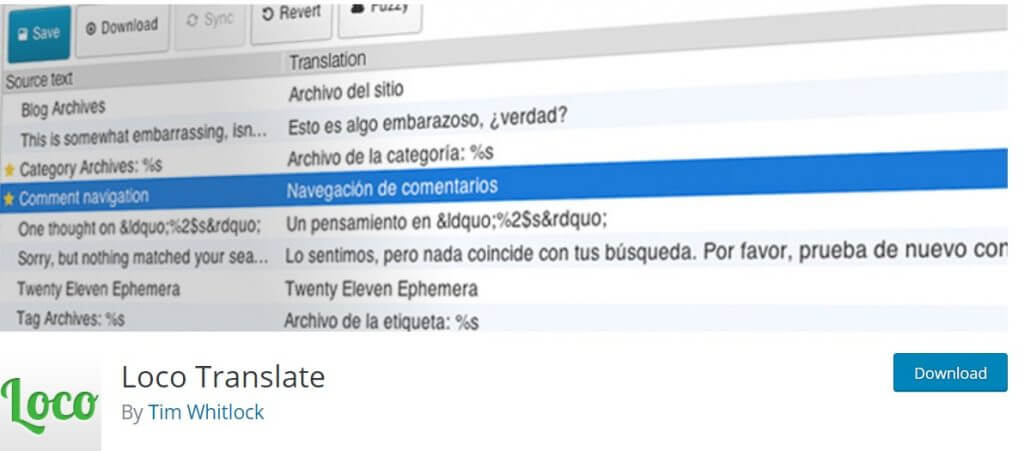 Loco translate lets you translate WordPress plugins and themes. At WordPress.org, the plugin has more than 700000 downloads globally. It focuses on localization rather than providing full content translation management.
There is no language switcher and it focuses on helping you localise your website. Loco Translate provides in-browser editing of WordPress translation files and integration with automatic translation services.
It provides Gettext/localization tools for developers, such as extracting strings and generating templates.
If you have a WordPress theme or plugin which is translation ready, you can use Loco translate to translate the WordPress dashboard easily. It has an easy to use interface which makes it a good option for translation.
Pros
Easy to use interface plugin
Localises your website
More than 700000 installs world-wide
Cons
No language switcher
Doesn't translate the whole site
Which WordPress Translation Plugins is Best for Your Website?
Are you looking for the best WordPress multilingual Plugins?
To be honest, only one plugin can't fulfil every website's requirements. So, here I would like to tell you a different approach on choosing the best WordPress plugin as per your site's need. There are many Wordpress translate plugin free available but paid versions provide more services and features.
If you are looking for a one time fee plugin and not interested in paying multiple times then WPML is the best choice for you.
If you want every detailed feature for your website and okay with a high budget then you can go for Weglot.
If you want supported translations, SEO, free features, price, sales, and more then you can choose GTranslate.
Conclusion | WordPress Translation Plugin
Choosing the best WordPress Translation Plugin depends on the type of service you want. Every individual website has a specific requirement so you have to carefully choose the plugin. There are many plugins which offer a free trial and free version of the plugin so it is recommended to try the free version or free trial before paying for it.
I hope in this article you have found necessary information you were looking for. If you liked this article then don't forget to share on social media.
To read other reviews please click here.
We also cover hosting reviews – to read hosting reviews visit our blog.