In today's  digital marketing world, a successful website turns users into leads and leads into customers. Many websites attract users but never convert them.
Website traffic means nothing if none of the site visitors are giving you information or making a purchase. If you are having this issue, you should consider setting up a sales funnel on your site.x
The use of sales funnels is a proven strategy used by sales and marketing teams to increase engagement on websites and grow one's user base.
By simply encouraging your website users to click through pages on your site and giving them strategic information, you can easily convert your users.
In this article, we will go over sales funnel basics, how they work, and how you can set one up yourself. We will also give you some tips for ways to make sure your sales funnel is effective. Also, check How to Get More Sales With Email Marketing .
Sales Funnel Basics
A sales funnel is a tactic used on websites to "funnel" potential customers toward making a purchase.
The funnel works by having your website users click through a series of links that brings them closer to the purchase page.
You entice your website users by encouraging them to sign up for an email list in exchange for a snippet of free information.
Once they feel comfortable with your site and what you have given them, they are more likely to purchase than if they hadn't been strategically funneled through your site.
The Sales Funnel Process
The sales funnel process uses marketing techniques to turn casual website visitors into long-term paying customers. There are typically four stages of a sales or marketing funnel:
Awareness
Interest
Decision
Action
Your website should guide users through a series of pages with strategic messaging and information that will lead them through these stages. The top of the funnel will start with a landing page that has information about your product or service.
Once the user is aware of your product, you can encourage them to support and choose your company over the competition by giving them a taste of your product.
This can be a free downloadable information packet, exclusive tips, or a free trial that they can get by simply providing an email address.
Now that you have given your prospective customer a taste of what you can offer, you can prepare them for making a purchase. Encourage them to choose you by emailing them a coupon or reminding them of a sale, Also Check top email Marketing services.
Finally, at the bottom of the funnel, the website user becomes a customer during the action stage.
Once they have been funneled through your site and shown that your information or product is of high quality, they feel comfortable in making a purchase from you and becoming a loyal customer.
How to Set Up Your Sales Funnel
Creating a sales funnel is an easy process as long as you know how it should look and what information you need to include.
The entire funnel will be contained in your website, and you will simply be encouraging your website visitors to click through your pages and give you certain information.
Start with a landing page that has information about your product or service. Pique the user's interest by using a lead magnet to offer some free information, a sample of your product, or a free trial of your program in exchange for their email address.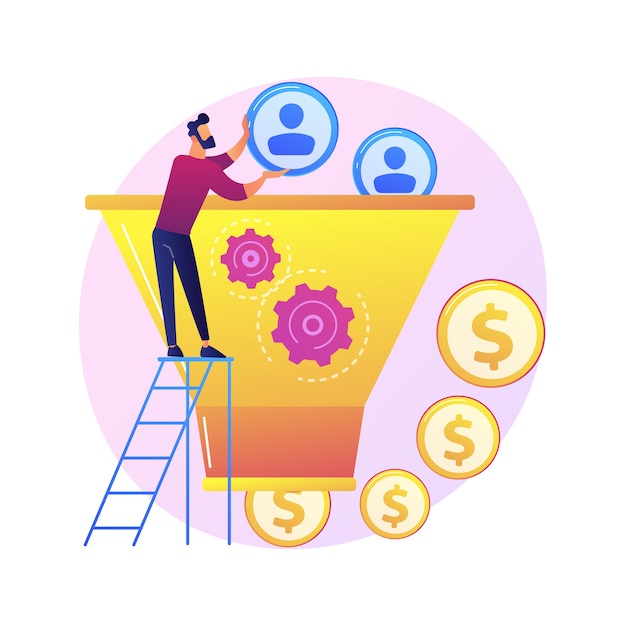 Once the user passes through this stage, they are typically considered a qualified lead. If they are willing to provide you with personal information like an email address, they are interested in your business and likely to become a customer.
Now that you have brought the user to the middle of your sales funnel, you need to keep them interested.
Using the email addresses that you collected, send out information about a sale or give recipients an exclusive coupon to use on your site. At this point, your website user is ready to buy from you and become a customer, Boost your Wordpress Website Speed.
Keep your customers coming back for more by repeating the bottom stages of the funnel. Continue to send out information and coupons so that your customers keep returning.
Tips for Setting Up a Successful Sales Funnel
Now that you know the basics of how a sales funnel works and is set up, you are ready to create one for your website.
Keep these tips in mind to streamline your funnel and keep your leads and customers happy.
Make a great first impression. Your landing page should be aesthetically pleasing and branded for your business. You want your visitors to remember your site and your product or service. Invest the time in making your homepage look great with clear information about what you do.
Make your call to action and funnel process clear. Sales funnels are all about enticing customers and encouraging them to click on specific links that bring them further down the funnel. Make sure your call to action, where you want them to click, is clear. When using your site, customers should easily be able to tell where to click next to get more information or a free sample.
Consistently and clearly follow up. Once you have collected the email addresses of qualified leads, you must follow up with them. Send regularly scheduled emails with information about your business and enticing things like sales information and coupons.
Lastly, don't be pushy. You want your funnel process to be clear but not too obvious. People don't like to be sold to. Make your customer feel like they are in control by giving them a free trial or free information. While they are busy feeling like they have conned you out of a freebie, you are happily generating qualified leads.
Sales funnels are used on websites across the internet to generate leads and convert users to customers. By setting up a strategic sales funnel, you can have a successful website and increase your traffic and profits in no time!