Connecting with the subject of the photo is the prime motive of any photographer.
But, as a photographer, you must professionally make a photography website showcasing all your talents.
FastComet's WordPress Hosting not only makes sure that you adhere to your photo motives, but it also makes sure that you own a daunting website.
Here I will give you 10 Killer Steps with which you can professionally make a photography website.
But, before that, let me explain some legit reasons why I am recommending you WordPress.
Related: Free website builders with inexpensive website hosting
Why WordPress is My Only Recommendation for using it as a Photography website platform
The following are my explanations:
Free of Cost
WordPress is free of cost. You will only have to only pay for the domain and web hosting services.
Free WordPress photography themes and templates
I love WordPress free themes section. Apart from themes, you will get a wide variety of useful plugins and extensions for further support.
Custom Flexible designing
This feature is one of the most used parts of WordPress. You can customise your current WordPress theme as per your preferences. After all, a template cannot make your portfolio look good.
Tons of flexible functions
Apart from standard pre-pre built functions, you can utilise an unlimited variety of WordPress plugins for extra functioning to make a photography website. Like for example, you can use Yoast SEO and RankMath for ranking on Google and Bing; JetPack for security purposes, Akismet for anti Spam Protection, and many others.
And you can install plugins with Softaculous one-click Installer. How amazing is that!
Greater Control over your Site
WordPress outperforms platforms like Wix, Squarespace, Zenfolio, Weebly, etc. in controlling your site. As stated, it is free to use.
What is more impressive is that it only requires a useful web hosting service like FastComet and a domain name.
WordPress also offers data portability in case you need to change your hosting service. Many web hosting providers charge, but FastComet does not.
Do you know that you can boost your WordPress website using .htaccess command,?
Easy to Use
As claimed and seen, it is indeed easy to use. It has a user-friendly interface which requires no coding experience. (It only demands this tweaking back end processes)
Easily Rank on search engines – SEO
WordPress ranking on Google or Bing is an art and needs hard work. For this, install famed plugins like Rankmath or Yoast SEO, and you will realise that it only takes second to configure some tips for the ranking on search engines.
Immense Community Support Worldwide
Since WordPress powers one-third of the Internet websites, therefore if you ask questions on the forums, you will get an instant response.
Language Support
Being one of the most used CMS (Content Management System) in the world, it provides default installation with more than 40 Languages. Additionally, you can also install local languages.
Adding shopping for free
Most web hosting services and website making companies charge for adding shopping options on the websites. However, with WooCommerce (a free plugin o the WordPress), you can add the functionality of e-Shopping on your website.
Related: SEO Trends inspired by Brian Dean and Neil Patel
---
A Beginner's Guide to Building a Killer WordPress Photography website
Setup your domain and hosting for a photography website
The first step to make a photography website is to set up a domain name.
In my opinion, I recommend Dynadot for buying domains since they provide it for a low price and their support is useful. Additionally, they also offer a drag and drop website builder.
However, for this step by step method, I am going to buy a domain name from FastComet.
Suggested Tutorial: Step by step method for buying domain from dynadot.com
The next step now is to buy a Web Hosting service for your website.
In this step by step method, I am going to guide you through buying hosting service from FastComet.
Step by Step method to buy Web Hosting service from FastComet
Visit FastComet.com
Now move to this section and click on 'START NOW.'
For starting purposes, I recommend you to purchase 'FastCloud' Plan (Basic). Click on the Get Started button.
Now enter the domain name you prefer. As an expert, I suggest you adopt your name as a domain name because it creates a positive value on the portfolio image. After entering, click on 'Use this Domain.'
If you get an error – Oops your domain name is not available for registration; this means that someone else has registered it. Proceed to get a new unique domain name.
After a successful search, you will get the message – your domain name is available for registration.
Now, proceed to fill in your account info – First and Last name, Email, Master Password, Details of your country, Address and your phone number.
Next, fill in Product Information:
Plan – Shared Hosting – FastCloud
DataCenter Location: Leave it as it is.
Period: Select the time limit of your domain name. Inexperienced users should go for one month.
The next step is to select the extras:
Leave the first option.
If you want to protect yourself against spammers, and scammers, go for the ID Protect option. For inexperienced users, I would not recommend this. It comes with a cost.
Leave these options unselected if you are on a tight budget.
Search Engine Submission: For improving your ranking on Search engines like Google or Yahoo or Bing.
SEO Audit: Support will help to improve your rankings on search engines further.
Google sitemap: Ranking on search engines requires sitemaps. Regular Normal users do not generally know how to operate on this. Therefore you can use the help of FastComet's service. (one-time cost)
The next step is to fill in Payment Info:
Credit Card – Use this if you have a credit card
PayPal – Use this if you have a PayPal ID
Check this option (compulsory) – Terms of Service and Privacy Policy (after reading them)
You can leave the last checkbox unselected.
Click on the 'COMPLETE ORDER' button.
The page will redirect you to the payment page.
Complete your payment.
The payment pageant page, after successful payment, will redirect you to the page confirming your order. (How to make a photography website)
For any help, you can contact FastComet by clicking the 'Start a Chat' option on the bottom right corner.
Install WordPress
The next step is to make a photography website and install WordPress on your web hosting using cPanel.
These are the steps to install it:
Login to the Client Area using your ID and Password.
Now log in to cPanel (See the image for hints) > Use your credentials to log in.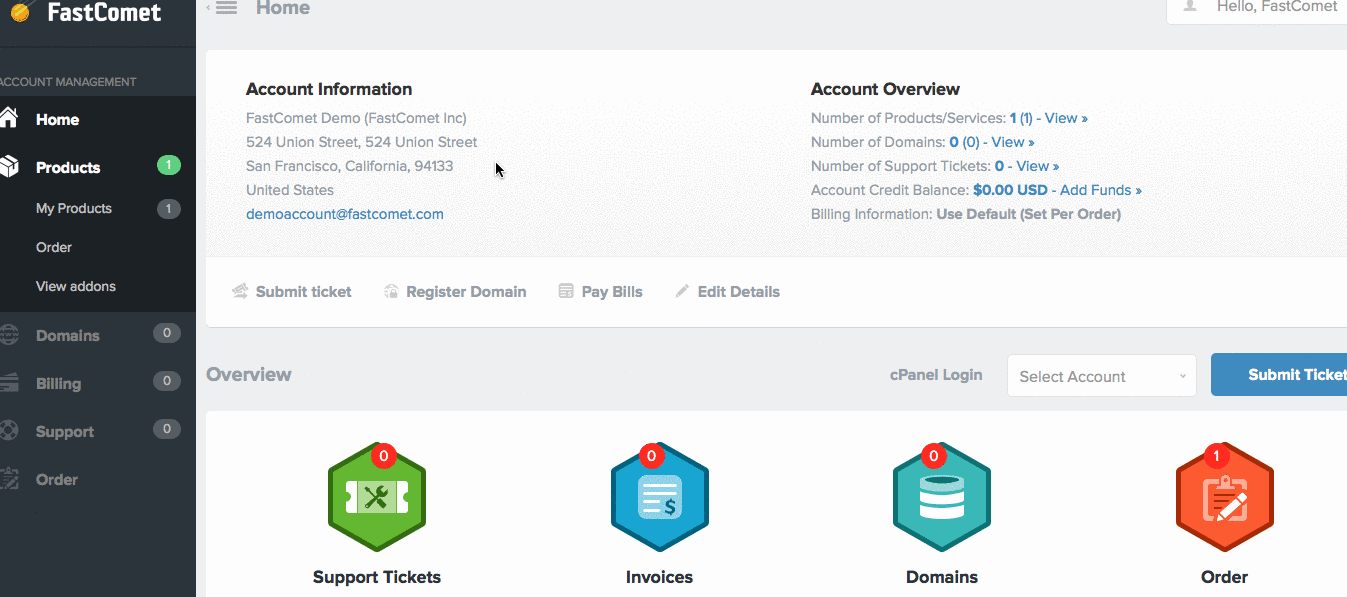 In this screen, click on Softaculous Auto Installer.
Click on WordPress.
Now, click on the Install Button.
Now, you will be shown a configuration page > move to Software Setup.
Choose the version you want to install – Choose 5.5.3
Choose Protocol – If you have applied for SSL, then go for https:// or else Http://
Choose Domain – Use your domain (By default, it will be selected)
In Directory – Leave this unattended.
Now, attend Site settings:
Site Name – Give Name to your Blog
Site Description – Write a description here for your blog
Enable Multisite (WPMU) – If you want to create additional blog users for your blog, check this box.
After the above, now pay attention to Admin Account:
Admin Username – type in your unique username (Leave this default for now)
Admin Password – Create a unique and robust password combining Uppercase, small case, number, and special characters.
Admin Email – Enter your email, and you will receive notifications for your website.
Leave these options unattended for now:
Click the Install button located at the bottom of the page.
You will see this success message.
Install Photography Themes
Another stunning step to make a photography website is to install Photography Themes.
Head to your WordPress Dashboard by logging in.
Click on Appearance on the left Panel > Click on Add New Theme.
On the left search bar, click on 'Search Themes' and search – Photography.
Preview a perfect matching theme for as per your style by hovering the mouse over them and clicking Preview. You will see a full-page preview.
You can install the theme directly by pressing the Install button on the left side on the preview page. Or when you hover on the article, you can press the Install button.
Now, you are good to go to make a photography website.
Install the Best Image Gallery Plugin in WordPress
Now, for photography purposes, you should install the Best Image Gallery Plugin.
On the WordPress Dashboard, click the Plugins on the left Panel > Add New Button.
In the search panel, search for 'Best Image Gallery.'
You will see this – Best Image Gallery & Responsive Photo Gallery | FooGallery > Click on the Install Now Button.
After following these all steps, you have completed the steps to make a photography website.
---
Final words
I know that it is crucial for a photographer like you for interacting with the subjects.
The internet audience, for example, is a real-life audience. and for interacting with them, you should create a Stunning Photography Website in WordPress.
For starters and tight budgeted people, I gave suggestions along with the steps. Those who are pro or high budgeted can go for higher plans and extras.
But before you go, do not forget to check our special deals this Black Friday!
If you like the article, you can read other GoogieHost Blog Posts here.
You can also read reviews of top web hosting providers.
If you like this post, you can submit the feedback in both the star rating form and text in the comment box.
Note: You can post queries, to which our team will happily submit the feedback.